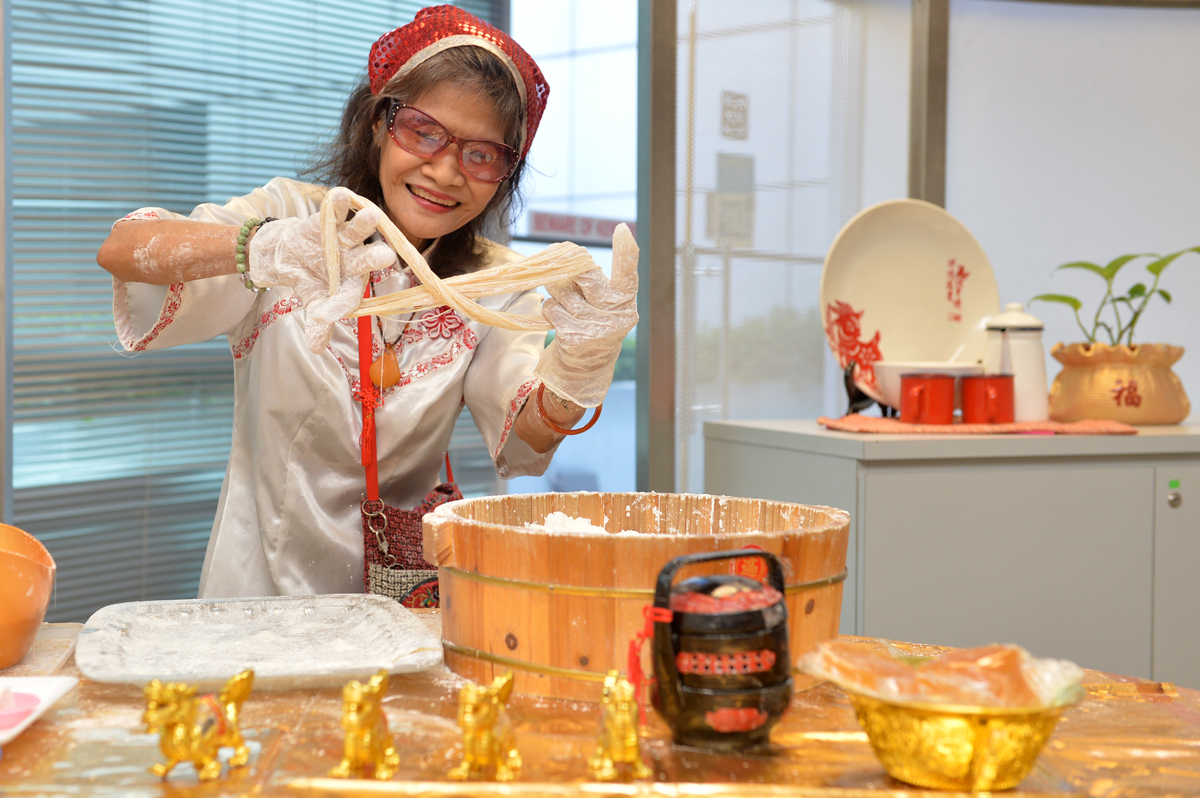 She has been called a national treasure on Prime Minister Lee Hsien Loong's Facebook page.
Madam Lili Ho, 68, is a dragon beard candy maker. Only a few dragon beard candy makers are left.
Dragon beard candy is a dessert consisting of finely threaded malt and peanuts, and it was all the rage in the 1980s and 1990s.
PM Lee first tasted the candy Madam Ho made back in the 1980s at a community event.
She has a picture of him eating it, which she treasures to this day.
PM Lee, who met Madam Ho last October at a Teck Ghee Community Club event, had written on Facebook about how she has been making this iconic Chinese delicacy for many years.
Madam Ho says her trade is dying. Her son, an events management executive, and daughter, a housewife, have no interest in taking over.
She tells The New Paper on Sunday: "The most important thing about authentic dragon beard candy is that once you put it in your mouth, it should dissolve slowly.
"If you have to move even a single muscle to chew it, then this candy has not been done right."
HUMIDITY
"The biggest challenge for me when I first started making the dragon beard candy in Singapore in 1988 was how to keep it from melting in our humidity," adds Madam Ho.
And since her children are not interested in taking over her business, she has been teaching another relative the secrets of the dragon beard candy-making process.
After picking up the skills from her grandfather, Madam Ho started her business.
Her grandfather had learnt it from someone with ties to royalty in China, she says.
He also told Madam Ho that in China, only men were chosen to make dragon beard candy for royalty.
Madam Ho says: "This only made me more determined to succeed at it.
"I'm happy that people, like PM Lee, who have been eating my dragon beard candy for almost three decades, recognise me to this day."
Madam Ho, now semi-retired, does not sell her candy at shop fronts in Wisma Atria, VivoCity or Chinatown anymore.
She makes it only at events she gets invited to, which is about twice a month.
When asked what sets her candy apart from others, she says it is the taste of the peanuts.
Many people have tried to copy it but failed, she claims.
Madam Ho says: "When I first started out and my dragon beard candy got popular, I hired housewives to help me with my business.
"They would help me wash utensils and wrap the candy.
"One of them became too ambitious and tried to get close to me."
Madam Ho says that they became good friends but one day, the housewife did not turn up for work and never contacted Madam Ho again.
She found out later that the woman had set up her own dragon beard candy shop with what she thought she had learnt from Madam Ho.
"But after tasting her candy, I realised that she did not get the taste right," says Madam Ho.
"From then on, I've passed on my trade secrets only to family."
cchar@sph.com.sg

This article was first published on January 3, 2016.
Get The New Paper for more stories.