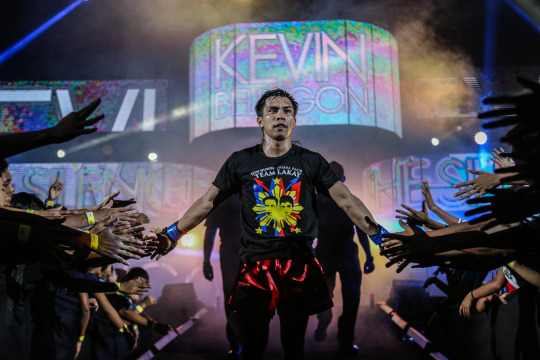 Talk to the average fighter, and they'll tell you they're just concerned with the next fight in front of them.
Team Lakay veteran Kevin Belingon is no average fighter. He's got a long term plan to ascend the ranks of ONE's bantamweight division and lay claim to its title. First, he's got other matters to take care of.
"The Silencer" returns to the cage 21 April at ONE: KINGS OF DESTINY, a fitting title considering his ultimate goal, to take on submission specialist Toni "Dynamite" Tauru.
If Belingon has his way, the judges won't be necessary during the fifteen-minute contest.
"I will try to [keep] the fight standing up," Belingon states. "But if we go to the ground, I will not hesitate to grapple with him and submit him."
Tauru is no pushover. With an impressive record of 11-4, the 32-year-old has been submitted just once during his professional career. He also rolls into the fight fresh off a first-round submission victory over Belingon's teammate Geje Eustaquio at December's ONE: AGE OF DOMINATION.
What Belingon has going for him is also significant. He prevailed in his last bout in Yangon last October, a hard fought decision victory over Muin Gafurov, but he admits that performance wasn't his best.
"I was not impressed with my performance last time, because I did not show much action," he says. "But I am still happy because I was able to get the win."
"The Silencer" will also be fighting on the card with Team Lakay veterans Honorio Banario and ONE Lightweight World Champion Edurard Folayang. Being one of the pioneers on the Philippines foremost fight team is a great point of pride for the Filipino.
"Before Team Lakay was made, I was already a member of the team," he recalls. "I was one of the first fighters at Team Lakay."
A win against Tauru, and an impressive one, likely puts the bantamweight on track for a rematch with current ONE Bantamweight World Champion Bibiano Fernandes. The pair first met at in the beginning of 2016, but the bout didn't go the way Belingon would have wanted, and he found himself on the wrong side of an opening round submission.
With the loss behind him, Belingon has his sights firmly set on a future meeting with the champ.
"I believe I will face [Fernandes] soon, and I am going to get his belt," the Filipino states. "My goal is to win all my fights and be the bantamweight World Champion."
Getting a win and moving back into title contention aren't the only things propelling "The Silencer" forward. With Team Lakay fighters appearing in the top three main card bouts of ONE: KINGS OF DESTINY in Manila, Belingon feels compelled to set a good example for the next generation of Filipino fighters.
"Being one of the elders in Team Lakay, I feel more motivated, because my younger teammates are looking up to me as a tough and a disciplined fighter," he explains. "I can also keep them motivated if I keep on showing them good fights and a good attitude during training."