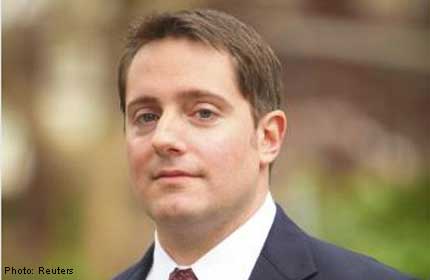 An aggressive merger and acquisition (M&A) strategy is one of the signs that it looks out for in picking its targets, US short seller Muddy Waters said.
"Too many mergers and acquisitions at one company are definitely a red flag," the US short seller's founder, Carson Block, had told CNN in May.
Mr Block's comments are an indication of how Olam could have appeared on the radar of the US short seller.
Olam had embarked on an acquisition spree in the past three years in order to move towards its stated goal of attaining US$1 billion (S$1.22 billion) in post-tax profits by fiscal 2016.
Since it announced that goal, Olam had made cumulative capex investments of US$4.4 billion as at the end of FY2012.
Besides M&As, the way a company responds to criticism is another sign that Mr Block watches out for.
"If a company responds to a short seller's claims by brushing them off and saying that it will continue to run its business and, in turn, void any investor concerns, it generally turns out that the short seller is wrong," Mr Block had said.
"But when a company starts buying back shares, that's not necessarily a positive."
Share buyback programmes only act as a band-aid for the stock, and force the company to "squander" its cash reserves, he added.
It was a charge that Muddy Waters also levelled against Olam in its letter yesterday.
"Its use of much-needed cash to buy back shares at this time should give rise to questions about whether fiduciary responsibilities have been breached - particularly given the possible existence of individual motivations that are not necessarily aligned with those of Olam's lenders," it said.
Olam, which launched a share buyback mandate at its recent AGM, had on Tuesday said that it was prepared to intervene if its share price continued to fall.
Mr Block, 36, has made a name for himself by spotting fraudulent accounting practices at North America-listed Chinese firms.
A report that Muddy Waters published on Sino-Forest Corp, formerly listed in Canada, led to the forestry company filing for bankruptcy protection in March this year.
A struggling entrepreneur who owned a self-storage company in Shanghai only three years ago, Mr Block stumbled upon the idea of investigating listed Chinese firms after visiting New York Stock Exchange-listed Orient Paper at the behest of his father, who was looking to invest in the firm.
Convinced that the firm's reports to the exchange contained falsehoods, Mr Block prepared a report and sent it to 50 acquaintances in the investment world.
It went viral, leading to the collapse of Orient Paper's share price, though a four-month investigation by three independent agencies later found no evidence of Muddy Waters' claims.
Since then, Muddy Waters has queried or released reports on eight other firms, including Sino-Forest Corp, each time taking a short position on the firm before publishing the report.
His attacks on Chinese companies had reportedly brought about death threats, which is partly why he has set his sight on non-China-related names, according to the Financial Times.
In an interview with Reuters TV in September, Mr Block had mentioned that he was looking at potential targets in the United States, Japan and India.