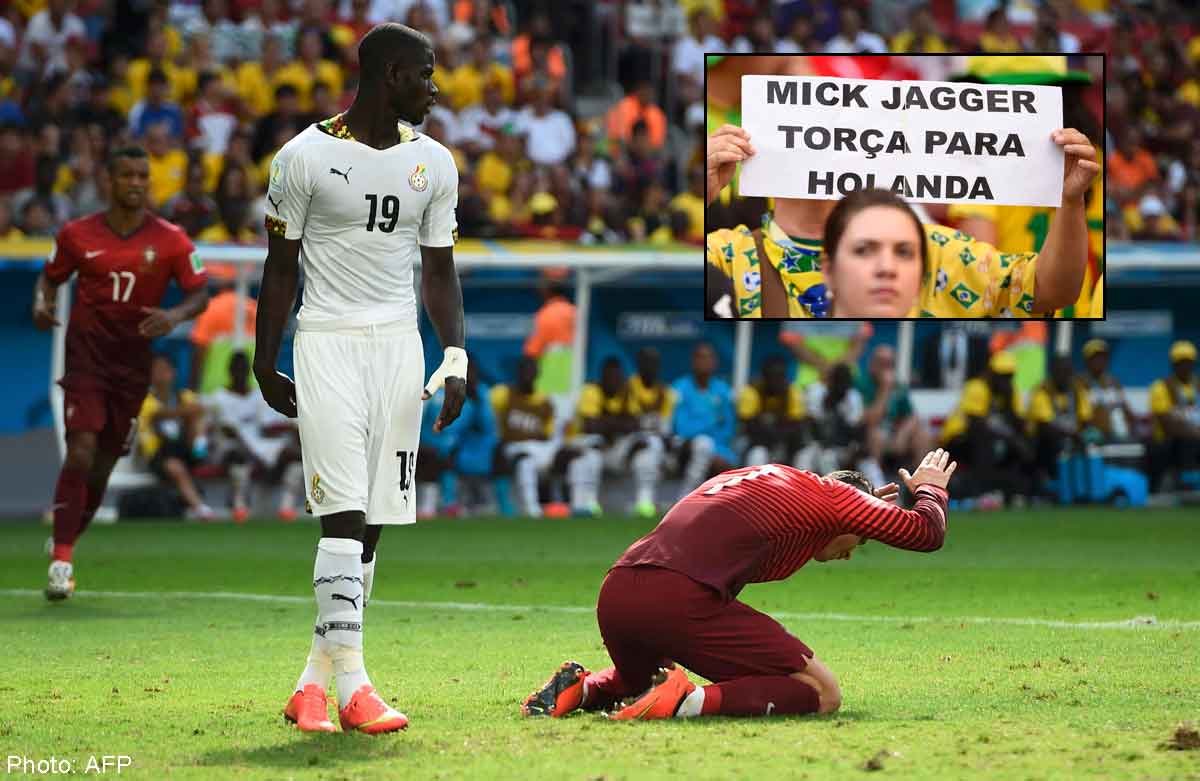 As Cristiano Ronaldo's summer vacation began earlier than expected, a Ghanaian witch doctor claimed credit for the Portugal star's disastrous World Cup excursion. Spooky as it is sensational, instances of 'voodoo', curses and superstitions have been a fabric of football's biggest showpiece for some time. Here's the top 10 examples:
1) The curse of Cristiano
Ghana's self-proclaimed Devil of Wednesday had predicted in February that the Real Madrid forward would miss the tournament in Brazil with injury. Although he eventually took to the field, he was never fully fit, plagued by tendonitis in the knee and muscle problems - surprising for someone who rarely got injured over the course of his glittering career.
Although he has not publicly addressed the witch doctor's claims, Ronaldo has his own set of superstitions. The 29-year-old has a haircut before every international fixture, and is also the first Portugal player to walk onto the field. On the way to Brazil, CR7 also insisted on sitting at the back of the plane, though this could be to have some private time with supermodel girlfriend Irina Shayk.
2) Not exactly flowing football
At the 1990 World Cup, the world got to see more of goalkeeper Sergio Goycochea than they would have liked. Before every kick in a shoot-out, the Argentinian penalty-saving specialist would hitch up his shorts and urinate on the grass - in full view of thousands of fans and millions more traumatised in front of their television sets.
But it worked, as he pulled off spectacular saves from Roberto Donadoni and Aldo Serena to lead Argentina past hosts Italy in the semi-finals. Perhaps it was the sight of Goycochea finding the mark on the field that led to the duo going off-target.
In the final, however, no amount of pee could stop Andreas Brehme's 85th-minute penalty that handed West Germany the title. Goycochea has not pulled up his shorts in public since - as far as we know.
3) Can't get no satisfaction from Brazil
Brazil becamed fixated on rock icon Mick Jagger after he became a bad-luck charm for teams during the 2010 World Cup in South Africa. Whoever the Rolling Stones lead singer had tweeted that he supported or predicted would win at a concert, ended up losing.
During a concert in Rome a fortnight ago, "Mystical Mick" was at it again, vowing that Italy would beat Uruguay to advance to the Round of 16 - which they did not. He also tipped England to progress, and we know how that went.
Brazil's football-mad faithful have naturally pleaded with "Jinxed Jagger" to never, ever cheer for the Selecao as they bid to win a record sixth World Cup title on home soil.
4) A kiss for footy bliss
The French rituals at the 1998 World Cup included always occupying the same seats on the team bus, listening to Gloria Gaynor's 1970s hit I Will Survive in the changing room, and were rounded off by defender Laurent Blanc planting a kiss on keeper Barthez's bald head before kick-off.
Barthez embraced the affection, going on to steer the hosts to the Cup and winning the best goalkeeper award as well.
5) No Moore shenanigans
Bobby Moore, England's iconic captain of the 1960s and 1970s, insisted on being the last person into the dressing room to put on his shorts before kick-off. Team-mate Martin Peters was so fascinated by this that he decided to have some fun with it.
Peter would wait until Moore had put on his shorts, before taking off his own. Moore would then respond by taking off his shorts, waiting until Peters had put his back on. If the Three Lions were late for kick-off for those days, now you know why.
6) Dude, where's my jersey?
Brazil legend Pele once dispatched a friend to track down a fan whom he had given one of his playing shirts too. After suffering a dip in form, the striker wanted his top returned at all costs. A week later, the friend handed Pele his prized possession, and his glorious form immediately returned.
What his friend did not tell him then was that the search had been futile and the shirt was simply the same one he had worn in the previous match where he had a stinker. This must be one of the few times where football god Pele got fooled by a mere mortal.
7) No goal, go bald
Former England hotshot Gary Lineker never took target practice during the pre-match warm-up because he didn't want to "waste a goal".
If he couldn't score in the first half, he would change his shirt. If the bad run extended and he struggled to find the net for an extended period, he would resort to getting a haircut.
A tally of 48 goals in 80 international caps suggests that the Tottenham Hotspur legend was not forced to go to the barber that often. Maybe this explains why Emile Heskey never had much hair.
8) England's enigmas
The current crop of Three Lions have their fair share of unusual fads. Steven Gerrard and Theo Walcott reportedly have 'lucky' boots for the big occasions, while Leighton Baines always unties and reties his shoelaces after walking onto the field. Fellow defender Phil Jones puts his socks on his left or right foot first depending on if his team is playing home or away.
And let's not forget John Terry, who wore the same pair of shinpads for 10 years, even if it didn't bring much joy at the international level. At Chelsea, the centre-back always sat in the same seat on the team bus, listening to the same music and parking in the same carpark lot.
9) These aren't the socks you're looking for
He may not look like the obsessive sort, but Spain captain Iker Casillas has his own list of tedious match rituals. The Real Madrid goalkeeper changes his jersey from one game to the next if he concedes a goal, always cuts the sleeves off his shirt, and touches the crossbar each time his team scores or concedes a goal.
One of his more bizarre routines was wearing his socks insides out for every match since the 2008/09 season - on the advice of a gypsy prison inmate following Madrid's 2-0 defeat to Barcelona in 'El Clasico'. A few years later, after being benched by Jose Mourinho, Casillas went back to wearing his socks the right way.
He may want to consider switching back after a calamitous campaign for Spain at this World Cup, where his poor form saw La Roja become the first defending champions to be knocked out after just two matches.
10) Cruyff punches and spits his way to success
Dutch marvel Johan Cruyff used to slap his goalkeeper Gert Bals in the stomach, and then spit his chewing gum into the opposition's half before kick-off. Looking back, Cruyff ironically advised managers to ensure that their players are not influenced by superstition.
He said: "If it does influence them, you can't play them in the next match." Thankfully for the players on this list, few coaches have followed Cruyff's advice.

This article was first published on July 2, 2014.
Get a copy of The Straits Times or go to straitstimes.com for more stories.