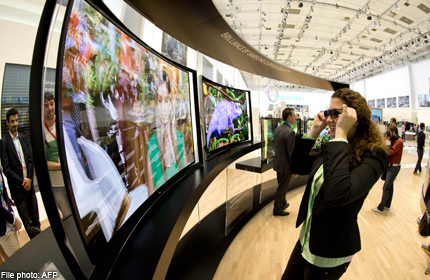 SEOUL - As a global pioneer in display technology, namely liquid crystals, Merck is confident of continuing to lead the markets despite an inevitable change in trends, from LCD to organic light-emitting diodes, or Oled.
"Our role is to help our customers to become more cost-efficient in Oled production," said Mr Walter Galinat, president of Merck's Performance Materials Division.
For Merck, which holds more than 3,000 patents for liquid crystals, a core technology that accounts for 95 per cent of the global display market, moving onto Oled is not a problem since it is already heavily invested in the technology.
Liquid crystals will continue to be a central income source since, unlike the manufacturers who are stuck with actual displays and sets, Merck can simply apply the core technology to other surfaces and gadgets.
"Smart windows are one example of how we try to think outside of the usual applications," said Mr Galinat. The technology involves mixing liquid crystals with glass so that the window can control the shades, depending on the amount of sunlight.
Merck is a family-owned business founded in Darmstadt, Germany.
It stands as the world's oldest chemical and pharmaceutical company. Its main areas of expertise are liquid crystals and industrial pigments. This year, it added an "advanced technology unit" to focus on new engines of growth.
Merck has a 60 per cent market share in liquid crystals and has an annual R&D budget of up to US$135 million (S$169 million).
While Oled is a "very interesting technology" and the "only technology that can compete with LCD", prices and technological imperfection would not let Oled become mainstream just yet, Mr Galinat stressed.
"It will be at least 2018 that Oled prices will come down and make some inroads," he said.
Merck believes that by 2019, Oled may capture up to 15 per cent of the total display market.
Wearable gadgets, which are receiving new attention with the launch of the Galaxy Gear, will become a major trend, but Mr Galinat said the big challenge was increasing their durability.
Solar-powered cells may be an idea for replacing batteries to make the devices completely energy-independent, he added.