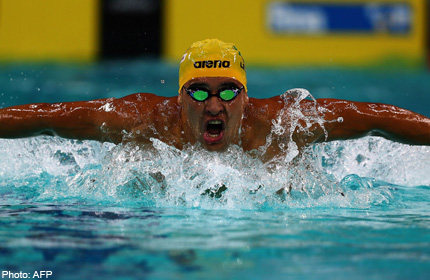 SINGAPORE - He has one Olympic gold and two wins at this year's world championships on his resume, but Chad le Clos' CV is even more spectacular because it also says conqueror of Michael Phelps.
Few swimmers can show off such accomplishments.
In an unforgettable contest in the 200m butterfly final at last year's London Olympics, le Clos somehow snatched victory from the great American by 0.05sec.
Things are much different for the 21-year-old these days.
The South African is one of the stars in the Singapore leg of the Fina World Cup 2013 (short course) at the Sports School today and tomorrow.
Speaking yesterday, le Clos, who won both the 100m and 200m butterfly golds at the World Championships in Barcelona, said: "To beat Michael Phelps was something I've wanted my whole life.
"After London, I felt a lot of pressure. We were all usually underdogs because of Phelps... it is different now.
"But I feel more confident the closer I get to a big competition and I'm never afraid to race anybody."
Le Clos will swim his pet event, the 200m fly, as well as freestyle races during the competition here.
He currently leads the men's overall ranking with 332 points, well ahead of second-placed Russian Vladimir Morozov (240).
He considers Singapore "a good hunting ground", after he first made his name on the international scene when he won five medals, including the 200m individual medley gold, at the inaugural Youth Olympic Games here in 2010.
"It's always great to be back. The YOG set me up nicely for the rest of 2010 and the 2012 Olympics," said Le Clos.
"Hopefully, I can pick up some more medals this time.
Get The New Paper for more stories.