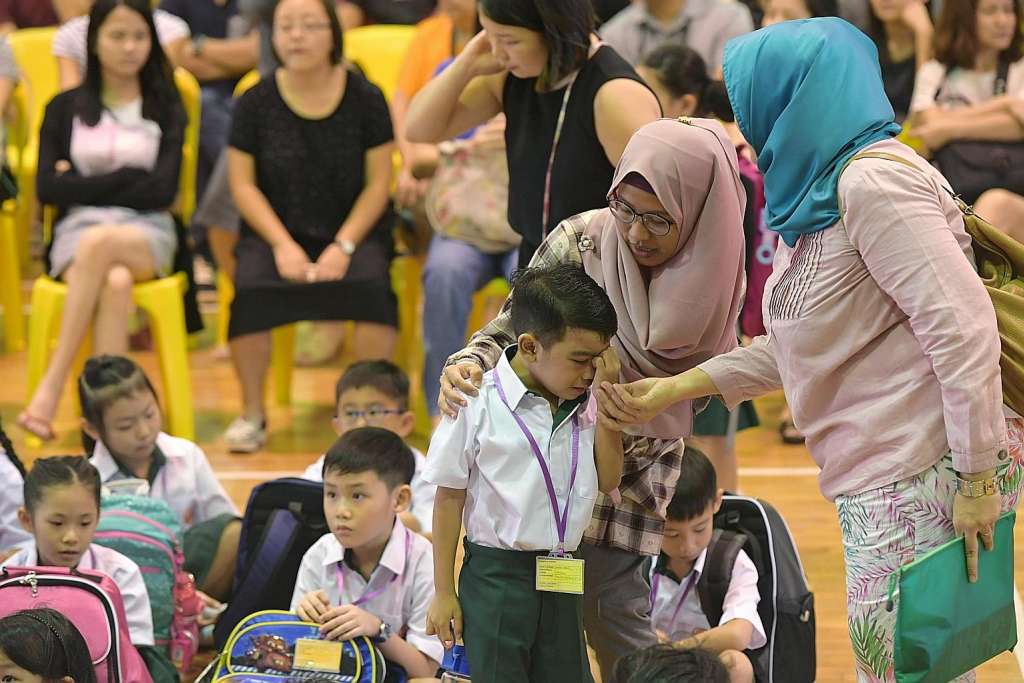 It was their first day of school yesterday and the little ones at Princess Elizabeth Primary School were given their very first assignment during morning assembly.
"Be brave, be curious, ask questions," said Education Minister (Schools) Ng Chee Meng, addressing the 210 Primary 1 pupils, as well as their parents and teachers.
"If there's anything you don't know, put up your hand and ask. Don't be afraid to ask questions, because asking questions is the most important step towards learning."
One brave young soul did just that.
He raised his arm enough to be noticed - but not too much.
Mr Ng swiftly responded: "Do you have a question, young man? You raised your hand, right? Do you have any question for me?"
The child, wearing his new uniform and a brave smile, squeaked out his question in a barely audible voice.
Mr Ng smiled and said, to laughter: "The young man just said he has forgotten everything he has learnt from kindergarten.
"What he says is actually very true. Many of the things we learn - whether it's mathematics or science - we can forget. One of the very important things is not just intellectual education, it's also about values and teaching them life skills as well."
It was a good start for the pupils, and it did not hurt that they could turn up at 10am, instead of 7.30am.
Extra effort to help new pupils settle in
Programme manager Faridah Abdul Karim, 40, took time off work to accompany her six-year-old son Muhd Fazil Yazid to school.
She said: "The great thing is, the school started later and there was no morning rush."
Even though Muhd Fazil's three older siblings also attended Princess Elizabeth Primary, Madam Faridah said that every child's experience is different.
"It always feels like the first time we are doing everything, even though it's our fourth one."
Schoolmate Aishwarya Bavanandhi, six, was excited about going to the "big" school as well as the book her teacher gave her.
This year, there are about 37,500 Primary 1 pupils across 190 schools.
Some schools put in extra effort to help their new pupils settle in.
At Unity Primary School, for instance, pupils were greeted by two animal mascots at the school gates.
The school is also running a carnival on Friday, allowing Primary 1 pupils and their parents to get to know the school better through team-building games.
Over at Westwood Primary School, a photo booth was set up for parents and their children to capture this milestone.
And pupils at Concord Primary School can look forward for the first time to a three-week "transition programme" - free from homework.
Principal Tonnine Chua, 49, said that teachers will weave in "kindergarten strategies... a lot of singing and dancing" during this period to help pupils ease into school life.
"There is no hurry," she added.
Muhd Fazil's schoolmate, Tristen Tan, six, said he was "excited" to start school.
Between mouthfuls of bee hoon at the canteen during recess, he added: "I'm quite a nerd, I like reading lots of encyclopaedias... I want to learn every fun subject."
Mr Ng said that while having a strong academic foundation is important, children should also be able to learn in informal spaces, to be more independent and capable of exploring beyond schoolwork.
He hoped that this informal learning would foster a "joy of learning" and lead pupils to a sense of "innate curiosity, wanting to explore, discover and be in charge of their learning".
tohwenli@sph.com.sg

This article was first published on Jan 04, 2017.
Get a copy of The Straits Times or go to straitstimes.com for more stories.