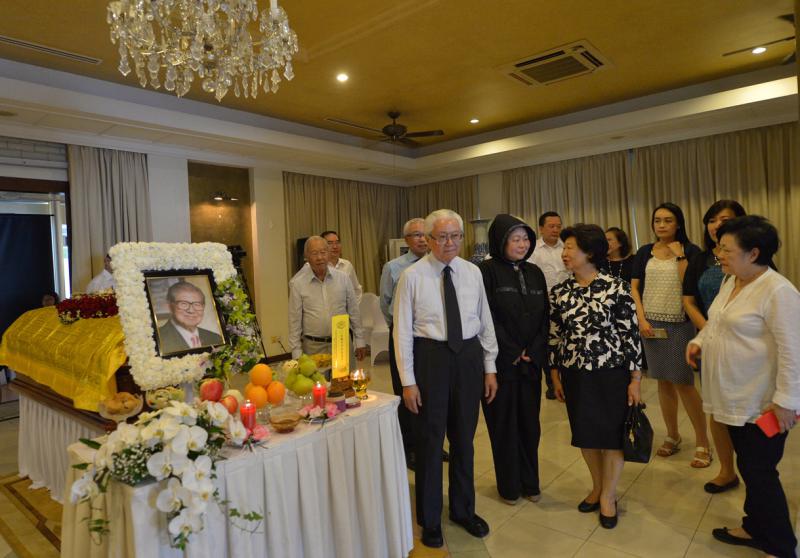 Thousands gathered to pay their last respects to philanthropist Lee Seng Gee at his family home in Meyer Road yesterday.
Mr Lee, who died aged 95 on Tuesday, had been ill for several years. He was the eldest son of philanthropist Lee Kong Chian, one of the founders of OCBC Bank.
He was also the chairman of the Lee Foundation, which supports many charities, schools, and medical and cultural activities.
His maternal grandfather was the rubber tycoon and philanthropist Tan Kah Kee.
Those who attended his wake yesterday included President Tony Tan Keng Yam, Emeritus Senior Minister Goh Chok Tong, Deputy Prime Minister Teo Chee Hean, Speaker of Parliament Halimah Yacob and businessman Chua Thian Poh.
Mr Lee was remembered by many as a kind and down-to-earth man. Mr Goh said: "He was a very simple, modest and generous man. Despite the wealth that he had, you'd never know because he never flaunted it."
Others who came to pay their respects also recalled how donations from the Lee Foundation helped their causes, whether they were educational institutions or religious organisations.
Prime Minister Lee Hsien Loong, in a condolence letter to Mr Lee's wife Della Susantio Lee, said Singapore has had many successful businessmen but few like Mr Lee, who was "even more successful as a philanthropist".
Said PM Lee: "He was a rare, selfless and humble individual who contributed to Singapore throughout his life." PM Lee added that the Lee Foundation donated close to $1 billion to various causes regardless of race, language and religion.
Madam Halimah, who is also an MP for Marsiling-Yew Tee GRC, said: "I know him as a very compassionate, very kind, very supportive gentleman."
The late Mr Lee supported the poor, and causes related to education and the Malay community, having donated generously to Jamiyah Singapore, said Madam Halimah.
Aljunied GRC MP Pritam Singh, from the Workers' Party, said the Lee Foundation has also helped Aljunied residents, and that he came to pay his respects on behalf of his constituents.
"The foundation has been very generous towards the Sikh community as well," added Mr Singh.
Heads of academic institutions that benefited from the Lee Foundation, such as Duke-NUS Medical School - represented by dean Thomas Coffman - were also present.
Nanyang Technological University president Bertil Andersson said Mr Lee was the "driving force" behind a $150 million donation to the university's new medical school in 2011.
"It was the biggest donation ever for academia in Singapore. We are very, very grateful for what he has done for us," said Prof Andersson.
Property magnate Chua Thian Poh, founder of the Ho Bee Group, said he was friends with Mr Lee for a very long time, and that they met when Mr Chua was president of the Singapore Chinese Chamber of Commerce and Industry.
Speaking in Mandarin, he said: "He doesn't talk much but he's a very warm person. He's done a lot of good things for this society."
Mr Lee's wake will be held at 87 Meyer Road today from 9am and the funeral service will start at 11am.
Mr Lee's cortege will leave the family home at 1pm and drive past the OCBC Building in Chulia Street as well as his home in Sentosa Cove before heading to Bright Hill Crematorium and Columbarium.
Mr Lee's family has asked that well-wishers donate to the Singapore General Hospital, Jamiyah Singapore or Kong Meng San Temple.
This article was first published on May 12, 2016.
Get a copy of The Straits Times or go to straitstimes.com for more stories.