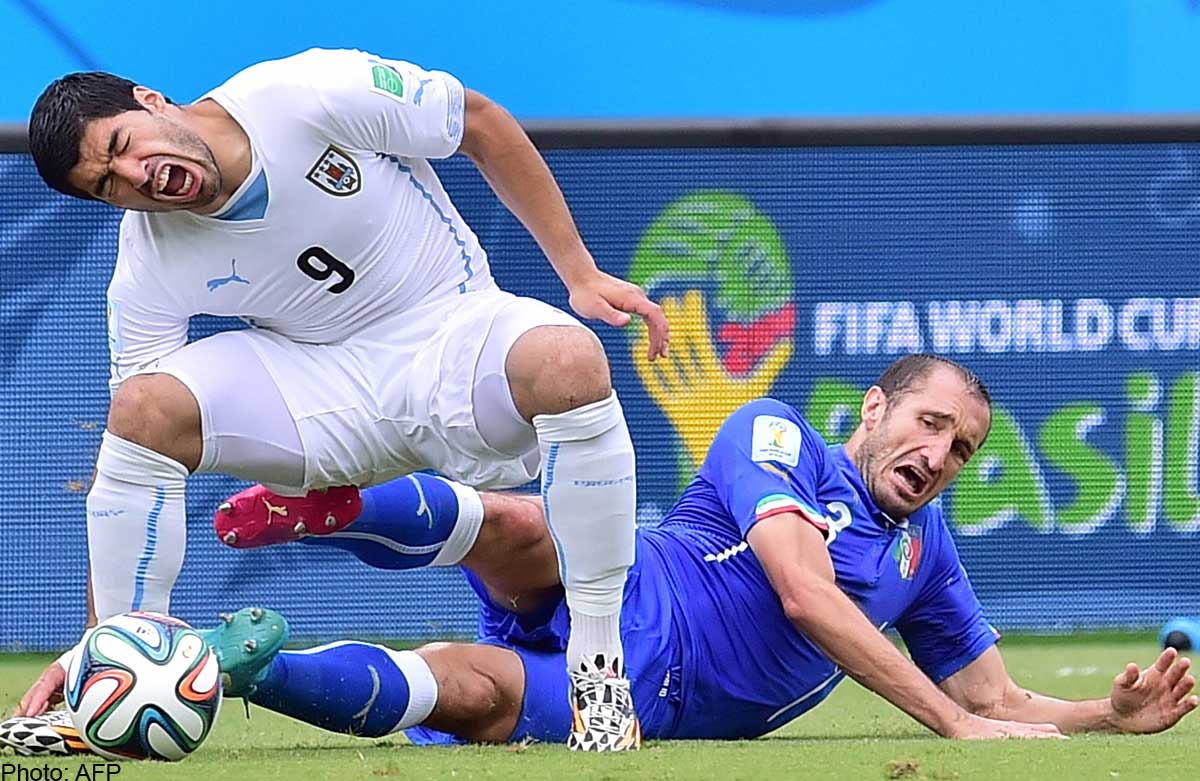 My colleague Neil Humphreys says that Luis Suarez took a chunk of Giorgio Chiellini's shoulder. Knowing Neil, he is being facetious.
The bite left a slight bruise that should be gone before long. But almost everyone is now out to get their pound of flesh from the Uruguayan striker.
With Suarez, there's no middle ground. You either love him (if you are Uruguayan or a Liverpool supporter) or hate him (practically everyone else, but more so if you are English and don't support Liverpool).
So the outrage over his latest biting incident is not unexpected. He's now done it three times in four years. How dare he? Real men don't bite.
That is the domain of children having a dust-up in the playground.
On the football pitch, real men swing their elbows at or head-butt opponents.
And if you were feeling vengeful, as Roy Keane was against Alf-Inge Haaland, you go in feet flying with a career-threatening tackle. Haaland retired soon after, though it remains unclear how much that was due to Keane's tackle.
As far as we know, Suarez's three bite victims are still playing, presumably unscarred from their encounter with his chompers.
In 2010, while playing for Ajax Amsterdam, Suarez sank his fangs into the shoulders of Otman Bakkal, then of PSV Eindhoven, for which he got a sevenmatch ban.
Then the Liverpool player bit Chelsea defender Branislav Ivanovic's arm last year, incurring a 10-match ban this time.
He returned from the ban apparently chastened and a changed man. He was on his best behaviour, said the right things and, most importantly, scored the goals that took Liverpool within a whisker of the English Premier League title.
He was voted the Player of the Year by both his peers and football writers.
His 31 goals in 33 matches won him the Golden Boot.
In Brazil, he returned from injury to score two goals against England to revive Uruguay's World Cup 2014 campaign.
Inexplicable
Then, as Uruguay struggled to break down Italy for the needed win to progress, the inexplicable happened.
Oops, Suarez did it again. But what possessed him to do it? I'm not sure even he can answer that. If he could, would he have done it?
The only thing I can think of is that like some flawed geniuses, he's wired differently than the rest of us mortals. Something inside him simply snaps without warning and his Hannibal emerges This is not an apology for what he did.
Suarez must be punished but, just as obvious, he also needs help. Whether he can be helped remains to be seen as, judging by his comments, he seems to be in denial.
Going by the previous punishments, Suarez's World Cup is over and his ban will be in the double-digits.
What's galling is how some people, in particular the rabid UK press which is always ready to stick its knives into Suarez, are calling for the maximum Fifa ban of two years or even expelling him from the game for good.
People are putting the boot in because 1. It's Suarez. 2. Biting is a social stigma. But divorce the man from the bite and put it into context. Is it worse than an elbow or head breaking an opponent's nose or concussing him, or an intentional leg-breaking tackle?
Queens Park Rangers player Joey Barton, in speaking up for Suarez, tweeted: "All things considered, I'd rather receive a bite than a leg-breaking challenge.
Whilst he should be punished, it is not the end of the world."
Given Barton's bad-boy image, it's not surprising that he has been slammed for his comments.
Some people, it seems, are damned by their reputations.
tekmeng@sph.com.sg

This article was first published on June 26, 2014.
Get The New Paper for more stories.