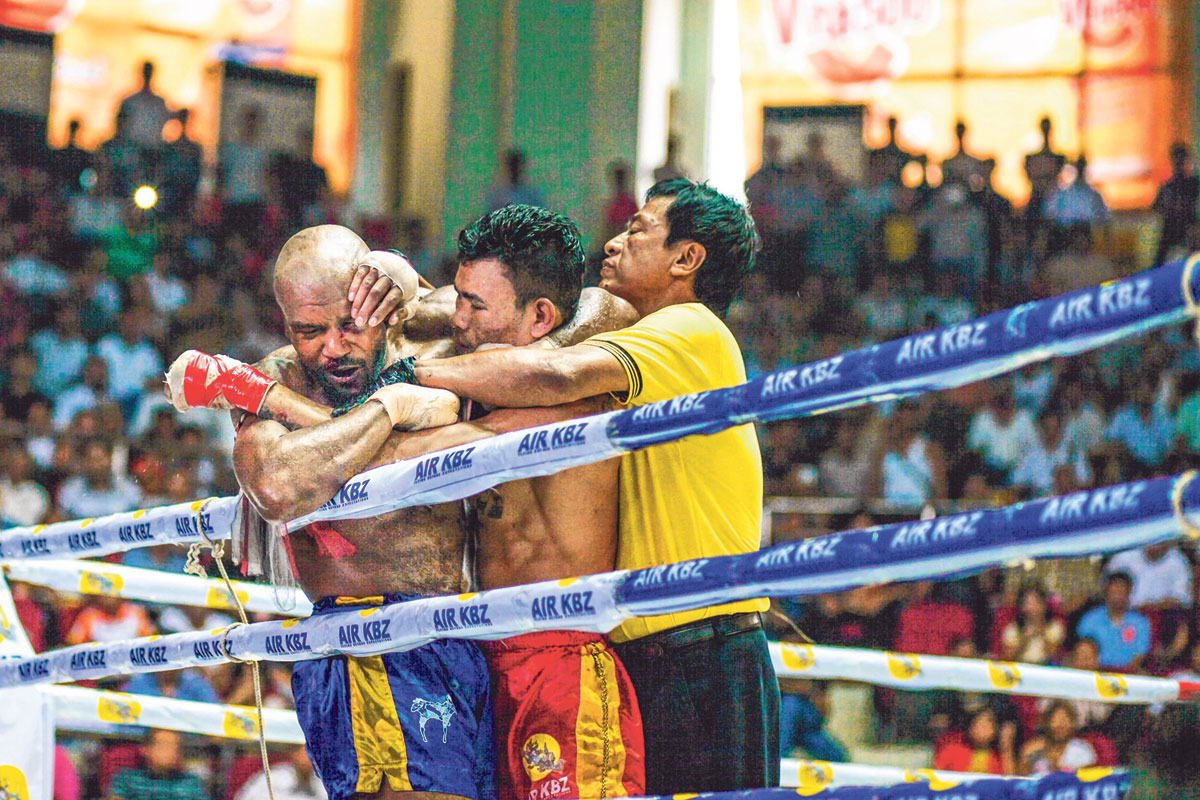 A musky scent of sweat. Loud swatting sounds as shins hit sandbags. Portraits of past champions posing with trophies and golden belts hang above the boxing ring.
This is Thut Ti gym, a cradle of lethwei - Myanmar's oldest form of martial arts - right in the heart of downtown Yangon. In every corner, men and women are sweating it out, throwing punches to rhythmic counts of 10.
But they are not all Myanmar people. The new disciples of lethwei come from all over the world.
The sport - like its country - is experiencing a revival, and lethwei's resurgence is emblematic of Myanmar's development as a nation. Also known as traditional Burmese boxing, lethwei involves punches, kicks and knee attacks. What differentiates it from other forms of martial arts is that fighters do not wear gloves and are allowed to use headbutts.
Traditionally fought in the sandpits of villages in the Mon and Kayin states, the sport is now showcased on mixed martial arts (MMA) stages around the world.
In December last year, Myanmar fighters participated in the Ultimate Lethwei Championship held in Singapore's Yio Chu Kang Sports Hall. In July, top boxers displayed lethwei techniques to an international audience during a bout organised by One Championship, Asia's largest MMA promotion company, for the first time in Myanmar.
Lethwei may be less popular than Thailand's muay thai internationally, but Myanmar's increasing exposure to the world is changing attitudes towards the sport.
Thut Ti gym owner Win Zin Oo said: "A group of foreigners, wanting to pick up basic lethwei techniques and improve their fitness, came knocking on our doors about two years ago."
"I was surprised they could even find this gym, much less know what lethwei is about," the 55-year-old added.
It was then that Mr Win Zin Oo began coaching students for 5,000 kyat (S$5.50) an hour. What started as a class of five to six students burgeoned over three years. Now, with the help of former fighters-turned-coaches, he teaches up to 40 students in one weekend.
AUTHENTIC EXPERIENCE
Mr Win Zin Oo attributes the lure of lethwei to its authenticity. "People view it as an untouched martial art found only in Myanmar," he said.
To Angolan national Nico Poma, 31, lethwei is Myanmar's hidden sport. "Lethwei is unique to Myanmar as there are many techniques that can be learnt only by sparring with older fighters," said Mr Poma, who started working in Myanmar last April.
Lethwei fighting techniques have stayed true to tradition. While other boxers bruise, lethwei fighters go for knuckle knockouts. It is common for fighters to rake their fore knuckles downwards instead of punching forward, so they score an open cut right above their opponent's eyebrow, so the dripping blood would blind them.
"Nowhere else in the world will you find a bare-knuckled fight, so our fighters are trained to use this to their advantage," said Mr Win Zin Oo. In fact, Mr Poma was so gripped by lethwei that he begged his coaches to allow him to participate in an organised bout.
Though Mr Win Zin Oo was reluctant, thinking that the confident and striking Angolan could come off as "arrogant and haughty" to other Burmese fighters, Mr Poma has yet to make enemies in the ring.
It is evident as the lean foreign boxer meanders around the gym with ease, high-fiving other local fighters, even playfully punching them outside of practice. "Lethwei has not only taught me about Myanmar, it has also allowed me to make valuable friendships," he said.
Many foreigners pick up lethwei for leisure. Russian national Grigory Stepanov began attending classes at the gym a year ago. For the director of a logistics firm, weekend classes keep him fit and immersed in Myanmar culture. "It's not like the fancy gyms at home or in hotels. Here, I am taught by ex-champions in a traditional lethwei gym. It's difficult to find this kind of authentic classes when I'm in Russia or other Asian countries," he said.
But lethwei might soon be a fixture in MMA competitions around South-east Asia.
Mr Sai Zaw Zaw, 60, director of Myanmar Traditional Boxing Federation (Lethwei), said through a translator: "Lethwei is linked to the country's role in the world. As Myanmar develops and opens up, there is more freedom to travel and promote the sport."
In July, he travelled with three lethwei coaches to Indonesia to showcase the sport. He has plans to organise another lethwei bout in Singapore this month.
HERITAGE UNDER PRESSURE
Besides gaining traction among foreigners, the sport is also showing signs of resurgence in local culture.
Lethwei fights were rarely organised in Yangon because it was difficult to gather fighters, who are mostly from the Kayin or Mon states, said Mr Sai Zaw Zaw.
But as more fighters train in Yangon-based gyms, there are now, on average, two lethwei events in Yangon every month.
With the liberalisation of Myanmar's media industry, local sports channels such as SkyNet have also begun broadcasting fights. But commercialisation of sporting events has been undercutting profits. "We don't get a single cent from television broadcasts," said Mr Wunna, 53, the organiser of the Monsoon Lethwei Fights.
This means that to turn a profit, organisers have had to increase ticket prices and, at times, reduce the fighters' prize money, said Mr Sai Zaw Zaw. According to him, ticket prices have risen from around 7,000 kyat to 10,000 kyat.
The sport's resurgence also reflects the Myanmar dilemma - its development often comes at a price. Lethwei fighters have to train and gain experience in other forms of martial arts, such as muay thai, to compete in international MMA competitions.
Mr Tun Tun Min, the current lethwei national champion, wishes he could be a full-time lethwei fighter, but he has to divide his time between muay thai, Brazilian jiu-jitsu and lethwei.
"I prefer lethwei as it is more traditional and, after all, as a Myanmar person, I should fight in my country's sport," said the brawny 23-year-old fighter via a translator.
Said Mr Win Zin Oo: "It is definitely possible to promote lethwei as another form of muay thai or karate. But what is at stake is the dilution of one of Myanmar's biggest forms of heritage."
In recent times, the traditionally brutal sport has become muted, in the hope of appealing to a global audience. "There is increasing pressure by the government for fighters to wear boxing gloves in official fights," said Mr Win Zin Oo.
Promotion companies such as One Championship still regard MMA as the "top-seller". This means fighters have to be well-versed in all forms of martial arts and be prepared to fight under rules that run contrary to lethwei's knockout scoring system.
The chief executive of One Championship, Mr Victor Cui, 42, said that, at present, they are more keen on MMA promotion and are more likely to get Myanmar MMA fighters to compete with other international fighters, instead of holding lethwei bouts in Singapore.
But Mr Sai Zaw Zaw believes that a compromise can be struck to keep lethwei true to its roots while achieving global sporting success.
"There may be pressures to modernise the sport, but the lethwei federation is trying to keep it as unchanged as possible.
"Our hope is that one day, lethwei will represent Myanmar," he said.

This article was first published on November 1, 2015.
Get a copy of The Straits Times or go to straitstimes.com for more stories.