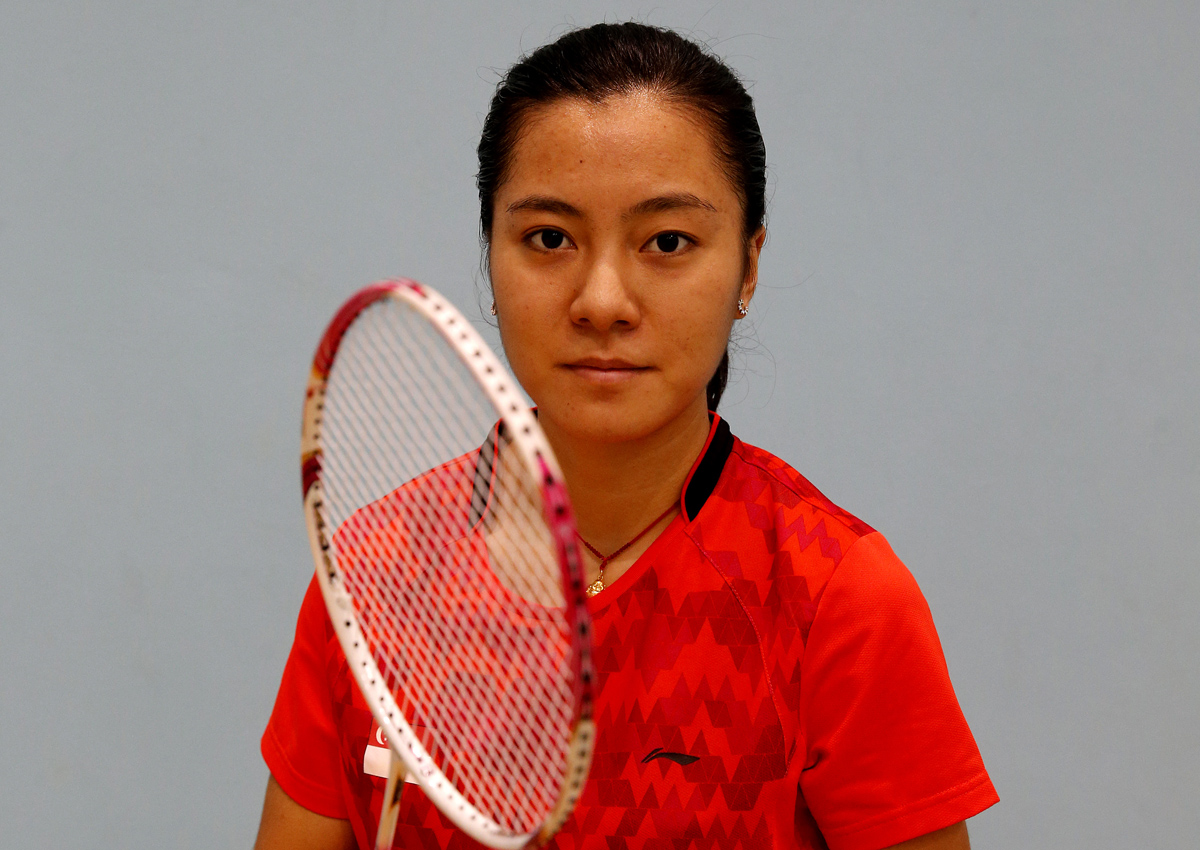 Liang Xiaoyu covers the badminton court effortlessly, her footwork soft and precise, almost as though keeping time to a secret melody whispering through her head.
There was no music playing inside the OCBC Arena Hall 2 last week as the 19-year-old national shuttler trained, but the impulse to dance is second nature to her.
Before shuttlecocks and racquets began to dominate her life more than a decade ago, pigtails and tutus were most prominent in Liang's early childhood in the Jiangsu province of China.
At the age of four, the only child of badminton coach Huajun and housewife Yang Lianhong was obsessed with dance after picking it up in kindergarten.
But she switched to badminton three years later as she could not commit her time to both, but her passion for dancing - described by the late Austrian writer Vicki Baum as one of the short cuts to happiness - never faded.
"I loved everything about it," said Liang. "Learning new moves, the beautiful dresses and performing onstage in front of a crowd."
That ease with the spotlight was never more apparent this month when Liang produced a stunning upset to beat former world champion Ratchanok Intanon 22-20, 13-21, 21-17 in the semi-finals of the Thailand Open in Bangkok.
The Singaporean was ranked 120th in the world and unseeded.
But her Thai opponent was the world No. 8, the tournament's top seed and had the support of the home crowd.
Noted Liang,whohad never beaten Ratchanok, 20, in junior or senior events: "That was probably the best match I've ever played.
"There were no easy points, with a lot of rallies but I stayed patient and itwas a great result for me."
Even her loss in the final to South Korean Sung Ji Hyun had a silver lining because it highlighted shortcomings in her game and physical condition which she had not identified before.
It was the first time that Liang had advanced to a final at the senior level and she could not cope with playing five matches on consecutive days.
She said: "My fitness needs work. And you cannot win against the top players by just rallying.
"You need to have that killer stroke to win the point and that's something I still lack."
Still, the former world No. 4 junior - identified by the Singapore Badminton Association as one of the country's most promising talents - is on an upward trajectory.
Ranked 126th at the start of 2015, she is currently 85th in the world standings.
A bronze medallist (mixed team) at the 2014 Commonwealth Games in Glasgow and the 2015 Singapore SEA Games (women's team), she is aiming to crack the top 50 by year-end while bidding to qualify for next year's Rio Olympics.
But with compatriot Chen Jiayuan currently ranked higher at world No. 44 and only one qualifying spot in the women's singles likely up for grabs for Singapore, Liang is prepared to bide her time.
"There's always Tokyo 2020 and by then I should be a better, more complete player," said Liang, who is competing in this week's Chinese Taipei Grand Prix.
She beat Taiwanese Hung Shih-han 16-21, 21-17, 21-7 yesterday and faces top seed Kim Hyo Min of South Korea in today's quarter-finals.
This relentless drive to improve can be traced back to her early struggles with her dance teacher, who had little patience when Liang and her fellow pupils failed to learn an elaborate dance sequence and scolded them.
Twice, Liang returned home upset and cried before her parents.
On the third day, however, her father told her sternly that she had made a commitment to learn dance and could not quit at the first sign of hardship.
"I was so young but I still remember those words.
"It was an important lesson for me and, after that, my attitude changed," Liang recalled.
"Whether it was dance or later badminton, I wanted to give it everything I had, 100 per cent each time," she added.
The lessons from dance, her first love, are guiding her steps to her next great passion.
jonwong@sph.com.sg

This article was first published on October 16, 2015.
Get a copy of The Straits Times or go to straitstimes.com for more stories.