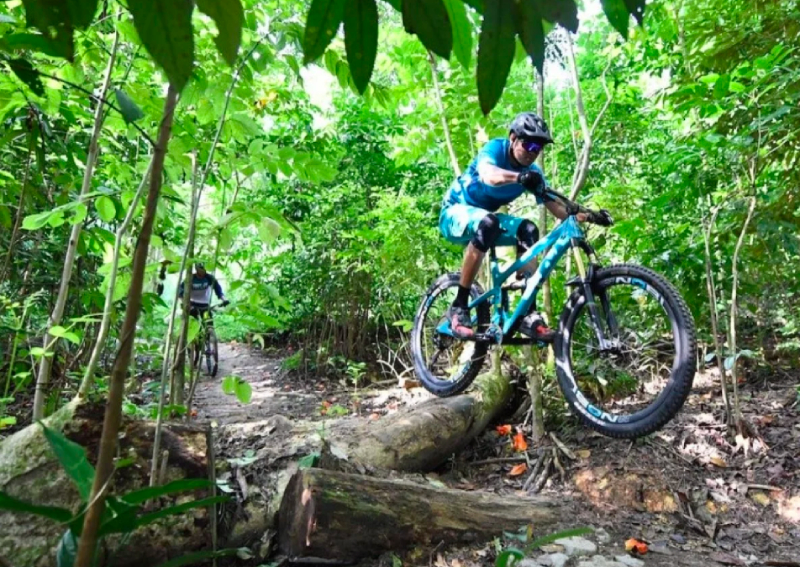 Singapore has a thriving cycling scene and a few great mountain biking trails to enjoy.
When you think of Singapore, mountain biking is probably not something that springs to mind.
The compact island nation, however, has a thriving cycling scene, and a few great mountain biking trails too.
Famous for its futuristic central business district, Singapore also has a number of lush tropical green spaces.
In among them are three stand-out dedicated trail riding areas that not only fuel the adrenaline of local riders, but also offer up great mountain biking mini-escapes from the city's hustle for visitors too.
The trails here are like most things Singaporean: clean-cut and well ordered.
Much of the impetus behind their development came from Singapore-based trail building and mountain biking development guru HM Lim (full name Hui Min Lim), of race promoter and consultant Dirtraction, who is behind some of the finest dedicated mountain biking trails in Asia, including Hong Kong.
Here is a trio of the best options for mountain biking in and around the Lion City.
Mountain bikers fly down a trail at Singapore's Chestnut Nature Park. PHOTO: South China Morning Post
1. CHESTNUT NATURE PARK, OFF DAIRY PARK ROAD
Opened in 2016 and expanded in 2017, Chestnut Nature Park with its bike park is just 12km (7.5 miles) from the central business district, offering a nearby city escape and plenty of greenery.
There are two dedicated biking trails here: north and south, which combine to make for 8.2km of riding.
The trails are not technically demanding, though there are more difficult optional sectors laid out at certain points along the way, meaning it is suitable for both novices and experienced riders.
Thanks to its relatively central location and guaranteed solid riding on hard-packed forest single tracks, this has become the daily trail of choice for many local riders, although it can get boggy after prolonged heavy rain.
There is also a pump track - a short, circular roller-coaster loop - and skills area, though this is closed for maintenance until late March.
A bike rental kiosk on the main trail at 201 Chestnut Avenue also offers a bike wash and refreshment options on site. It is open from 7am-7pm daily.
Mountain biking at Bukit Timah in Singapore. PHOTO: YouTube/Edmond Ong
2. BUKIT TIMAH, HINDHEDE DRIVE
Bukit Timah Mountain Bike Trail (known as BT) is the best known and longest established dedicated trail riding area in Singapore. It is legendary in regional biking circles for its all-round challenges.
This makes the 7km trail a must for any visiting mountain biker.
Opened in 1997, the trail is good to ride in all weathers thanks to its hard-packed, well-drained surface, and is primarily aimed at the experienced cross-country mountain biker.
It carves its way through a lush inner-city jungle of tropical trees and forest canopy, providing a thrill around each of its many twists.
Inexperienced riders should take it easy on this ride.
But there are multi-graded trail sectors in some parts, offering blue diamond (novice), black (expert) and double black diamond (extreme) routes, and also double-track easier options.
Bukit Timah is located in the same greater central green buffer zone as Chestnut Nature Park, and many riders combine the two trail areas to make for a tough day of riding, stopping off for lunch between the two.
There is also a good bike shop close to the BT trailhead, so you can rent quality bikes or pick spares for riding here. Open from 7am-7pm daily.
Mountain bikers ride on a small traditional walk-on ferry as they make their way to Ketam Bike Park in Pulau Ubin, Singapore. PHOTO: South China Morning Post
3. KETAM BIKE PARK, PULAU UBIN
For something completely different to the Singapore you think you know, take a trip to Pulau Ubin, an island nature reserve which is also home to the Ketam Bike Park.
This has a 10km circular trail and was one of the first Asian bike parks built by IMBA (International Mountain Bike Association) and Lim.
To reach Pulau Ubin you need to take a small, traditional walk-on ferry from the Changi Ferry Port (near to the airport, northeast of the central business district).
On arrival you'll find an old style kampong, or village, of traditional wooden houses, many of which now offer mountain bike rental.
Shop around, as many of the bikes are well worn - or better still take your own bike if you have it with you.
Once primarily a quarry site, which was transformed into a nature reserve, it is a true green island oasis with landscaped grass and tree-lined areas, and a wetland nature reserve frequented by birds.
Two mountain bikers take a bend on a trail in Pulau Ubin. PHOTO: South China Morning Post
The bike park was opened in 2008.
The main trail is 10km all in, and offers several multi-graded sections.
You can find everything from novice-friendly to very technically demanding trails.
This is a great place to go to escape the city, and on weekdays it is relatively quiet as it's not easy to reach.
The trails here are good to ride in all weathers as the same rock that fed the quarry drains away water quickly.
If you do visit then make a day of it and enjoy the relaxed nature of the island.
The park is open daily.
Full details on all three of these parks and trails, plus details on a number of trail and road options for linking them together, can be found at www.nparks.gov.sg
This article was first published in South China Morning Post.