$30 journey? TikTok user shares wallet-friendly way to travel to Penang
PHOTO: Screenshot/TikTok/mytravelsyourguide
PUBLISHED ON
September 19, 2023 8:15 AM
By
Venkat Gunasellan
Malaysia is a popular holiday spot for Singaporeans, especially when seeking a quick escape.
However, if you opt for flights to nearby destinations like Kuala Lumpur or Malacca, be prepared for expensive ticket prices, even when flying by budget airline.
A content creator decided to avoid these surging flight costs by taking an unconventional route to Penang.
User Mytravelsyourguide shared their budget-friendly journey in a 90-second TikTok video posted in July. 
The video begins with a trip to Johor Bahru (JB) via Singapore's public bus service, which costs approximately $2.50.
There are a few buses from Singapore bus terminals that will bring you to JB. 
That includes bus 950 from the Woodlands Temporary Bus Interchange, which will lead you to Woodlands Checkpoint. 
Or you can take 160, 170, 170X and Causeway Link CW1 from Kranji MRT station for a direct service to Woodlands Checkpoint.
The bus fares vary between the different local buses, but they are pretty affordable as they are well under $3.
User Mytravelsyourguide also advised to avoid peak travel times by crossing the Causeway before 6pm to minimise waiting time.
To illustrate their point, they reached Woodlands Checkpoint  at 4:40pm and managed to clear JB's customs by 5:15pm.
After exploring the city centre (which is optional), the video shows them taking a Malaysian public bus to Larkin Sentral for RM$2 (S$0.58), with an additional RM$2 due to a ticket exchange at the bus terminal.
The video also mentioned Causeway Link as one of the bus options. A quick search online shows that the fare is $2.60. 
From Larkin, the following bus journey to Penang took approximately 9.5 hours and was priced at $24, with user Mytravelsyourguide mentioning that ticket rates can dip as low as $18 during promotional periods. They boarded the Quick Liner intercity bus, which is equipped with reclining seats.
Upon reaching Penang Sentral Bus Terminal in Butterworth, the final leg of the journey involves a ferry ride to the main Penang Island, which costs RM1.20.
All in all, the journey's total cost added up to $28.01, which was well under the stated $30! 
Reactions from netizens
In the comments section, some netizens expressed concerns about the long travelling time of this unconventional travel journey to Penang.
One user suggested that taking a flight from JB to Penang might be a comparable cost alternative to the bus ride.
Another user mentioned about taking a bus that will bring you straight to Penang Island. Since user Mytravelsyourguide travelled during a long weekend, the tickets for the express buses were sold out.  

In case you were wondering about these express buses, they actually refer to a fleet of buses that bring you directly from Singapore to Penang Island.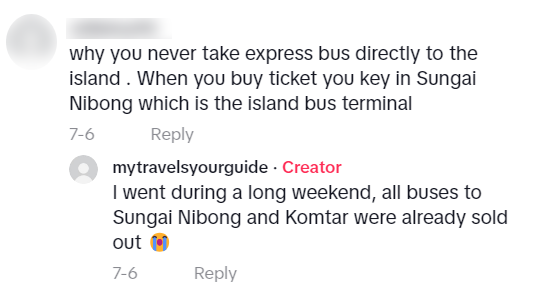 How to avoid the Causeway jam
User munzpewpew shared her experience in a TikTok video on June 14 where she decided to skip all that hassle at the Causeway and take a ferry to Johor instead.
The video started off at Tanah Merah Ferry Terminal where she collected her tickets to Johor from the Batam Fast counter.
The ferry was pretty empty, with just a few people on board.
The video also mentioned that there's no Grab in the area. So after arriving at Tanjung Pengelih, they booked a private car to embark on their adventures.
It's worth noting that if your main destination is Johor Bahru (JB), taking the ferry doesn't lead you directly to the city centre, you would still have to take a private-hire car to get there.
READ ALSO: No Grab, no problem: Woman shares hack for cheap travel in JB
No part of this story or photos can be reproduced without permission from AsiaOne.