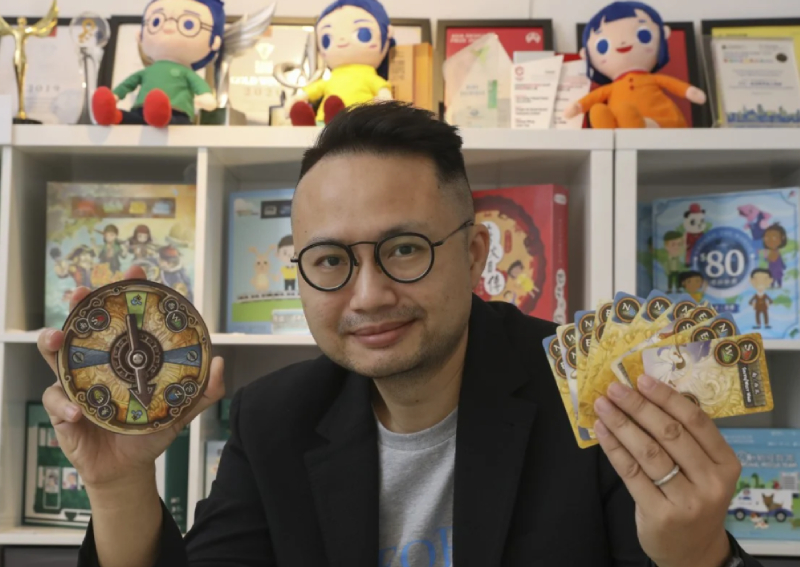 When Thomas Wong Chang Hung began his career as a social worker in Hong Kong in 2000, he saw how rarely families spent time playing together. After a hard day at work, parents had little energy left to play with their children. Kids, in turn, were increasingly addicted to mobile and electronic devices.
One evening in 2009, as an experiment, Wong now 43, took several board games to a community centre in Tung Chung, a new town on Lantau Island near Hong Kong's international airport, to play with the youngsters. Their excitement was heartening, he says.
"The kids brought their friends, taught them how to play games and even borrowed board games to take home to play with their parents," says Wong, a self-described avid reader and history buff.
His successful experiment motivated him to apply for government funding so community centres could stock more board games, but his request was rejected.
In April 2012, Wong founded People on Board (POB), a social enterprise intended to use the power of play to bring people together. POB encourages local designers to create games with historical, cultural and environmental messages.
In recent years, after seeing parents struggle to explain complicated environmental concepts such as the greenhouse effect to their children, and inspired by his two daughters and their passion for board games, Wong designed a game called Earth Rescue, which recently won a special mention in the 2021 German Design Awards.
The game allows children to experience the consequences of global warming as they collaborate to stop glaciers melting (racing against real ice chips that melt). After playing, children often feel sad, even upset, about the sorry state of the Earth, Wong says, and the game builds their understanding of the real world and its problems.
Games with social themes can reveal uncomfortable truths, mixing self-awareness with an element of fun, he says. Games are also tools that can help instil good habits, and they can be therapeutic. "Even adults need board games to keep their minds active," Wong says.
Since the Covid-19 pandemic hit this year, People on Board has donated more than 2,000 board games to eight social welfare organisations in Hong Kong to pass on to low-income families.
In recent years, a slew of board games with strong social messages have flooded international markets. Many of them are designed for adults.
Princeton Wong Tze Fung, 27, a board game designer born and raised in Hong Kong, says he was inspired by the atmosphere of the 2016 Legislative Council elections in Hong Kong to design Electioneer, a game that involves poll strategies and includes an in-depth map of Hong Kong featuring some 150 landmarks and illustrations. These give players a sense of place, he says.
In the game, designed to inspire people to start thinking like an election candidate, players take turns to campaign and raise funds to influence different groups. The player who can win votes from the groups earns points.
At a time when Hong Kong pro-democracy politicians are being disqualified from running, or disbarred, Wong is now designing another game, tentatively called Puppeteer.
"At the time of making this, there was no significant game featuring Hong Kong, especially contemporary Hong Kong," says Wong. "Hong Kong has always been known worldwide for its investigative crime movies and colonial-era products. I wanted to show a different side, perhaps more real, of contemporary Hong Kong.
"While the election mechanics are quite complicated, I just took ideas and distilled them into a game."
In India, a game with a similar theme has ignited interest in politics, especially in rural areas. Called The Poll: The Great Indian Election Game, it was created by journalist Abeer Kapoor and produced with the support of a non-government organisation called Smart (Seeking Modern Applications for Real Transformation).
The game is based on the challenges thrown up by modern politics. Each player takes control of the affairs of a political party, manages its finances and is unscrupulous about winning more votes. One of the objectives is to design an election manifesto. Players collect campaign cards to expand the vote, gather policy cards and offer solutions to problems.
"Players argue over and discuss real issues during the process of play," says Kapoor. Last year, he played the game with 7,500 people across the country, including children from 30 schools, many in rural areas.
"It's interesting to see how people reveal who they truly are by discussing their deep-seated political beliefs," he says, adding there were some unexpected benefits, and sometimes even people with polarising political views found it possible to meet midway.
Many young girls found the game engaging, Kapoor adds. "They told me that the game helped them form opinions on issues of public policy and drew them into politics, something they'd never seriously regarded as a career."
Designers believe a lack of adequate funding affects the production and distribution of diverse games that have the potential to usher in change. Most board game designers are forced to promote their ideas via online crowdfunding platform Kickstarter.
"More board games are launched on Kickstarter at any given time than are launched by conventional publishers," says Princeton Wong, adding it is hard to get public attention for a newly launched board game or even for a bare-bones idea on Kickstarter.
A 2018 study that analysed the gender and racial representation of board game designers found that only seven individuals who worked on the 200 top board games were women (using games rankings from BoardGameGeek, a table-top gaming community discussion board). In 2019, the number of women game designers grew to nine. The study found that 93.5 per cent of the designers were white men.
Today, there is a growing number of women in the field, reflected in the nature of contemporary board games, especially those designed not just to change the way people view the world, but the way people view their own bodies.
The Period Game started as a college project at the Rhode Island School of Design in the United States six years ago, says designer Daniela Gilsanz.
"We were in a design and play class and everyone was tasked with making a game about the body," she says. Her team decided to design a board game that would shed light on the menstrual cycle.
"It was a great opportunity to make a typically uncomfortable learning experience fun. Initially, our classmates were still a little uneasy, which surprised us, as we were all in our twenties at art school, but it proved that there was still a long way to go in how we talk about periods."
The commercial version of the game, aimed at prepubescent and pubescent children, was launched in homes, schools and stores in December 2019.
The goal of The Period Game is to become a "Period Pro", and players win by being the first to make it round the board, which has four types of space to represent the four-week cycle of a period: the "just hanging space" (you're not always thinking about your period), ovulation, PMS and period spaces.
This year has seen the revival of a popular board game focused on global health. Matt Leacock, 45, a game designer based in Sunnyvale, California, says he started working on Pandemic as far back as 2004.
"The threat of pandemics was in the news at the time since Sars [severe acute respiratory syndrome] had recently struck," he explains, and deadly viruses felt like the ideal enemy for the foundation of a cooperative game that would require a joint-player effort.
Pandemic was produced in 2008. Each player joins a disease-fighting team that works together to cure four deadly diseases threatening humanity. They travel the globe to treat the disease and reduce deadly outbreaks. Players need to keep the diseases under control until they can discover cures.
Finding the cures alone is difficult, so players need to collaborate with teammates to share information. The player who finds all the cures before the infection spirals out of control will win.
"You can safely confront the disease on your table, and it gives people a natural context to discuss and process what's going on in the world around them," Leacock says. "Sales of board games overall have been up since people started isolating. This is one activity you can easily do while you're stuck at home with family."
This article was first published in South China Morning Post.