The Pollard family know that waste reduction is for life, not just for Christmas.
Jen, Mark and their children Kale'a, 13, Noelani, 12, and 10-year-old Kai live in the small beach village of Shek O, on the south side of Hong Kong Island.
They say their drive to adopt a year-round greener lifestyle ramped up last September when Super Typhoon Mangkhut literally spewed waste from the sea into their lives.
"When Mangkhut happened, everyone was on the beach clearing rubbish. There was so much of it," says Noelani. "It was a wake-up call that got the clean-up movement moving."
Marine pollution came into sharp focus in the aftermath of Mangkhut, Hong Kong's most intense storm on record, which lashed the city with winds of up to 285km/h (177mph), triggering storm surges of almost 4m (13 feet) that flooded low-lying areas with waste.
In the days after the storm, the city's residents rallied together to help clear up the mess, and the Food and Environmental Hygiene Department collected about 1,000 tonnes of rubbish a day.
The aftermath of Mangkhut shocked many in Hong Kong into changing their relationship with waste.
But at Christmas - traditionally a time of excess - even the most eco-conscious among us might find it hard to cut back.
It doesn't have to be that way, though. With a few tweaks to traditions, it's possible to reduce your waste footprint and guilt, and still have fun. Just ask the Pollards.
In what they say was "a great bonding experience", the family use a fabric advent calendar every year, only remaking the small paper wishes in each pocket, and used toilet rolls and biodegradable paper to make their own Christmas crackers - festive table decorations that contain a joke to tell, and a small toy that inevitably ends up in the bin before the day is out.
"We wrote our own jokes and added useful gifts, like charging cables and earbuds, that won't be thrown away," says Kale'a.
Their Christmas tree has also been given the upcycled treatment.
Once a fan of real imported firs, for the past few years the family have used a tree they made from wood found washed up on Shek O beach.
"Dad assembles it and we take it down and pack it in a box until next year," says Kai. "And it's decorated with green sea glass that's washed up on the beach."
Orange sea buoys that have washed ashore are used as decorations. Under the tree are presents wrapped in bags made from scrap material left over from Jen's accessories business.
These DIY projects might seem small in scale but are significant in a city struggling with waste.
Last year, waste levels in Hong Kong hit a record high, with 5.87 million tonnes sent to landfills - up from 5.66 million tonnes in 2017.
That means each Hongkonger sent an average of 1.53kg (3.4lbs) of municipal solid waste - including domestic, commercial and industrial debris - to landfills every day.
Hongkonger Harry Chan Tin-ming has (literally) done a deep dive into the city's waste problem.
The 66-year-old spends his "retirement" hunting ghost nets - lost or abandoned fishing gear that traps marine life.
According to a 2016 Coastal Watch marine litter survey, ghost nets rank high on the top 10 list of most commonly found marine litter in Hong Kong.
Sharks, turtles, fish and birds die after becoming entangled in the nets, from drowning, suffocation and other fatal injuries, says conservation body WWF Hong Kong.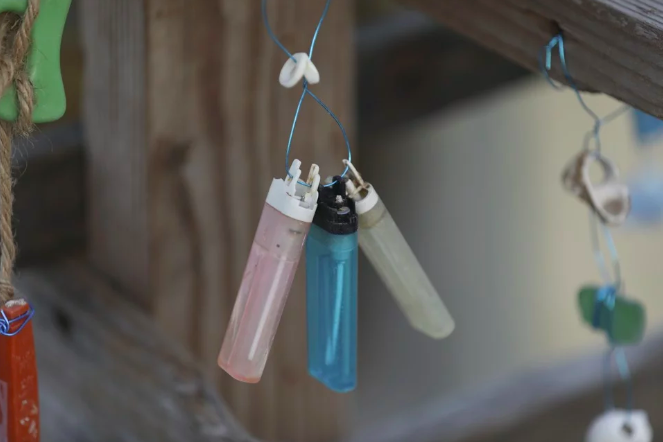 In his 30 years of diving, Chan has seen all sorts of waste: from fridges, washing machines and mattresses to tyres, styrofoam, syringes and cutlery. Lots of cutlery.
"I see loads of plastic knives, forks and spoons in the ocean," Chan says over the phone from Cebu, in the Philippines, where he's working on more ghost net clean-ups.
"This festive season, I suggest that if people are heading to parties or buffet-style dinners, they take their own plates, forks, knives and chopsticks and not use disposable cutlery."
He even has a few decorating tips: "On one beach clean-up in Shek O, we found ghost nets in good condition, so I suggested the clean-up organisers take them back to their office and use them for Christmas decorations - which they did."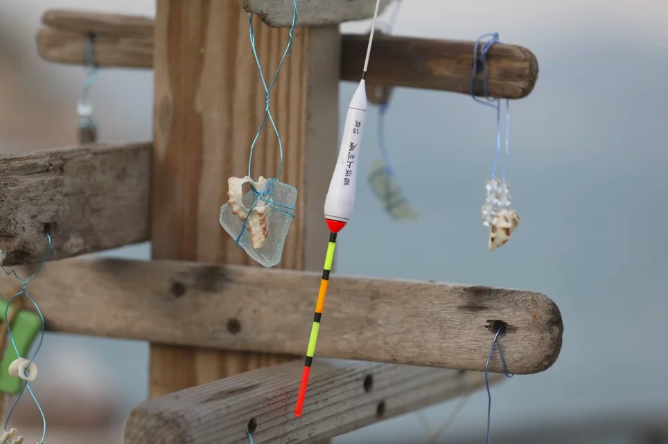 While there are no Hong Kong studies on the amount of waste generated over Christmas, a 2018 study by British waste management company Biffa found that Britons create 30 per cent more waste than usual over Christmas.
This figure includes a whopping 114,000 tonnes of plastic packaging.
What we do know, however, is the spending habits of Hongkongers over Christmas.
A study by Visa, released in March, found Hongkongers spend the most money during Christmas of all the holidays surveyed (Christmas, Lunar New Year, New Year's Day, Easter, Hong Kong SAR Day, Buddha's Birthday, Ching Ming and Tuen Ng). Gift-giving and dining-related spending were the main drivers.
One Hongkonger who won't be buying useless gifts for friends and family this festive season is Tamsin Thornburrow.
"Stuff is out. Experiences are in," says the founder of Live Zero, Hong Kong's first zero-waste store, as she settles into a chair at a Causeway Bay coffee shop.
"A secret Santa for family or colleagues is also a good way to cut back - you buy one quality present instead of 15 cheap ones. Or give to a charity, or gift people an experience like a bungee jump, a visit to [Hong Kong theme park] Ocean Park or a ticket to a movie. Home-made food in a hamper with a pre-used basket also makes a practical gift."
Sonalie Figueiras, founder of Green Queen, Hong Kong's largest eco-wellness media platform, says traditions - festive or otherwise - must evolve to adapt to our changing world.
"People have an unhealthy relationship with consumption," says Figueiras. "We don't put enough focus on the mental weight caused by the stuff we accumulate. We need to reduce waste and change old habits."
Figueiras suggests that, instead of ordering online where items are shipped back and forth, consumers should support local businesses and small boutiques selling green products.
"Consider gifts like second-hand books or preloved clothes from places like Hula [in Wong Chuk Hang] which has a huge selection of amazing designer clothes. We know the fashion industry is a major polluter so don't buy new. For meals over Christmas, swap meat dishes for plant-based ones to reduce your carbon footprint."
With Hong Kong having one of the smallest average flat sizes in the world at about 470 square feet (44 square metres), Figueiras says many Hongkongers don't have room to store decorations.
"People buy cheap ones and throw them out a few weeks later."
She says consumers must consider the high human cost of cheap decorations. And she's right.
In 2014, an investigation by British newspaper The Guardian exposed poor conditions inside the Chinese village of Yiwu, 300km south of Shanghai, where 600 factories produce 60 per cent of the world's festive decorations.
The report found factory workers not only worked long hours in poor conditions, but were also exposed to toxic and health-damaging chemicals.
What about Christmas trees? For those who cannot find festive pieces of driftwood, it's a matter of real versus fake.
Doug Woodring, founder of the Ocean Recovery Alliance, says that you should not buy a plastic Christmas tree, although an argument could be made for one if you reuse it every year.
"Real trees aren't great either if you plan to throw it out after three weeks," he says. Instead, he suggests renting a tree or buying one in a planter for keeps. "Or decorate your house plants."
Instead of buying a Christmas tree, people can support WWF Hong Kong's tree-planting project in Indonesia, where rainforests are disappearing at a rate of three football fields per minute.
A donation will not only help halt deforestation but also rebuild crucial habitats for some of Southeast Asia's most endangered species, including tigers, elephants, rhinos and orangutans.
Woodring also says people should go easy on gift wrapping. "Use newspaper or paper bags," he suggests, and be proactive in being environmentally conscious.
"If a company sends you an item with lots of waste, write to them and ask if their packaging is sustainable. If people don't make brands aware that you're watching, then they have no reason to change."
Esther Roling, co-founder of Hong Kong's Adventure Clean-up Challenge - an annual one-month event with a mission to clear hard-to-access coastal areas of rubbish - uses pillow cases to wrap Christmas gifts for her three-year-old daughter, Zaya.
"Alternatives to wrapping paper might be right in front of you, from scrap material, paper or even a scarf," she says.
Roling, from the Netherlands, has also seen the devastating impact of waste on Hong Kong.
In 2017, she and her husband, Paul Niel, completed the first coasteering expedition of Hong Kong Island.
For six days, the couple walked, climbed and swam the 80km coastline, mapping along the way 163 trash pollution hotspots and collecting 51 water samples to make a first-of-its-kind open-sourced pollution map.
Their adventure was turned into a documentary, The Loop.
Much like Thornburrow, investing in quality items is a philosophy Roling subscribes to. "Instead of buying loads of cheap toys, buy one quality, well-crafted toy that will last longer," she says.
Sites such as Buy Me Once that feature well-researched products - some with lifetime guarantees - are great for those who want to spend with a conscience.
Roling also likes preloved gifts. "My daughter has wooden toys that were handed down from my husband and clothes that I wore as a child," she says, adding that clothes and toy swaps among friends are a good alternative to buying new.
Food waste is also on her radar, where again she advocates quality over quantity.
"Don't prepare a huge amount so it won't be wasted. Keep it simple and tasty - don't overdose on everything. On a positive note, you won't have to worry about the guilt of overindulging."
This article was first published in South China Morning Post.