As Bali in Indonesia continues to thrive as a tourist destination, so the number of restaurants on the island continues to grow. While many claim to serve real Balinese cuisine, very few come close to reflecting the island's incredible culinary diversity. An order of babi guling (roast suckling pig) may seem authentic, but there are countless humble dishes which pack much more flavour as well as being of symbolic importance in Balinese culture.
One woman who knows this more than most is 27-year-old food writer Maya Kerthyasa. Half-Balinese and half-Australian, her grandfather was an elder at Ubud Palace, while her grandmother was a cook - a hugely significant position. Kerthyasa is therefore also Balinese royalty.
She has made it her mission to change perceptions of the island's cuisine.
"I was so confused that no one knew anything about Indonesian food - and Balinese food in particular. People sometimes think its spicy or complicated, but it's very tied to our religion and culture, with ceremonial dishes which can be super complex.
"Every single village, cook and kitchen has their own take on different ingredients and dishes. You could go to a neighbour and they'd do a dish completely differently, so you can travel Bali and feel like you're going to different islands," she says.
Kerthyasa joined a culinary programme on a recent Silversea cruise starting in Bali. She began by explaining to cruise passengers how traditionally kitchens on the island were open-air structures with earthen floors and wood-fired stoves.
"Smoke adds so much depth and flavour; [think of] the smokiness in rice and sambal, [in] food wrapped in banana leaf and grilled or steamed. It also means that there's a beautiful interconnectedness between the cook and nature, a philosophy for harmony that we call tri hita karana. Eating is not a means of sustenance but of honouring ourselves, nature and gods."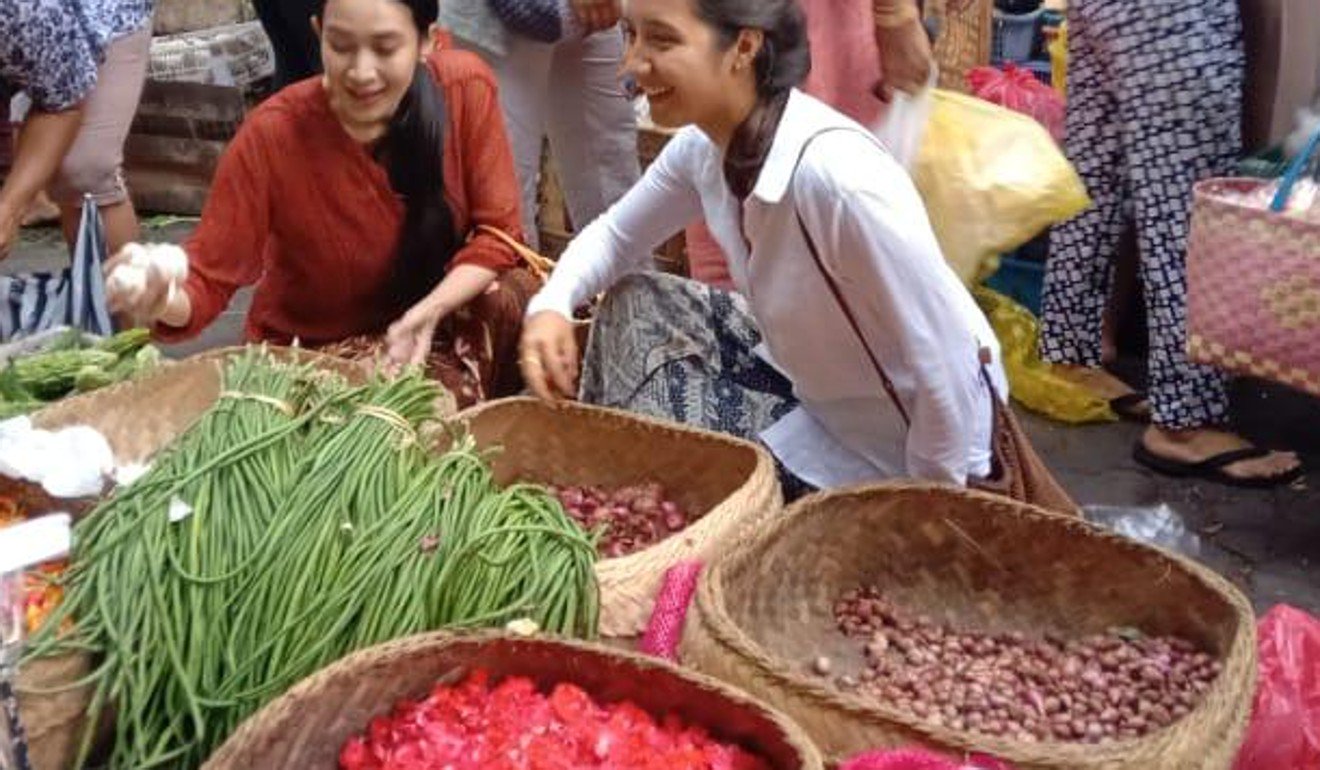 Because the kitchen is deemed dirty, ungodly and unholy, it must always face towards the sea, she says. Offerings are made on the stove because Balinese believe the gods reside there, so it becomes an altar, of sorts. There's the god of fire, Brahman, Lord Vishnu the god of water, while even a traditional rice cooker is dedicated to Derieri, the goddess of rice and abundance.
Her 90-something-year-old grandmother still gets up at 3am to work in the kitchen. Cooking is done in the morning, with everything bought fresh. "Traditional markets are still going strong. You'll find fern tips, cassava leaves, papaya leaves and you buy enough for one cook a day," Kerthyasa says.
Once the dishes have been made, they are set aside in a cupboard for people to come and eat as they please. There's no notion of breakfast, lunch and dinner, and even the way people eat is different; traditionally they don't sit down and eat together.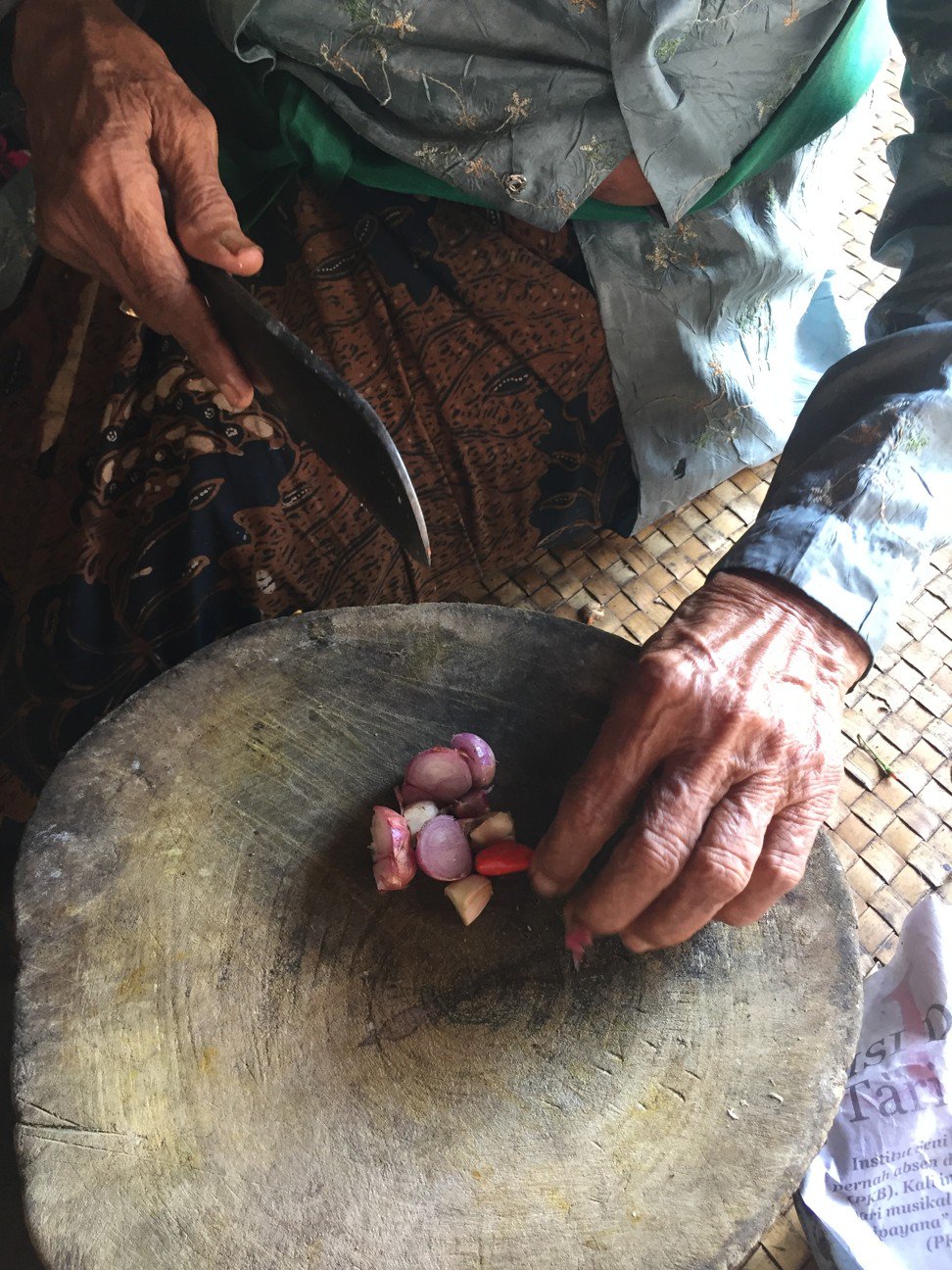 Kerthyasa says: "You go and eat whenever you want, in silence, usually with your backs turned to whoever else is there. Eating and cooking is such a sensory experience that people focus on it. We also pay our respects to the goddess Derieri."
She adds: "If food doesn't taste good, people let you know. There are about 40 words for something that tastes good - but about 50 for things that don't."
Nothing is wasted, but nothing is kept until the next day either, a habit that dates to the time before refrigeration when food had to be consumed before it spoiled.
In common with a lot of older cooks, Kerthyasa's grandmother refuses to use anything other than traditional utensils. She wields fearsome-looking knives with long, thin blades, called belakas, and a grater which in days of old was made from rattan spikes. She also insists on using labour-intensive techniques, Kerthyasa explains.
"Things have to be super finely chopped. Food is an offering so it has to look beautiful, worthy of the gods eating it. Chopping is meditative, so you really have to focus and put your energy and soul into it. If you're angry, the energy flows into the food.
"She's one of the last generations of women to cook this way and it's said she has special powers in her hands."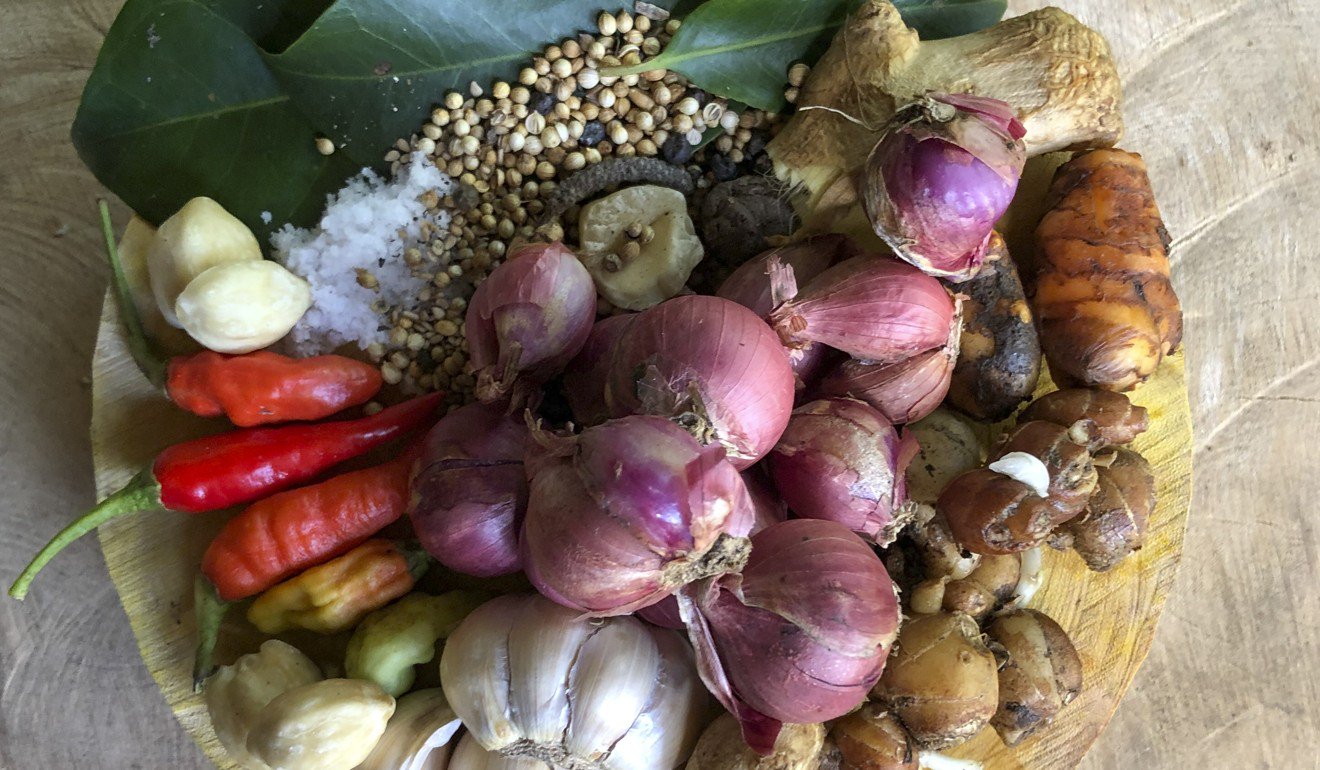 Kerthyasa also admits with a smile that some "very strange meats" are still consumed. "Frog meat, porcupine, anteater. If my grandmother saw a porcupine she'd grab it and kill it. People still go and hunt, they'll catch dragonflies. Then there's 'ocean meat', which is turtle meat", she says, wincing, before stressing that it's very rarely eaten these days.
She also explains how different castes eat different foods. "Geese and duck are selective eaters so they're popular with higher castes. Traditionally these castes eat more of a vegetarian cuisine, and they also don't eat pork or chicken as they're deemed not to be good for you" - so much, then, for babi guling.
What ties all the ingredients together, regardless of one's caste, is spice, which Kerthyasa calls "the backbone of Indonesian cooking".
"People think there are a handful of spice pastes, but every cook kitchen and village has their own way of using spice. There are no rules, and everything depends on your palate and what your family likes to eat.
"If you're grinding a spice paste or mixing a salad you won't taste what you're cooking, you'll smell your hand and know if it needs salt, candlenut or whatever. It's intuition and knowing your ingredients.
"Spice brings all the dishes together and also lets you know what regions the dishes come from. In west Bali chilli is more pronounced, in Ubud it's less so but they use more galangal, while in the interior of Bali it's more pepper, and chilli is not really a traditional part of their cuisine," Kerthyasa says.
With an array of herbs and spices laid out in front of her, Kerthyasa makes a number of spice pastes and a sambal that marry a range of flavours and textures. One constant is coconut, an ingredient that she says is critical in Balinese cuisine. "We have coconut in almost every dish, whether in oil, grated, or the skin roasted and put in spice pastes."
Kerthyasa starts with what she calls "the complete spice paste", base genep. This combines shallots, garlic, coriander seeds, pepper, chilli, salt, turmeric, ginger, galangal, lesser galangal, candlenuts and base wangen (a blend of coriander seed and black pepper). The ingredients are turned into a paste using a pestle and mortar. She serves it with hard-boiled eggs, but it pairs equally well with other proteins.
"Taste as you go and make sure the balance is right. It's used a lot with meat and the spices can be adjusted. Add more ginger for chicken, turmeric for duck, or galangal for pork," she says.
Next is suna cekuh, another paste that is often paired with vegetables or used as a seasoning. It incorporates lesser galangal, garlic, candlenuts, pepper, coriander seeds, turmeric and a tiny amount of shrimp paste, which are all fried in coconut oil, then used like a dressing.
"You can massage it through blanched fern tips and moringa leaves with fresh grated coconut - that makes a salad called sayur urap," she says.
Finally comes sambal matah, one of Indonesia's best known raw condiments. Kerthyasa finely slices a thumbnail-sized piece of ginger, ten small red shallots, kaffir lime leaves, three cloves of garlic, chilli and a torch ginger flower heart, then adds salt and coconut oil to taste.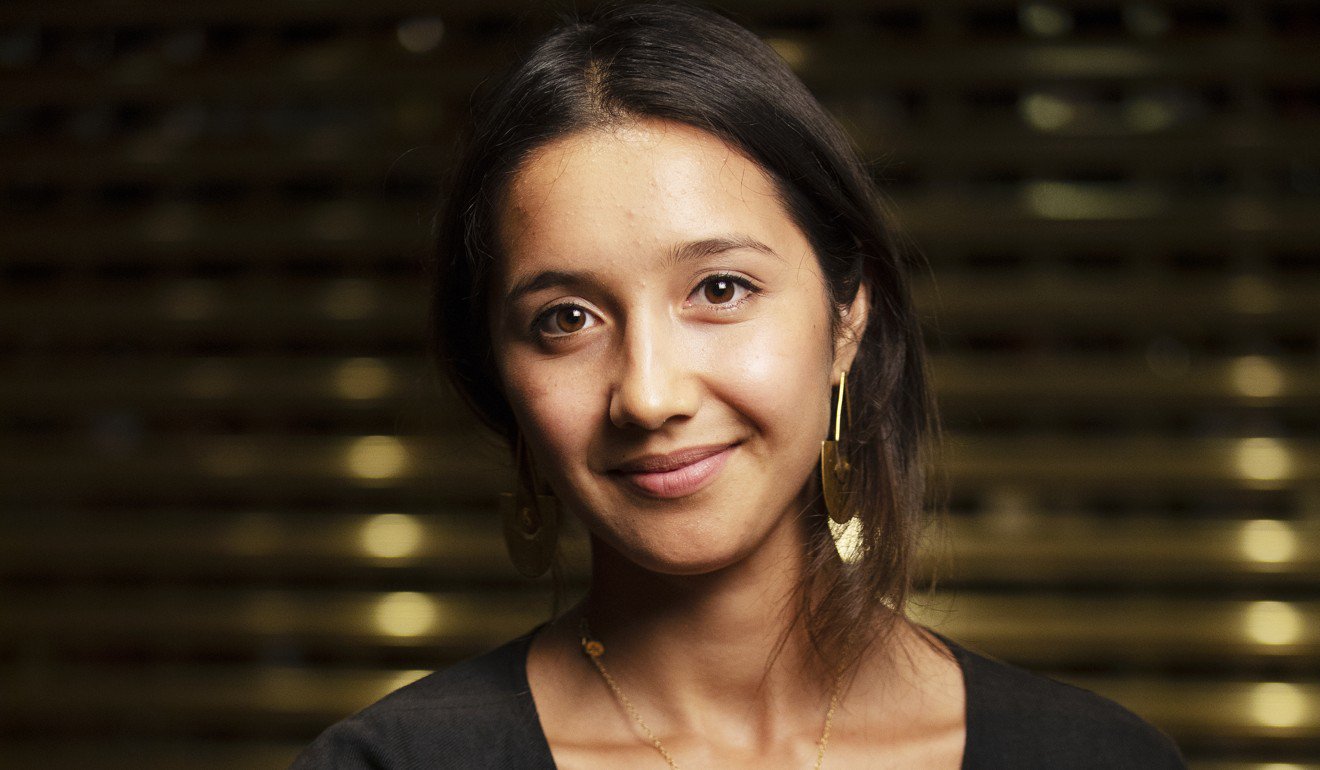 "The sambal should be wet, but not swimming in oil. For more fragrance and pungency, add more torch ginger flower or a sliver of terasi - pungent shrimp paste. You can mix it through shredded chicken before adding a squeeze of lime on top."
As for where to find these and other traditional dishes in Bali, Kerthyasa says: "I recommend going to warungs, or local eateries, to find Balinese food done properly. There's Biku in Kerobokan, and Warung [Makan] Teges in Ubud is one of my all-time favourites.
"Another one on the upmarket end of the spectrum is Nusantara in Ubud, and the restaurant at Bambu Indah has some beautiful homestyle Balinese dishes on its menu."
Places in Ubud, Bali, to eat traditional food:
Biku, Jalan Petitenget 888, Seminyak, Kuta Utara, Bali, Indonesia, tel: +62 851 0057 0888
Details at bikubali.com
Warung Makan Teges, Jalan Cok Rai Pudak, Peliatan, Ubud, Bali, Indonesia, +62 361 975 251
Nusantara by Locavore, 9C Jalan Dewi Sita, Ubud, Bali, Indonesia, tel: +62 3619 729 73
Details at locavore.co.id/nusantara
Bambu Indah Resort, Jalan Barung, Sayan, Kecamatan Ubud, Bali, Indonesia, tel: +62 361 977922
Details at bambuindah.com
Maya Kerthyasa was presenting as part of Silversea's inaugural Sea And Land Tastes (S.A.L.T.) culinary voyage. Details at silversea.com
This article was first published in South China Morning Post.