Free-flow caviar, lobster and cocktails: Influencer showcases all she ate at F1 Paddock Club, here's how much it cost
PHOTO: TikTok/Graceglazee
PUBLISHED ON
September 18, 2023 11:00 AM
By
Melissa Teo
It's been an exhilarating weekend of Formula One (F1) action for many in Singapore. 
And while race-goers had to pay a pretty penny for the experience, some dropped serious coin in order to get exclusive Paddock Club tickets. 
Curious to see what the VIP ticketholders can enjoy? Influencer Grace, who goes by the moniker Graceglazee, gave us a sneak peak of all the food she got to enjoy at the event. 
This was shared in a 100-second TikTok video uploaded on Sunday (Sept 17). 
"Everything here is free! And it's basically an all-you-can-eat buffet," she explained in the captions. 
And her goal? To eat as much as she could before the race started. 
Her first stop was the famed Nobu, a Japanese restaurant that celebrities like Natalie Portman and The Kardashians have wined and dined at. 
In the TikTok clip, Grace showed how all the food was laid out on counters like what you'd get at a buffet. 
Some goodies she feasted on included fatty tuna, shrimp tempura and fresh ebi. 
Other delicious offerings available were salmon karashi sumiso and Nobu's iconic black cod miso. 
After which, Grace went to cleanse her palate with some cocktails from Paradiso. 
Yes, alcoholic drinks here are free-flow too and Grace happily sipped on a tipple that had a grape bubble which popped in her mouth. 
She also had another drink that came with an interesting garnish — a small cube of cheese. 
Next up on the agenda was three Michelin-starred establishment Dani Garcia. 
Here, there were even more free-flow drinks, as well as luxurious offerings such as caviar, lobster and uni. 
"I can't believe how much we've eaten at this point but it's all so good," praised Grace. 
And even though she already had so much to eat, Grace couldn't resist some sweet treats from pastry specialist Cedric Grolet. 
"All you can eat Cedric Grolet pastries? I think I'm in heaven!" Grace said enthusiastically. 
She didn't just indulge in desserts here  — she also enjoyed a lovely glass of bubbly champagne too. 
And just before the race started, she grabbed a quick cup of coffee to "wrap things up".
AsiaOne has reached out to Grace for more details.  
Understandably, the burning question on everyone's minds in the comments section was: How much do the Paddock Club tickets cost?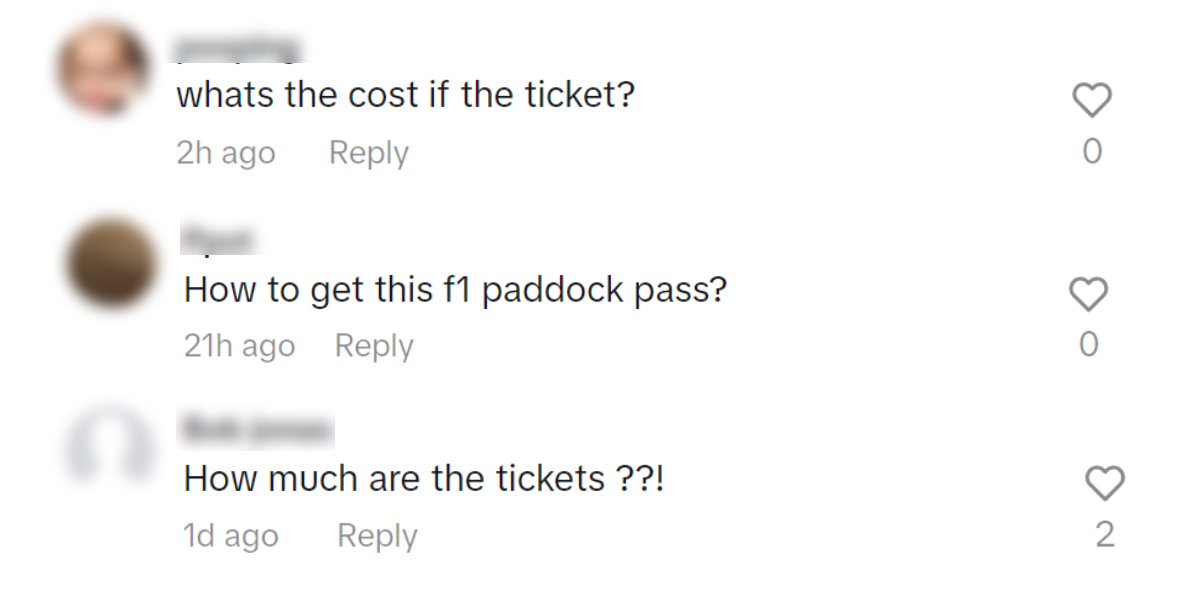 A whopping $11,016, to be exact. 
Yes, that's how much it costs for the three-days tickets, which are the most exclusive tickets for the event, according to The Business Times. 
This is the first time the ticket price has crossed the five-figure range since 2008 too. 
It's a 10 per cent increment from $9,898 in 2022, and $9,500 in 2019. 
Despite the high prices, organisers of the Singapore GP said these were all snapped up, with only limited single-day tickets remaining for Friday and Saturday.
ALSO READ: Naomi Neo gets invited to see her F1 dream team
melissateo@asiaone.com
No part of this story or photos can be reproduced without permission from AsiaOne.