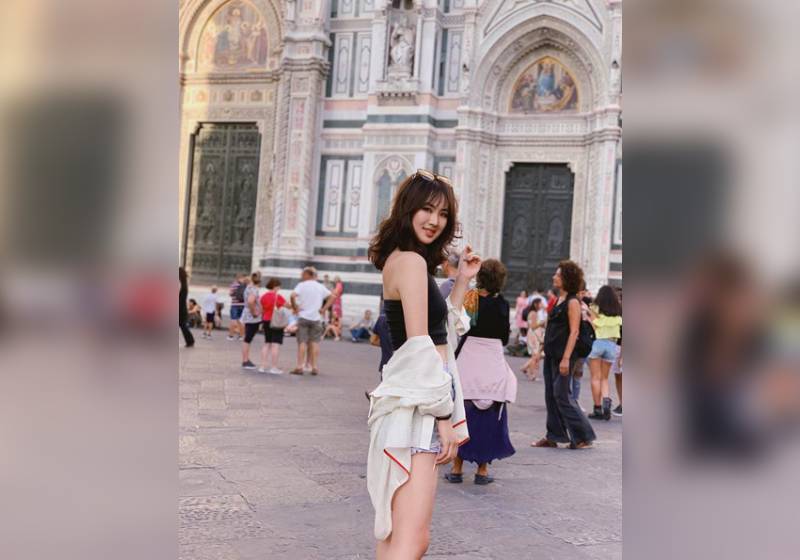 Amid the glossy rails of Harvey Nichols, the ornate hallways of Harrods and the DJ-filled corridors of Selfridges in London lurks an entirely new type of customer.
Rich retirees, European tourists and local fashion lovers still throng London's department stores, but alongside them are young Chinese students spending their hefty allowances.
The boutiques of the British capital are not their only target. On Los Angeles' most expensive shopping streets, Chinese students from the University of California Los Angeles, University of Southern California, and California State University shop elbow to elbow with Hollywood stars.
Over on the US east coast, Parsons and Columbia students in New York are renting apartments on Fifth Avenue and buying from the department stores below their feet.
It is a similar story in Melbourne, Paris and Vancouver, where rents have increased in areas favoured by the young Chinese.
Unlike domestic students in these cities, most of whom have a paltry allowance that sees them head to Primark rather than Prada, Chinese youngsters studying abroad often have a disposable income of which most adults can only dream.
Annabel Yao - a 22-year-old Harvard computer science student and ballerina who has lived in Britain, Hong Kong and Shanghai - is the daughter of Huawei founder and CEO Ren Zhengfei, and her social media accounts depict her jetting around the world wearing Dior, Louis Vuitton and Saint Laurent.
Then there's Wang Sicong, the son of one of China's richest men, Wang Jianlin.
He studied philosophy at UCL in London, where he is known for having bought an Apple Watch for his dog and paying £80 million (S$143 million) for a student pied-à-terre in the upscale Kensington neighbourhood.
"These are seriously desirable customers we're talking about," says Melody Yeh, co-founder and operations director of Emerging Communications, a London-based intelligence firm specialising in Chinese retail. "They have big spending power - international fees cost a lot, so to be able to come to the UK to study, they need wealthy families.
"We've calculated that the annual disposable income of Chinese students in the UK is £28,236," Yeh adds.
"We're not talking about accommodation or fees or bills here, just personal spending on goods. On top of this, each student will have about three people annually come and visit them from China, and no doubt go shopping with them. So yes, brands want to catch their attention."
These students are taking over campuses in the West. Young Chinese citizens accounted for more than 40 per cent of all international students in the UK last year and about 33 per cent in the US and Canada.
Having their children study abroad has become one of the main aims of both China's ultra-high-net-worth individuals and the country's affluent, upwardly mobile middle class.
A recent survey by Kai Tak Education found that 83 per cent of Chinese millionaires want their children to study overseas - mostly in the West.
Considering an estimate by Swiss bank Credit Suisse that there are more than 100 million Chinese in the top 10 per cent of world's richest people, there are a lot of well-off Chinese students out there.
The influx of Chinese students into European and American cities has created an industry aimed at marketing goods and services to them.
Websites including Red Scarf are produced entirely in Mandarin and advise Chinese students abroad where to shop.
Tao Liang launched Mr Bags in 2012 when he was a student in New York and has since seen phenomenal growth, with over 3.5 million followers on Weibo and more than 850,000 on WeChat.
In June last year, in just six minutes, Liang helped Tod's sell 3.24 million yuan's worth of handbags (around S$626,000 at the time); the year before, in 12 minutes, he sold Givenchy handbags with a total value of 1.2 million yuan.
"The best way to attract these Chinese students is to target Chinese KOLs [key opinion leaders] who are living in the US or UK, as students will follow them to get advice on how to survive in their new home," Yeh says.
"Fans are very loyal, the KOLs produce good content, and they're a lot cheaper than their equivalents in China.
"Another important thing to do is promote your goods on Weibo, WeChat and Little Red Book, as studies show that students usually stick to Chinese social media platforms rather than migrating to Instagram or Twitter."
Chinese students can also be invaluable in promoting European and American brands in China through their social media channels.
Yeh cites the case of Aspinal of London, a British leather-goods brand that never had much of a presence in China.
The brand started targeting Chinese students in the UK through Weibo and WeChat, and before long realised that sales were increasing in China as well, simply through word of mouth.
Yeh also suggests making content as localised as possible for a Chinese audience, targeting Chinese New Year, Singles Day and the Golden Week holidays.
"They might live in the UK or US, but they still celebrate, and content like this will resonate with them," she says.
The same is true for brands that embrace British heritage, or the heritage of whichever country the student is living in and trying to adapt to.
Equally popular are labels that allow students to express an aspect of their personality and individuality as they forge a new life in a new city. Brands that allow for in-house personalisation, in particular, sell well.
"Young Chinese consumers view ownership and affiliation with designer brands as a form of social capital," says the McKinsey Luxury China Report 2019.
"[They are] not just something to wear, but a lifestyle choice that marks them as part of a distinct and exclusive community. Most these young consumers are fresh to market, presenting both a tantalising opportunity and an implicit imperative for brands to stay current, or risk losing out to more digitally savvy rivals."
These students have enough spending power to shape entire Western luxury markets. Britain's designer brands have been struggling since the country voted to leave the European Union in 2016.
The United States, meanwhile, has always been the top choice for Chinese students looking to study abroad, but the trade war started by US President Donald Trump has caused a substantial increase in the number of Chinese students choosing to study in the UK instead. This could prove an unexpected salve for the local fashion industry.
"Trump's comments about China have been all over the news, and he's making it more difficult for Chinese people to get a visa to study in the US," Yeh says.
"As a result, Chinese students have said for the first time ever that the UK is their first choice as a destination to study in. This is very important for the local fashion industry."
But what about the threat posed by Brexit, and the unwelcoming environment that anti-immigration rhetoric is causing?
"Brexit is creating uncertainty, for sure," Yeh says.
"But I don't think students pay much attention to the tabloids, and it's making the pound cheaper, which means London is now more affordable than it ever was before. Additionally, Britain has just relaxed its working visas for Chinese students, meaning anyone who obtains a postgraduate degree in the UK will be allowed to work for two years afterwards. That's pretty enticing."
While the political situation in the UK is making locals more cautious than ever about spending money on luxury goods, the opposite is true of the Chinese students who are making London their home.
Carry on like this, and British designer brands hoping to weather the Brexit storm might end up showing their collections during freshers' week.
This article was first published in South China Morning Post.