Given the enormous volume of photos that today's fashion weeks generate, it's hard to imagine that 20 years ago most of the images were of po-faced models looking straight down the barrel of the camera, taken by photographers standing in a "pit" at the end of the runway.
Today, before models even step out on the catwalk, their hair and make-up looks and first outfits have been exhaustively documented backstage by a large cohort of photographers working behind the scenes. Mid-show, as the models return to change outfits, another barrage of camera flashes fires off from photographers given permission to shoot during the show.
Then of course there are the off-duty looks outside the venues that are captured by yet another set of photographers whose ranks have ballooned over the past decade: street-style snappers.
With so many photographers looking to capture the fashion action, it is no surprise that fashion week photography has become a ruthlessly competitive arena. The Post spoke to three photographers who are part of the photo pack every season - one covering the catwalk, one backstage and one street-style - for their perspectives on fashion's never-ending photo circus.
ON THE CATWALK: KIM WESTON ARNOLD
A shot of Chanel's spring-summer 2019 haute couture show by Kim Weston Arnold.
Photo: Kim Weston Arnold
Based in Ibiza, Spain, Weston Arnold is a 30-year catwalk veteran. Born in Wales to parents from New Zealand, she studied fine art at London's Goldsmiths college, specialising in photography.
She assisted renowned British catwalk photographer Chris Moore from 1984 to 1991, after which she broke out on her own.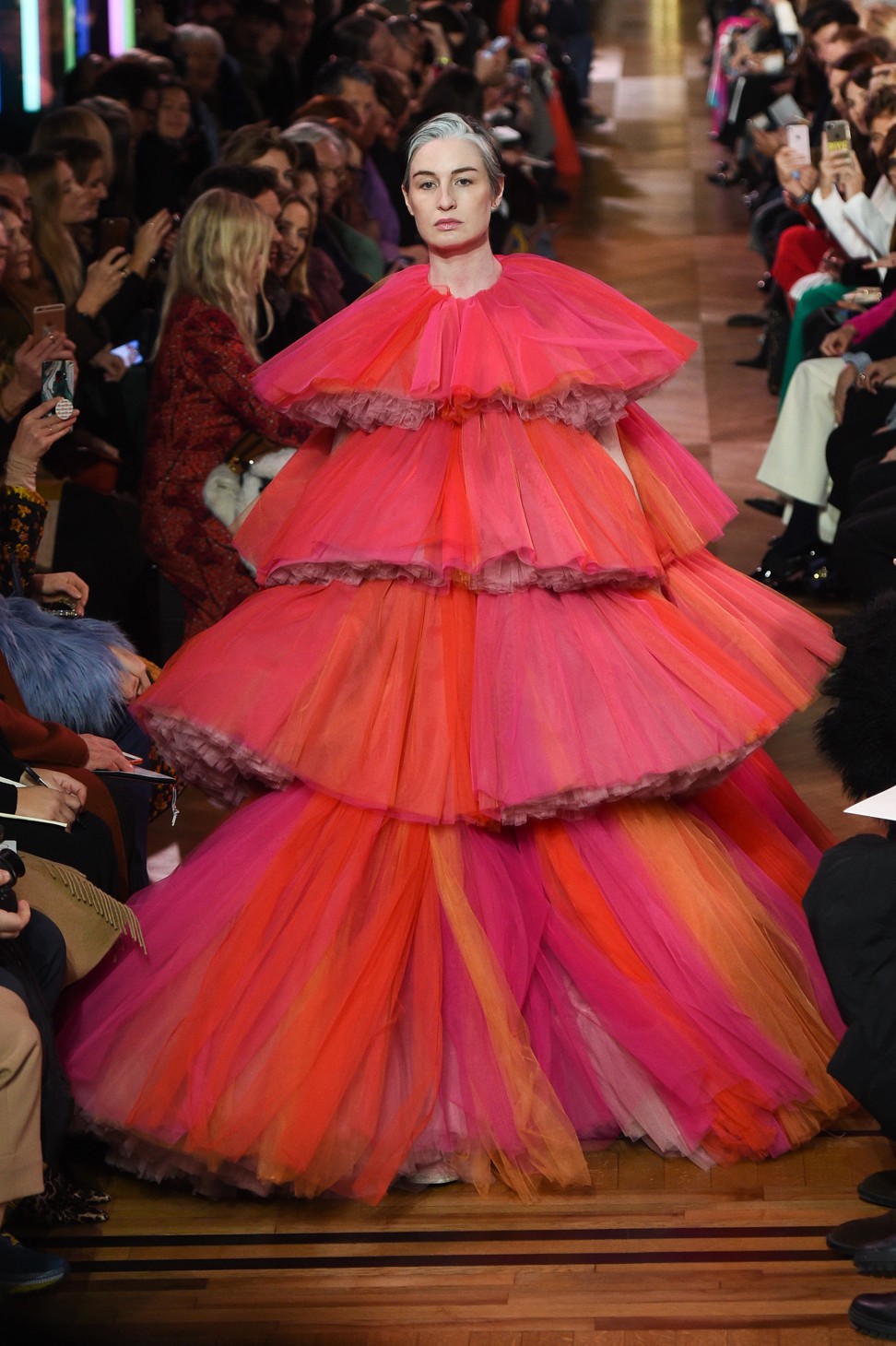 Catwalk shot of Schiaparelli's spring-summer 2019 haute couture show by Weston Arnold.
Photo: Kim Weston Arnold
From 1994 to 2010, Weston Arnold had the catwalk contract for all of Conde Nast's Asia-Pacific Vogue titles in Australia, Singapore, Japan, South Korea, Taiwan, India and China. She then worked with the InDigital Media Group shooting for Style.com and later Vogue.com until late 2018, while also shooting for other clients including WWD Japan, with which she still works.
Weston Arnold shoots on average 80 to 100 shows a season and is one of a mere handful of women working in what remains a largely male-dominated arena.
"I think that fashion photography has traditionally always been regarded as a male industry, as the flirtatious interaction between photographer and model is key to most fashion photography. However, the fashion shows are something apart - we have an interaction but not such a direct contact," she says.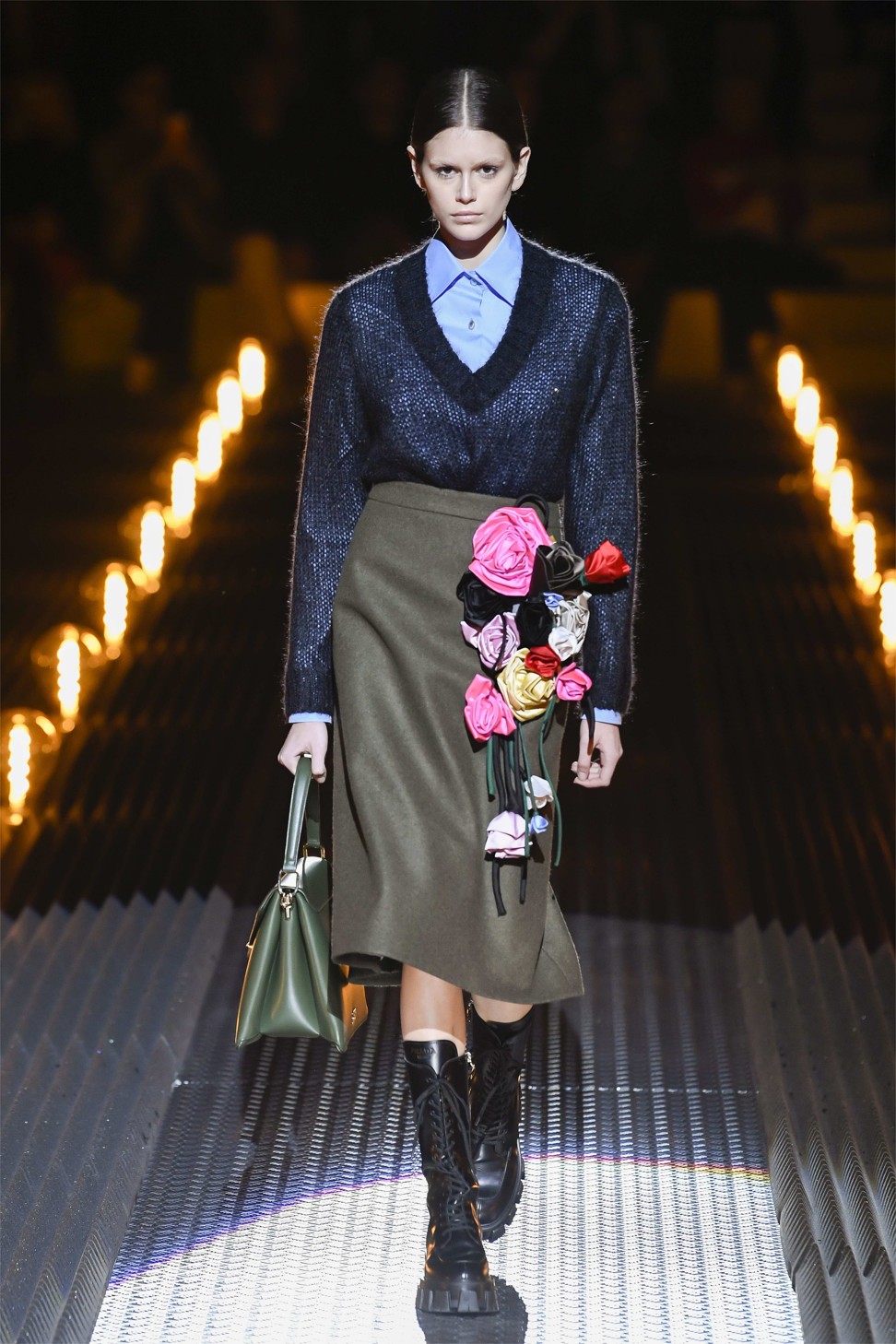 A look from Prada's autumn-winter 2019-20 show by Weston Arnold.
Photo: Kim Weston Arnold
But despite this, she says there is still a lack of gender parity in runway photography. "I think this is actually down to the fact that it was physically such a hard job that many women felt was beyond their scope.
"Of course attitudes persist, and there were never more than about five of us who did the whole show circuit."
A look from Prada's autumn-winter 2019-20 show by Weston Arnold.
Photo: Kim Weston Arnold
Weston Arnold has witnessed not only the transition from analogue to digital cameras, but the onslaught of social media and the growing dominance of large photo agencies.
"There used to be far more of us photographers covering each show and trying to find space to work on podiums that were often far too small," she says.
"With the move to digital photography the emphasis on getting original material and interesting shots was superseded by cataloguing the entire collection, and this could be done by groups of photographers working for the same company.
"A single group or agency can now cover all the publications in a single publishing house, or even various publishing houses, as price has become the main criteria. This has put many, many photographers out of business."
BACKSTAGE: SONNY VANDEVELDE
Backstage shot at the Courrèges spring-summer 2019 show by Sonny Vandevelde.
Photo: Sonny Vandevelde
Vandevelde is one of a tight-knit pack of backstage photographers that can claim access to the greatest number of areas during fashion month (though not complete access - brands such as Balenciaga and Saint Laurent are notoriously averse to backstage photography).
Vandevelde is a self-taught photographer who was born in Mechelen, Belgium but raised on Sydney's northern beaches (he is a keen surfer).
He started doing fashion photography via shoots for surf brands such as Quiksilver, as well as shooting pictures of Sydney's '80s and '90s dance party scene, which he sold to Australian magazines.
Backstage shot at the Gucci autumn-winter 2019-20 show by Vandevelde.
Photo: Sonny Vandevelde
In the late 1990s, Belgian fashion connections helped get him backstage during a couple of New York Fashion Week shows. His images came to the attention of Marie Claire Belgium, which snapped them up and launched his backstage photography career.
Backstage shot at Gucci's autumn-winter 2016-17 show by Vandevelde.
Photo: Sonny Vandevelde
It was the digital realm, however, that really boosted his profile. He was an early contributor to New York's influential Hint Fashion Magazine website and in 2005 he launched his own blog, Sonnyphotos, as part of American fashion tech pioneer Anina Trepte's 360 Fashion project.
Vandevelde spends at least four months of the year on the road and shoots about 100 shows a season, with his work published in places including Vogue, V Mag, The Business of Fashion, Marie Claire, InStyle, Glamour and The New York Times.
His images also appear on e-commerce sites such as Net-a-Porter, Farfetch, Moda Operandi and Mytheresa, and he is often contracted by brands as their official backstage photographer.
Backstage shot at Gucci's autumn-winter 2016-17 show by Vandevelde.
Photo: Sonny Vandevelde
While there are now many backstage photographers - some prepared to undercut others by offering to shoot for free for a season, he says - none shoots backstage quite like Vandevelde, who is noted for his saturated, film-like colour palette and incredible action captures.
"I think it comes from my upbringing - from surfing and then doing all the skiing photography for Quiksilver," he says.
Backstage shot at Jean Paul Gaultier's spring-summer 2019 haute couture show by Vandevelde.
Photo: Sonny Vandevelde
"There was always this explosion of colour, and just energy and excitement and movement. I think that's why when the models are in the line-up, I [only] use that moment to get good shots of the shoes or the details.
"I prefer capturing the action when they're running to go from their first outfit to their second outfit, and the girls kind of respond well to that."
ON THE STREET: LEE OLIVEIRA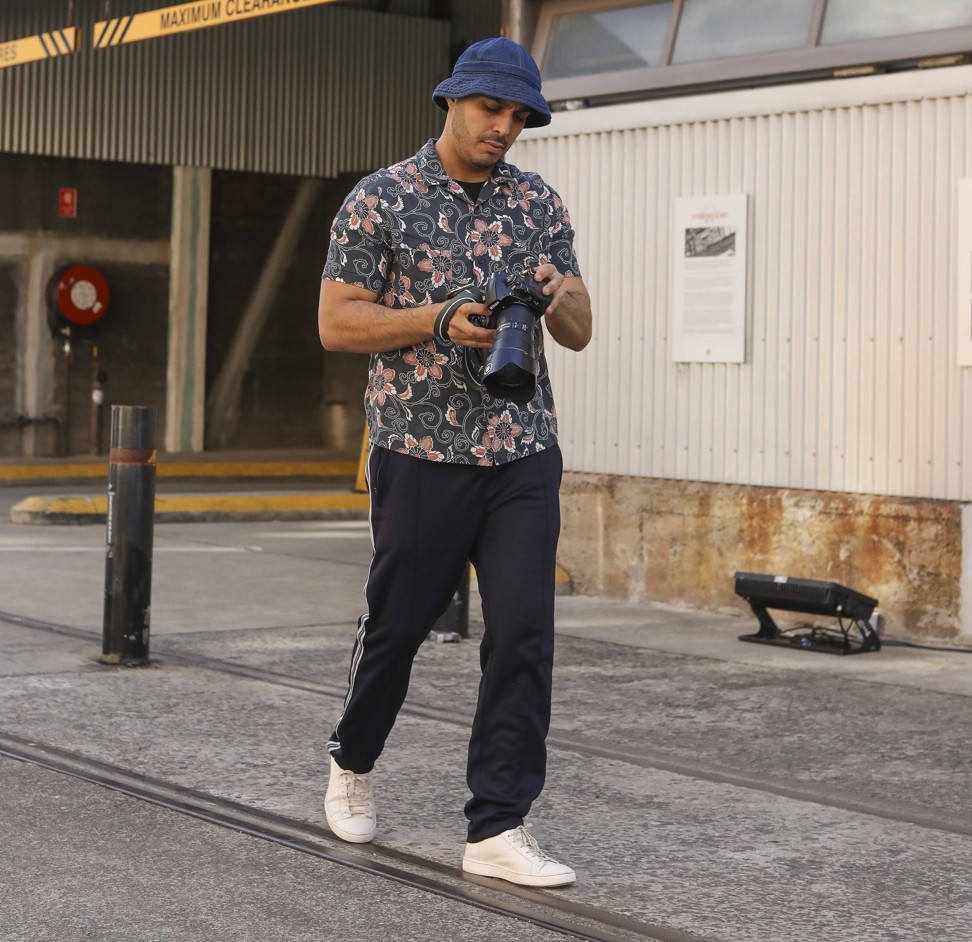 Street-style photographer Lee Oliveira.
Photo: Lee Oliveira
Oliveira first took up a camera aged 13 in his native Brazil and earned pocket money by shooting social pictures for his local newspaper Jornal Garimpense.
He didn't move into fashion until after he migrated to Sydney in 2005. He worked initially in clothing retail for Ralph Lauren and Australian menswear chain Calibre before taking some short photography courses in Sydney. He launched his self-titled blog in 2010, documenting street style across the city.
Oliveira made connections with Gucci's fledgling digital team at a 2012 conference organised by the US blog community Independent Fashion Bloggers.
That led to contract work with the Italian brand for two years, where he shot people on the street wearing Gucci during all the major international show seasons (and also on the ground in Asia) for the brand's various platforms. He then did the same for Valentino, and has since shot for Net-a-Porter, Shopbop and Mytheresa.
Street style shot by Oliveira in Milan during the spring-summer 2018 collections.
Photo: Lee Oliveira
But it was Oliveira's six-year collaboration with The New York Times that brought him the most recognition.
Tapped to help build content for the newspaper's then new Instagram account - @nytimesfashion, which today boasts 2.7 million followers - he shot rolling street-style coverage at all the major women's, men's and couture show seasons from 2012 to 2018.
Oliveira is a creative all-rounder who also shoots campaigns and offers services related to social media strategy and styling.
With 372,000 Instagram followers, he is an influencer himself. He is currently working with website Fashionista and a private client roster than includes celebrities, the Armani Group, Tod's, Iceberg and Alberta Ferretti.
The way Oliveira tells it, shooting street style sounds like something of a safari experience - except people tend to run towards the camera rather than away from it, often with a commercial incentive.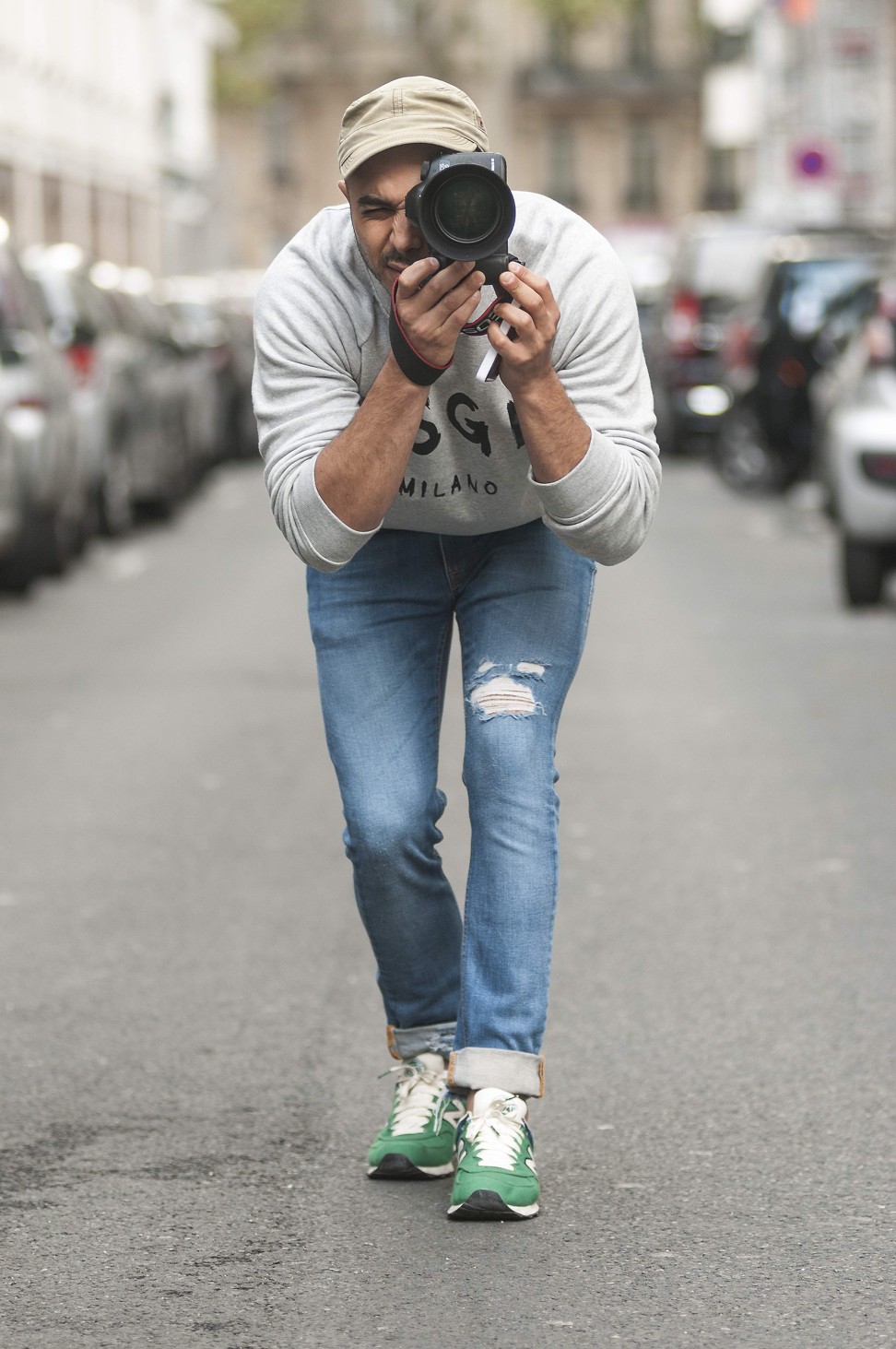 Oliveira on the street.
Photo: Lee Oliveira
"People throw themselves at photographers," he says. "An editor last year came up to me and she goes, 'So you stopped photographing me!'
"And it's like, 'It's not that I stopped photographing you, but I just can't shoot you every single day in every single look. I'm not your street paparazzi.'"
He says that throughout his career he has been able to spot people who have "real style".
"[They could have] the latest look from Celine, but mixed with a beautiful vintage handbag. It's being new, being on trend, but it's still being yourself, rather than just looking like Look 17 from Gucci, as an example.
"I'm thinking, 'OK you look great, you might give a good image, but what's your voice, what's your point of view?' Sometimes I know, by the look, who is getting paid and who is just original."
This article was first published in South China Morning Post.