"They call it 'the great remover': it removes everything that makes you happy," says Norm (not his real name) on the insidiousness of alcohol addiction.
Sober for 40 years now, thanks to Alcoholics Anonymous (AA) meetings he began attending in Australia in 1979, he has been a regular at Hong Kong AA meetings since 1983. Now in his sixties, he has been to AA gatherings in 35 countries, most recently in Vietnam.
When this softly spoken gentleman in corporate attire says he is a lawyer, no one doubts him. So it's hard to believe that in 1979 he was a street sleeper in Australia and at the mercy of his unquenchable thirst for alcohol. Then 28, he saw no point in living.
"I had no future, no career, no family," he says. "You knew in your heart, you're never going to improve, and enough self-understanding of alcohol that it's going to get worse."
Raised in a good family, Norm never imagined being homeless and incapable of work. "The power of alcohol overcame all my willpower and discipline," he says.
His "free fall" drinking hampered his ability to attend university, and by the age of 23 his life orbited around alcohol. By 1979, he was ill and malnourished; finally he was admitted to hospital in Western Australia with delirium tremens (severe alcohol withdrawal, often characterised by confusion and hallucinations).
"I thought people were talking to me when no one was there," he says. "You could see things that weren't there as your brain was confused from all the alcohol."
Members of Alcoholics Anonymous visit hospital patients suffering from alcohol abuse. Norm thought his AA visitors were members of a cult. They didn't demand money so he assumed they had clandestine intentions. "I thought my life was over," he says. "It was the complete opposite."
The World Health Organisation's 2018 global alcohol report estimates alcohol abuse causes three million deaths worldwide every year.
According to Hong Kong's Centre for Health Protection, excessive alcohol consumption increases the risk of developing several medical conditions, including cancer and cirrhosis of the liver.
The city's consumption of pure alcohol per capita - 2.87 litres per year in 2017 - is lower than in many countries, and far lower than the UK's 11.4 litres per year. Yet the appetite for alcohol is increasing; the figure in 2004 was 2.57 litres per year.
The shift in recent years is due partly to the wider availability of alcoholic drinks since Hong Kong abolished taxes on wine, beer, and liquor with no more than 30 per cent alcohol.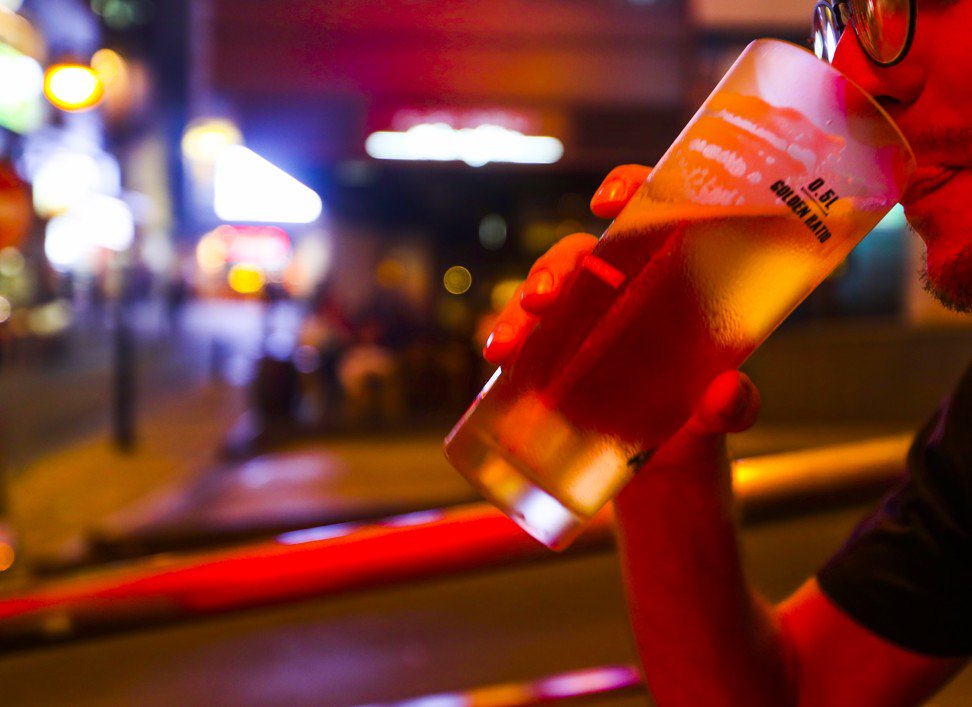 Alcoholics Anonymous was founded in Akron, in the US state of Ohio, in 1935 when alcoholics Bill Wilson and Bob Smith teamed up to find a solution to their mental illness that included sharing their recovery experiences with fellow alcoholics.
In Hong Kong, the first AA meeting was held at the Mariners Club in Tsim Sha Tsui in 1969, after two addicts, English businessman "Clark" and his friend "David", eager to seek help, advertised the meeting in a newspaper. "The attendance? Clark and me. Our ad worked - for us!" said David, according to AA members. A few weeks later, the first Asian member joined the AA meeting and eventually the group grew.
Today, there are more than 40 AA meetings every week in Hong Kong, in languages including English, Cantonese and French. As it turns 50 this year, the organisation is hosting its 11th annual Hong Kong International Convention on October 26 and 27, titled "50 Years: One Day at a Time". Residents and visitors are welcome to attend and share their stories of recovery.
Norm recalls that in the 1980s, the stigma attached to being a member of AA in Hong Kong was extreme, akin to the taint of being in a secret society. Intense shame shadowed addiction, and there was a tendency, especially among Chinese families, to hide the problem or refuse to admit their loved one was afflicted, he says.
Now, many Hong Kong residents, some as young as 18, attend AA meetings. "Most of them are quick to tell their family they have a problem - it's a huge difference to the secrecy that used to surround us, not just in Hong Kong but in London and other places," Norm says.
He believes this is partly due to greater awareness of AA as celebrities talk about the group, which now has around two million members in more than 180 countries.
It took a while for Norm to open up at his early meetings in 1979. For months, he stood up, stated his name and that he was an alcoholic, then sat down. No one prodded him to elaborate.
"A newcomer isn't grabbed and taken away," he says. "We say: 'here's some phone numbers if you need help'. We always give the onus to them."
READ ALSO: 'My kids grew up without a sober mum': Singaporeans share stories of alcohol addiction
In his sixth month as a member, Norm stood up and shared a little about his experience. "That felt good," he says. "Once you share your story, it starts to relieve the burden and all that secrecy." It helped him identify with others in AA.
It's easy to see why some people assume AA is a cult, with anonymity a core tradition. Its 12-step recovery programme's references to God and a higher power can trigger the misconception that this is a religious group.
The first step is for alcoholics to admit being powerless over alcohol, and acknowledge that their lives have become unmanageable. The second step is to hand control over to a higher power. Norm had no doubt he needed help.
"Some people struggle with that first step," he says. They are under "the great illusion of alcoholism" and believe they can get their habit under control on their own. It may require them falling further, to rock bottom, to acknowledge their problem.
AA isn't just about abstaining from alcohol, although it is the start of sobriety. "It's really a re-examination of the self … and dealing with what's going inside," Norm says.
Five months of rehab and AA meetings solidified Norm's commitment to abstinence. Now sober for 40 years, he continues to attend meetings once or twice a week to be there for newcomers.
The liberty of sobriety includes realising lifelong dreams. For Norm, that meant going to university and earning a law degree in Australia. He became a legal professional in his 40s. "I keep doing new things," he says.
Best of all is his serenity, free from anxieties of this disease. "All I ever wanted to do was to have a coffee at an outside table, have some carrot cake, read the paper and not worry about who was or wasn't looking at me and just be at peace with myself," he says. "I can do that now."
To those wrestling addiction, Norm's message is: you're not alone. "Help is available, it's up to you if you would like to try. At Alcoholics Anonymous there is no compulsion to go, it's all voluntary."
He adds: "Be kind to yourself, as you have nothing to lose."
This article was first published in South China Morning Post.