In her five years as an escort, 24-year-old Ashley Chan (not her real name) has learned several tenets, including how to be absolutely discreet and why you should never fall in love. Welcome to the life of a high-end escort in Singapore.
In Chan's new memoir, Scarlet Harlot: My Double Life, published by Epigram Books, the undergraduate and sex worker pulls back the veil on the sex industry in the squeaky-clean city state, revealing a sordid underbelly where men pay in the thousands for the hourly companionship of Chan and her peers – and what they do in the hours they've bought.
"I'm proud to call myself a whore," she says coolly in an interview.
During her work, the escort and business studies undergraduate has been paid to kick a man in his genitals, choke a man wearing a hood, and ingest a nightly cocktail of drugs as a professional "party girl".
ALSO READ: She wants to create equal opportunities for sex workers in Singapore
There were, of course, the garden-variety sex calls that were more uncomplicated: Chan would show up at a hotel and let her client do "whatever they wanted" to her for two hours.
While Chan declines to disclose exact numbers, she's cavalier about the things that her work has afforded her: designer goods, a $12,000 (US$8,900) enhancement surgery on her nose and chin, and all university tuition fees. As an escort that's part of an agency, Chan also reveals that she has a "quota" – though it's "very variable".
"During the pandemic, it's been quite difficult to work, and my earnings have been reduced by some 60 per cent," she says. "Thankfully, I have my pool of regulars who are still supporting me through these hard times. I'm still relatively privileged compared to others."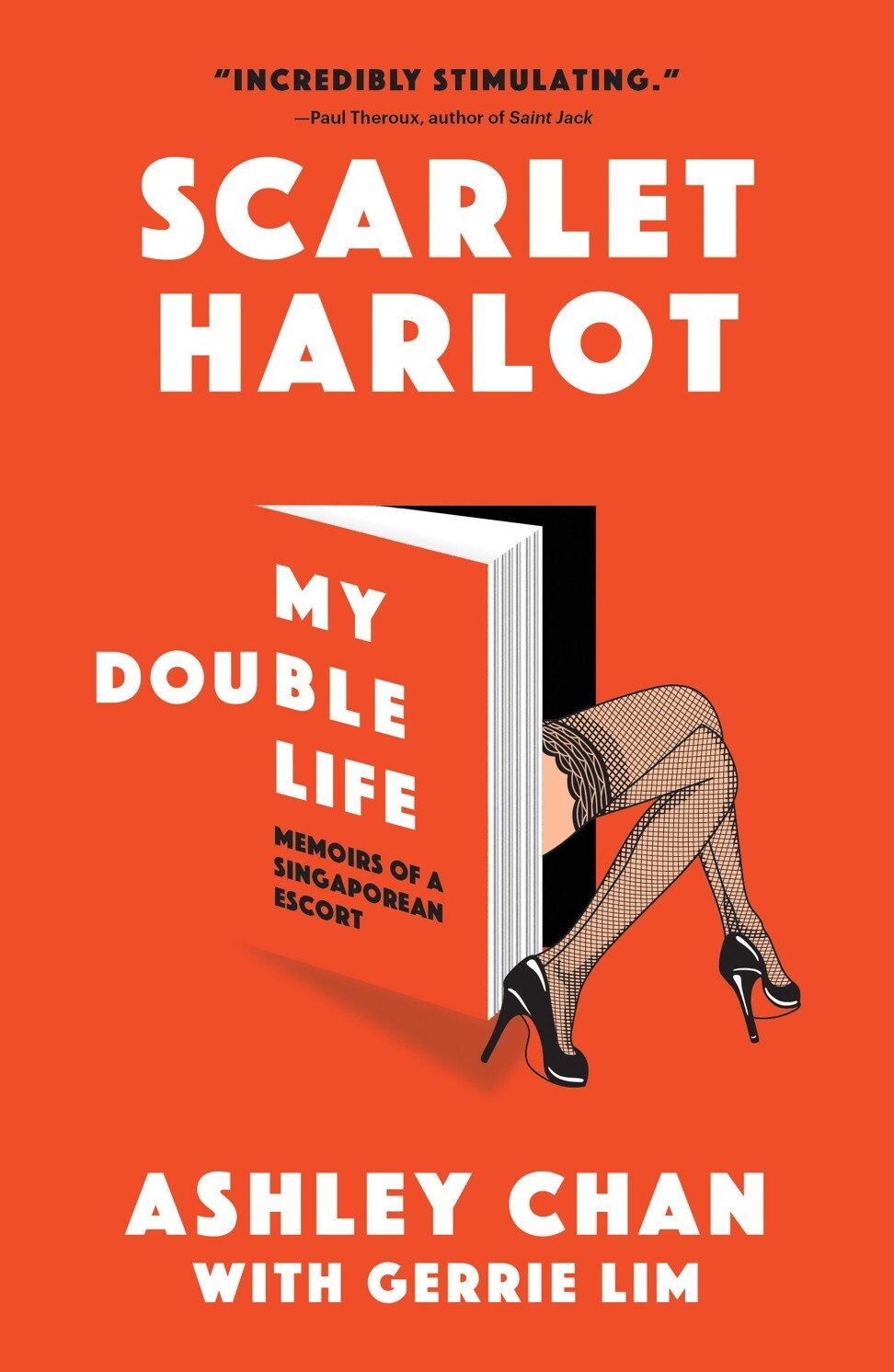 In her book, Chan goes into prosaic detail about the world of sex work.
She speaks of different tiers of sex workers (at the at the bottom of the food chain are "KTV girls" who work in karaoke lounges, with escorts like herself on the top rung), of clients that have flown her around the world, and just how large a role race and nationality plays in determining a sex worker's financial worth.
"Escorts from Vietnam and Thailand are more beautiful, but they're not as intellectual in their companionship," she says candidly. "They're beautiful in a 'trophy wife' or 'bimbo' sort of way – but they lack the ability to interact because of the language barrier."
Singaporean-Chinese escorts like Chan, on the other hand, come "at a slightly higher price point, because we are a little more intellectual".
Chan sees herself as a "business owner" with herself as the commodity. As such, she is brisk when it comes to listing her business' costs and overheads: yoga classes to help her keep in shape, the occasional designer bag or lavish beauty product to stay presentable to clients, and frequent health checks to ensure she's fit to continue working.
And like any legitimate industry, Chan says sex work is not immune to modernisation – or "market forces". She says social media and the internet have "destroyed" the old way of working, and has driven down prices for escorts and sex workers, among various other ills.
"These days there are actually fewer new escorts, but more sugar babies ," she says. "The whole Ashley Madison thing makes girls think that it's easy money, but it's actually not – and the industry has changed for the worse because of that," she says, citing the online dating service marketed to people who are married or in relationships.
Chan is unafraid of competition from fresh blood, however. She says she stays away from the "politics and cattiness" that younger escorts tend to indulge in. Rather, she wants to make sure that any aspiring escort truly knows what they are getting into.
"You don't really know why some of these girls are entering the industry," she says. "Maybe they're not really there for luxury goods. Maybe they're there because they really need the money."
Chan's story wasn't so different. Born out of wedlock to parents who later separated, she was left in her grandmother's care soon after her father abandoned them to start a new family.
He refused to finance her education once she finished secondary school at 16. Wanting a better life for herself, Chan answered an innocuous advertisement for a job that paid "$300 to $400 a day".
Chan is direct when it comes to the impact her father has had on her life. "Escorting doesn't happen in a vacuum," she says. "My father essentially made me an escort; if he had financed me through school, I would not be one.
"I did consider other options before I became a sex worker at 19, but I decided, first and foremost, I needed money for my education," she writes in Scarlet Harlot . "And I admit, I'm working as an escort for the money – but also the time and flexibility of the lifestyle."
Plus, as Chan reiterates in lurid detail throughout her book, she truly enjoys sex in all its forms. Yet for all her insouciance, she has not emerged from her life as an escort unscathed.
"People think they can do sex work for a short time, make their money, and leave," she says. "But how can selling your body not change you?"
Her work has left Chan with both mental and physical scars. A brief stint working at a high-end KTV bar – "the type with a lot of China girls, and a bunch of clients objectifying women" – took a toll on her.
"The men say nasty things about you, and make you feel like you have no self-worth. And the girls there just accept it. They are materialistic as well, all they care about is Chanel and luxury goods, so they just take it as a trade-off."
Chan says she has racked up one failed suicide attempt, an eating disorder and persistent, stress-related migraines .
"I got depressed to the point where I didn't want to do anything. I would wake up, and sleep and wake up, and go back to sleep, and didn't think of anything," she says. "People laugh at it. They say, 'You're a whore, so what pressures do you have?' But dealing with many people's emotions, and with their psyches, is not exactly the easiest thing, especially when you have no external outlet. You internalise it, and then that becomes dangerous."
In 2016, Chan joined a Singapore-based non-profit that supports sex workers' rights as a volunteer. There, she helped educate other escorts on the importance of frequent STD tests and avenues where they could seek help, and worked on public awareness campaigns to help cultivate understanding about sex work among the general public.
"You need to foster a sense of compassion for sex workers, to make them feel like they're ordinary people too," she says. "Sex workers aren't something you can look down on just because they do a different kind of work that you don't like."
Today, Chan says she has plans to leave the industry once she graduates from university and take up a white-collar job – one that she can put on her résumé.
"While the money is good as an escort, you have to consider your résumé. How are you going to explain that gap? That's why I have normal jobs now … If you have that gap, it's going to cause problems with your future employers," she says.
For all the worldly pleasures her job has allowed her, Chan says she lives a relatively boring life, revolving around a shared public housing flat with her grandmother and her university work.
And despite having "given up on love", Chan says she still subscribes to the "Singaporean Dream" – a husband, house and two to three kids.
"I do still want that," she admits. "I don't come from a good family, so I would want my children to have a good family."
Despite the constrictions of Asian morals, Chan takes pride in her role as a sex worker. She sees her work as what it is: a means to an end – a better life for herself, and her future family.
"Being a sex worker has always been a transactional, consensual thing, so why should I feel [guilty]?" she says, shrugging. "I don't feel guilty about what I've done at all."
This article was first published in South China Morning Post.