Japan's environment minister Shinjiro Koizumi recently made waves when he announced he would take two weeks of paternity leave over three months after his first child was born on January 17.
Koizumi was the first cabinet minister to make such a move, in an effort to pave the way for other working fathers who qualify for up to a year's paternity leave in Japan. He said a "change in the atmosphere" was needed in a country where just six per cent of eligible fathers take it.
Japan and South Korea have both made efforts to improve conditions for paternity leave as they face the challenges of an ageing population and declining birth rate.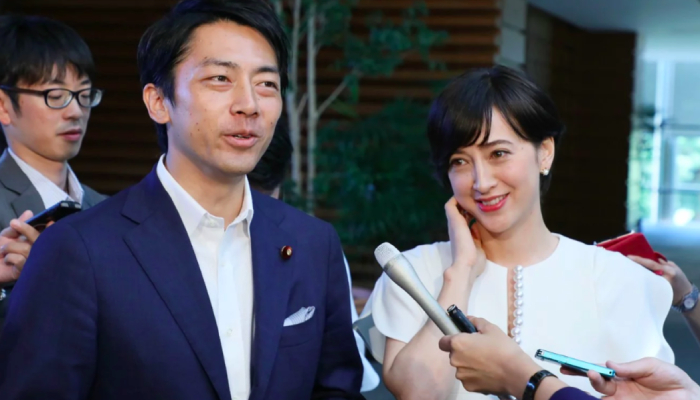 Japanese politician Shinjiro Koizumi and his wife, Christel Takigawa. Koizumi is the first serving cabinet minister to take paternity leave. PHOTO: AFP
In South Korea, the number of men taking paternity leave jumped from 1,402 in 2011 to 22,297 in 2019, when the maximum length increased from one year to two years as a household with two working parents are able to take one-year respective breaks from work to stay at home with children under the age of eight. 
Employees are paid 80 per cent of their total wages in the first three months of the break with a maximum paycheck of 1.5 million Korean won (S$2,000) and a minimum of 700,000 Korean won per month.
They are paid 40 per cent of total wages in the latter nine months with a maximum of one million Korean won and a minimum of 500,000 Korean won per month.
A "paternity leave bonus" also allows the second parent taking leave to receive a maximum of 2.5 million Korean won in the first three months of the leave.
But although conditions for parental leave have improved in length and payment, social stigma still prevents many workers from using their benefits, according to Yi Sang-gu, president of the Welfare State Society.
"The Confucian culture that tells women to take care of children at home while men make money at work cannot coexist with today's reality of both parents going to work to make money," said Yi, a past chief of social policy at the Blue House - the Korean president's office.
"This has resulted in a clash between the needs of families and societal beliefs."
Lee Y. G., a 32-year-old researcher living in Yongin, decided to take six months of paternity leave to assist his wife when she gave birth to their third child in October.
"My wife said she was OK with our first and second child, but I could tell that she definitely needed help with our third," said Lee. "I did it in order for our kids to make good memories during their childhood."
Even though his research firm was sympathetic towards his situation, Lee said he had only seen two other men taking paternity leave at his office.
"Of course, our family and friends were worried at first about our economic situation since my wife had also taken her maternity leave," he said.
Many parents take their maternity and paternity leave at the same time, like Lee and his wife, while some choose to take it at different periods.
Song Hak-min, 31, requested a nine-month break from her entertainment company when she gave birth, and her husband started his paternity leave when she returned to work.
"Many people around us, especially our family, were questioning why my husband also needed to take a break from work," said Song. "But we didn't have a choice as there was nobody around us who could take care of our child."
Grandparents often look after children while their parents work during the day. But for Bae Ga-yeon, 30, this was not an option as her husband's parents were unwell and her own parents were also working.
"In addition, my husband was not able to take his break because of the perception towards paternity leave at his company," said Bae.
She eventually decided to quit her job at a company that sells medical equipment after it became difficult to balance work and being a parent.
"My company would not allow me to take reduced work hours if I returned back to work and they didn't have the resources to have a substitute for my position while I was out, so it was best for me to quit," she said.
A woman in traditional Korean hanbok dress visits the Gyeongbokgung palace in Seoul. PHOTO: AFP
PERCEPTIONS
According to data from the South Korean labour ministry, the paternity leave retention rate for employees at major companies stood at 87.4 per cent while only 69.5 per cent of employees at small and medium-sized businesses successfully returned to work after paternity leave.
Violations of paternity leave policies such as firing an employee or ill-treatment just for using their leave rose from 101 cases in 2016 to 265 cases in 2018. Some companies even refused to allow an employee to take paternity leave.
"Changes in the law need to go hand in hand with a change in the culture and education in our society," said Yi, the president of the Welfare State Society.
"There need to be stronger policies such as making it mandatory for workers to take a certain number of months off work to take care of their children."
He added that children need to develop an awareness from an early age of the changing gender roles in society.
"The consciousness that men should also take care of children at home should be emphasised in textbooks at schools or in public service advertisements by the government," said Yi.
"There is also room for movies and TV shows to broadcast the benefits of fathers taking care of their children to make the concept a part of popular culture."
TV programmes such as Dad! Where Are We Going? and The Return of Superman have focused attention on childcare by fathers in the country. Both shows follow celebrity dads and their children on typical days at home or on trips.
The two shows started airing in 2013, around the time the number of men taking paternity leave started to increase, from 1,402 in 2011 to 3,421 in 2014.
The percentage of eligible South Korean men taking paternity leave stood at 13.4 per cent in 2017. This stands in contrast with 45 per cent in Sweden, 40.8 per cent in Norway and 24.9 per cent in Germany - all European countries that have a developed culture of shared childcare.
Compared to Hong Kong, which allows five days' paid paternity leave for each childbirth, and provinces in China that allow up to a month for fathers to spend time with their newborns, South Korea is leading its Asian neighbours in paternity leave policies.
MAKING A DIFFERENCE
A 2014 labour ministry survey found that 45.6 per cent of men who had taken paternity leave suggested it for other fathers, while only 2.6 per cent did not suggest it.
Lee Y.G., the researcher taking care of his three children, said he was able to take a trip to Macau with his family and even made time for some self-development.
"But the biggest difference is that I went from only playing with the kids at night to my children calling for me to play with them at all times of the day," said Lee. "I went from someone who just made money for the house to a close friend of the kids."
Song Hak-min, who has gone back to work at her entertainment company, said her friends noticed the positive difference in her family.
"My husband has admitted that he didn't know childcare was this difficult," she said. "If he was close to no help in the past with the kids, it's a cooperative effort nowadays."
Yi estimated it will take five to 10 years for the stigma of fathers taking paternity leave to subside as other past social issues have evolved over the years.
"Just as it was unacceptable for wives to not bear any children just 10 years ago, the social awareness towards paternity leave will change during the next decade."
This article was first published in South China Morning Post.