You're being good about staying at home and contributing to the global fight against the pandemic, but what do you do when you've finished your work, your studies or your chores for the day and have all this time left to yourself?
Take up a new hobby, of course.
Having a job at all is a privilege in normal times, and more so during this global emergency when mass layoffs and pay cuts have become the norm, something that graphic designer "Jia" (not her real name) certainly appreciates.
Jia's employer decided to put her on unpaid leave indefinitely, but the 24-year-old still spends her days on the computer. In between completing commissioned jobs to pay her bills and keep food on the table, Jia has found new solace in the widely popular game, Nintendo's Animal Crossing.
"I've always loved gaming, but with the whole Covid-19 situation, Animal Crossing has taken over my life," she said.
Since it was first launched in 2001 for the Nintendo 64, the game series has been a critical and commercial success across its many iterations, including 2020's Animal Crossing: New Horizons on Nintendo Switch.
Although Jia is playing the game's 2012 iteration on an emulator, she is quite happy playing the game remotely with her boyfriend. She even learned how to draw pixel art to create costumes for the game's characters.
"I did learn a thing or two and I never thought about making pixel art stuff outside the game, but someone asked me whether she could commission me to draw an outfit for her Animal Crossing playthrough," said Jia.
Even her boyfriend had recreated real-world clothing for the game, ranging from something akin to a Comme des Garçons PLAY shirt to a Gojek jacket.
Now that people have more time on their hands while they spend the majority of their time at home online for work and leisure, many are taking up new hobbies for fun or just pass the time, to end up with a valuable skill that they can use.
Online courses have also become a common way to learn something new, whether to add to one's CV or to satisfy a curiosity.
Outside of YouTube cook-alongs and WikiHow articles, an Ivy League university has started offering free online courses for anyone willing to commit to learning at that level.
Harvard University, for example, has released 67 free online courses. Taking anywhere between one to 13 weeks to complete, these courses range from game development and data science to mechanical ventilation and to Sikh scriptures, with students earning a certificate at the end of each course.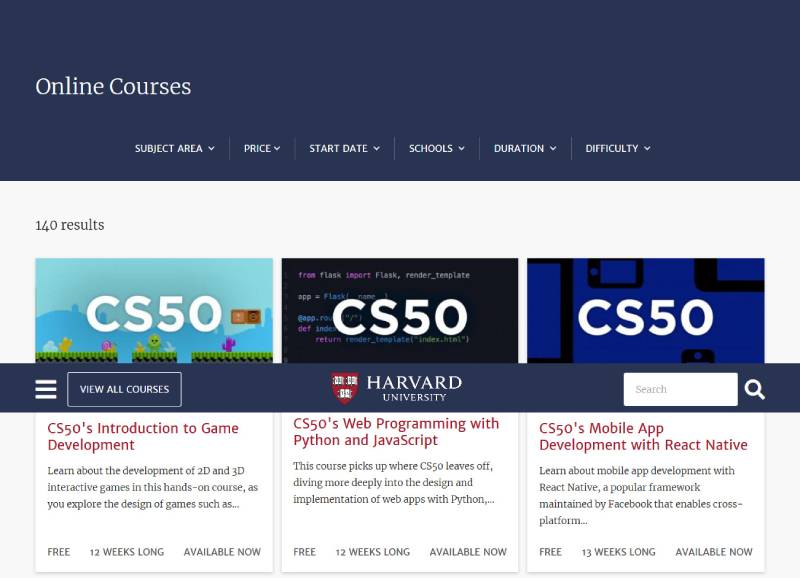 Brain upgrade: A screen grab shows just three of the 67 online courses Harvard University is offering for free during the Covid-19 pandemic. PHOTO: Harvard.edu
The Indonesian government has also expressed a keen interest in online courses, most notably for the Preemployment Card programme, which has seen its 900 training programs moved online as a result of the local epidemic. A day after its launch on Saturday, around 1.4 million people applied for the scheme.
Ryan F., a 26-year-old jobseeker, said he was interested in learning new skills to increase his chances on the job market. Ryan is adamant that he stay productive after he was laid off due to his former employer's fiscal troubles.
"To be completely honest, I was literally on the internet all day long to distract myself from [my] sudden unemployment. I tried my hand at cooking and those life hack videos, but I think I've come to realise that I need to look at my situation for the long term," he said.
Ryan is currently looking for free courses to keep his spending low until he finds a new job.
For those who are not part of the workforce yet, their studies have taken up most of their time at home, but many are finding some extra time in between their virtual classes on Zoom.
University student Isyana Pramita has taken up doll making as her new hobby to fill the extra time she has from studying at home. While this is indeed an impressive feat in itself, she said that her reason was simple.
"I wanted to buy a doll online, but I was annoyed that I couldn't find one I liked," she said. So Isyana used felt fabric to create a "Ren" doll of K-Pop boyband NU'EST.
Meanwhile, her friend Andrea Khofifah found herself taking up watercolours after she was inspired by a YouTube video that popped up on her recommendations list.
Unlocking hidden talents: YouTube tutorials can lead to a new hobby, from doll making to watercolor painting. PHOTO: Andrea Khofifah
"It was entirely because of YouTube, and I also found the necessary tools at home, so why not start creating?" she reasoned.
While some have discovered new hobbies, others are using the extra time on their hands to pursue those they had put aside due to their busy schedules.
Audrey Sutarman is a massive fan of Korean dramas, but couldn't find time in between her classes to watch them. When her classes moved online, she was finally able to start working through her watchlist while adding to it as well.
For others, quarantine and social distancing meant it was time for much-needed (and likely much-deserved) rest and relaxation, as graphic design major Marcellia Effendi attests.
"Honestly, my new hobby now is napping and being on my cell phone all day long," she said.
For the latest updates on the coronavirus, visit here.