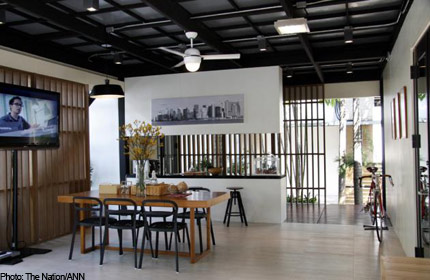 If last year's flooding taught you a lesson - that your home needs to be more adaptable - the Baan lae Suan Fair starting this weekend at Impact Arena offers a range of innovative modular houses designed by veteran architects.
Baan lae Suan (House and Garden) magazine, published by Amarin Printing and Publishing, concocted the Bt30-million (S$1.19 million) alternative-housing project to expand into the property market, specifically targeting younger people with less money but a desire to build their own cosy, efficient homes.
"We want to introduce the modular house as a new alternative for Thais," says Jeremiah Pitakwong, editorial director of the House and Garden group of magazines. "People tend to think that, to be strong, a house must be made of cement and brick, while a wood house is good but old-fashioned. In fact, today's diversity of construction materials has changed that."
Modular homes are put together from compact, prefabricated parts within a steel structure. The parts are delivered to the construction site for assembly. The idea is quite popular in Japan and Germany thanks to the flexibility in terms of size and design. The parts can be assembled in various ways depending on your needs, taste and finances.
"It's almost like playing with Lego bricks," says Wirat Pantatatkul, project manager at Baan Lae Suan Modular. "But when you think about it, a housing estate is modular - with each house built the same way, repeatedly - and condominiums are stacked in towers.
"But these are mass productions, where the residents can make no changes to improve the layout. There's no variety. Our project is different. The components are custom-made. Customers can give us their own ideas for building a house that suits their needs and lifestyle."
The modular houses can be S for small at 16 square metres and Bt799,000 or L for large at 182 square metres and two storeys, with an M for medium in between that costs Bt899,000.
"It's a hybrid system," Jeremiah says. "It combines modular construction techniques. This is the best way for Thailand - easy to adjust and convenient to transport, even in towns with narrow streets and alleys."
Your new home will be finished within 100 days. The main steel structure ensures durability, even earthquake resistance, and sits on a foundation of cement. "Steel isn't brittle-hard like cement but malleable, which is why it's popular in earthquake-prone Japan," Jeremiah says.
"Steel is an important building material - if made in a moulding process it can even be recycled," Wirat adds. "And if we understand its nature, rust isn't a problem. Steel can get wet but it won't rust if it's not left to sit in the water for long time.
"And, with a steel structure, the whole house can be raised in the event of local flooding!"
Other building materials include fibre-cement board, fibreglass, PVC wood, wood cement and environment-friendly laminated tiles. Solid wood and gypsum wall panels are shunned to keep termites away. The modular houses use standard proportions throughout - 1.2, 1.6 and 2.4 metres - making it easier to furnish.
The rooms are soundproofed and treated to ward off the sun's heat. The overall design takes cues from traditional Thai houses, which stay cool in the muggiest tropical weather. A basement lets air and water flow below to lower the indoor temperature upstairs. "It's a raised basement designed to circulate the air," Wirat says.
Jeremiah and his team work out of a model home at the Amarin site. It's two storeys, assembled from three "M" components in the middle of a shady courtyard. The ambience is indeed homey and comfortable.
The open-air terrace is ideal for family dining. Indoors it seems quite spacious, with a living area decked out with a sofa bed and small work desk and a wooden pantry with tables and kitchenware, plus a bathroom with a separate shower. Upstairs there's a small office with a desk and shelving that could double as a bedroom or shrine room.
For now, says Jeremiah, the firm has no separate interior-design project of it's own, "but we can put customers in contact with designers, landscape gardeners and furniture manufacturers".
Affirming that modular homes are the future of residential construction, Wirat says orders are being taken at the Baan lae Suan Fair, which runs until November 11.