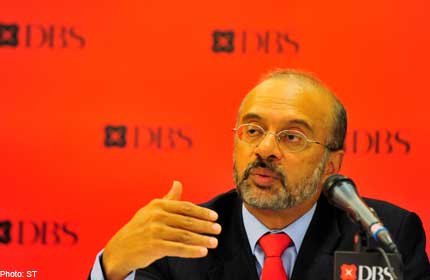 SINGAPORE - The bosses of the three local banks were among the top earners last year, thanks to the financial sector's strong performance.
DBS Group chief executive Piyush Gupta looks likely to be Singapore's top-earning executive among Straits Times Index (STI) companies, drawing $9.33 million in the 12 months to Dec 31 - a 15 per cent increase on the previous year when he earned $8.08 million.
DBS posted a record net profit of $3.81 billion for the year, up from 2011's $3.04 billion. Its market capitalisation stands at around $38 billion.
United Overseas Bank (UOB) chief executive Wee Ee Cheong enjoyed a pay increase of 30 per cent last year, taking home between $8.75 million and $9 million. In 2011, his package was about $6.5 million to $6.75 million.
The increase was on the back of a 20.5 per cent rise in UOB's earnings to $2.8 billion.
OCBC chief executive Samuel Tsien's package was $5.5 million, reflecting the bank's record net profit of $3.99 billion, an increase of 73 per cent from $2.31 billion in 2011.
Mr Tsien was promoted to chief executive on April 15 last year. His 2012 pay includes the work he did as senior executive vice-president from Jan 1 to April 14.
The data from the latest annual reports includes base pay, short-term incentives and benefits accrued for the financial year.
The chiefs of the two big oil-rig builders fared less well as oil prices sagged well below US$100 per barrel and competition loomed from shipyards in China and South Korea.
Keppel Corp chief executive Choo Chiau Beng was given a remuneration package worth $7.99 million last year, including a deferred bonus of $3.09 million. In 2011, his package came to between $11.6 million and $11.85 million in cash and shares.
Over at Sembcorp Marine, its chief executive Wong Weng Sun earned $5 million, a 34 per cent drop from 2011. Full-year net profit fell 28.4 per cent to $538.5 million.
Pay packages of those in the property sector also saw a slight decline last year.
Mr Liew Mun Leong, president and chief executive of CapitaLand, was given a package worth $5.33 million last year, which included his salary, bonus and an award of shares. This is lower than the $5.63 million package he received in 2011.
City Developments executive chairman Kwek Leng Beng's remuneration last year was in the "above $8.75 million and up to $9 million" band. Both ends are $750,000 lower than the "above $9.5 million and up to $9.75 million" range for his remuneration for 2011.
Mr Kwong Hui Hen, research director at consultancy Freshwater Advisers, said pay systems in large companies can be complex - remuneration might be linked to a range of performance indicators measured over different periods.
"The profit in any one year is often a key factor - when the company makes good profits then the CEO does well and vice versa," he said.
chiaym@sph.com.sg

Get a copy of The Straits Times or go to straitstimes.com for more stories.