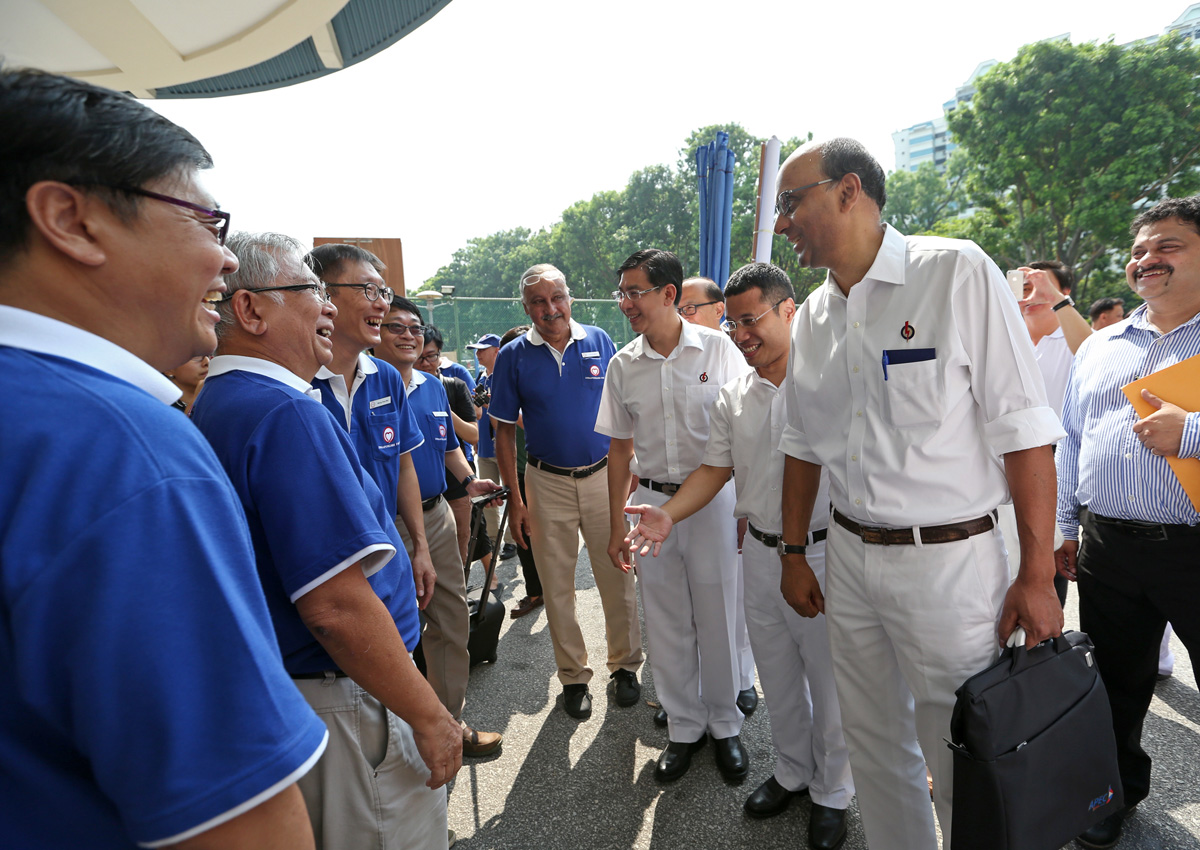 Foreign labour inflows have been tightened significantly in recent years but this will not be enough to raise incomes for Singaporean workers in the long term, Deputy Prime Minister Tharman Shanmugaratnam said yesterday.
For that to happen, Singapore must be able to continue to hold its own in an increasingly challenging international environment.
This means companies have to be able to upgrade and create good jobs, even as Singaporeans at all stages of life are given opportunities to actively develop and deepen their skills, he added.
Mr Tharman, who is leading the five-member People's Action Party (PAP) team in Jurong GRC, was speaking to the media yesterday at the Keming Primary School nomination centre in Bukit Batok.
The team also includes Mr Desmond Lee, Mr Ang Wei Neng and newcomers, Mr Tan Wu Meng and Ms Rahayu Mahzam.
They will face five candidates from the Singaporeans First party (SingFirst). They are: information technology consultant Wong Chee Wai, retired army colonel Tan Peng Ann, sales director Wong Soon Hong, chemist David Foo and retired police officer Sukdeu Singh.
Mr Tharman said he welcomed the contest. "We wish them well, and we take every voter very seriously. We've been working in Jurong for a long time, we've achieved something in building a strong and caring community.
"But there's a lot more that we want to do," he said.
He added that he is "glad that (SingFirst) shares our views and priorities, particularly on having a level playing field for Singaporeans".
"That's foremost in our minds. We're concerned especially about middle-aged, mid-career Singaporeans," Mr Tharman said.
There are no "extreme solutions" to the challenge of creating opportunities for Singaporeans at all stages of life and ensuring that incomes continue to rise, he added.
"People know we've been making significant moves. Singaporeans are able to judge for themselves. They know that solutions don't work instantly, in any country," he said.
He added that Singapore is starting from a strong position, with much lower unemployment than other countries, and wages still rising for the lower- and middle-income groups.
On the PAP team's plans during the nine-day campaign period, Mr Tharman said: "We are not nine-day people... We've been working since the end of the last nine days. On the ground, quietly, no cameras - that's our style in Jurong."
Jurong was the second-best performing group representation constituency for the PAP in the 2011 polls. It won 67.0 per cent of the votes against a team from the National Solidarity Party.
When asked if they were intimidated by the incumbent's strong showing in the 2011 election, SingFirst's Mr Tan said: "Why should we be intimidated? Let's take a look at what they have done, and what we are going to do. We are confident enough to give them a good fight. History is no indicator."
He added that his party believes that Singapore's senior citizens should be given "a better position in life".
"Generally we need to raise the self-esteem of senior citizens... If you walk around Jurong, you see many old ladies who are cleaning tables, and these are the people we want to help," he said.
His teammate, Dr Foo, said: "What we are asking for is transparency in immigration, and (for the Government to) list out the skill sets that are required by the country."
chiaym@sph.com.sg
vijayan@sph.com.sg

This article was first published on Sept 2, 2015.
Get a copy of The Straits Times or go to straitstimes.com for more stories.