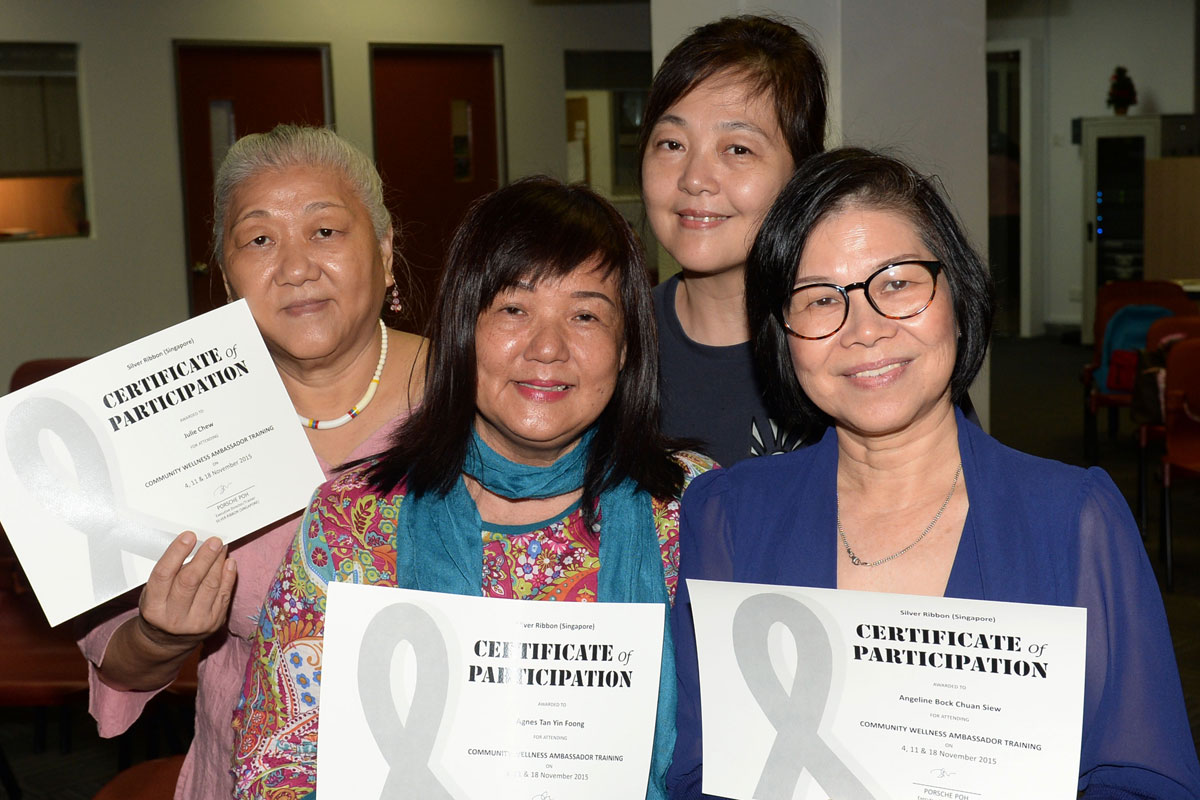 When Madam Molly Tan realised that a friend had suicidal tendencies four years ago, she was at a loss.
"I didn't know how to help her," said the 52-year-old, who is self-employed.
But a recent three-day course has taught her to spot warning signs and approach those who may need help tactfully.
She was one of more than 50 participants of a Community Wellness Ambassador programme, conducted by the Bishan Chinese Church and mental health advocacy organisation Silver Ribbon (Singapore).
Those who finished the course received their certificates from Ms Tin Pei Ling, MP for MacPherson, last week.
The free course aimed to impart simple, practical knowledge on ways to spot and help those with suicidal tendencies, and care for their own well-being while doing so.
Madam Tan added that some middle-aged friends, who find it hard to cope with the ageing process, may encounter mental health issues.
"We may not be professionals, but we can discuss their problems with them and refer them to the right organisations," she said.
According to the Samaritans of Singapore, 415 people committed suicide last year. Police statistics showed that 901 people were arrested for attempting suicide in the same year.
Pastor Daniel Lim of Bishan Chinese Church, who helped recruit participants for the course, said some church members know of people who have committed suicide.
"It's an issue for people who are concerned, but do not know how to handle these situations," he added.
Ms Porsche Poh, executive director of Silver Ribbon (Singapore), which helped to develop training material for the course, said: "We can't work solely with policymakers or grassroots leaders. We need to also work with religious groups to look for signs and symptoms, to work with schools and other stakeholders in the community."
Silver Ribbon plans to approach other religious groups to continue conducting this course.
Speaking to The Straits Times at the certificate presentation at Bishan Chinese Church, Ms Tin said the stigma that comes with mental health issues could make people reluctant to seek help.
But the community around them can play a part to provide support.
She said: "People entertain suicidal thoughts when they feel hopeless. Keeping them socialised and actively reaching out to them is very important."
One course participant, Madam Julie Chew, 65, said: "Although I am older, I am still active and alert. If people around me encounter problems, I can still help."

This article was first published on November 25, 2015.
Get a copy of The Straits Times or go to straitstimes.com for more stories.