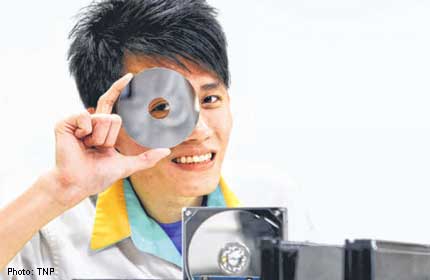 What you need
Entry requirements for Engineering Assistant:
Mechanical, Electronic and Electrical, Mechatronics Engineering or other relevant Diploma from local polytechnics
Career prospects:
Engineering Assistant
Senior Engineering Assistant
Assistant Engineer
Engineer or Specialist
His watchful eyes, keen mind and careful checks are vital to ensure smooth and error-free production of hard disk media.
This is all part of a day's work for Engineering Assistant Kenny Wee Soon Jing.
Mr Wee, 23, an employee of Japanese hard disk media manufacturer Showa Denko HD Singapore Pte Ltd, checks the daily progress of the production lines, makes sure down time of the machines is minimised, and helps the engineers and supervisors to continuously improve the efficiency of the operations at its facility in Jurong West.
Mr Wee's work is vital as quick analysis and assessment of problems is essential to ensure optimum daily hard disk media production.
Impurities, scratches and even the slightest trace of dust can make the hard disk media useless and bring production to a standstill.
He said: "Each line produces both in quality and productivity in excess of 20,000 hard disk media daily. If defects occurred and are not corrected quickly, losses to the company will multiply exponentially.
"We use various kinds of analytical technology and methodology to detect the problems, analyse them and find out ways to prevent recurrence."
Hardwork
Mr Wee, who graduated from ITE Yishun with a National Institute of Technical Education Certificate (Nitec) in Electronics and Wafer Fabrication, takes the hard work in his stride.
He said: "When I got hands-on experience in wafer fabrication, I loved it. As I got a merit qualification for my Nitec exams, that enabled me to get direct entry to Ngee Ann Polytechnic, where I graduated last year with a Diploma in Electronics and Computer Engineering."
After graduating from polytechnic, Mr Wee chose to work in Showa Denko last year as he learnt it was an established Japanese multi-national company with a long and excellent history of manufacturing hard disk media in Singapore.
Showa Denko, which has been in Singapore since 2002, supplies quality hard disk media to hard disk drives, assembly and other leading IT firms worldwide.
Besides Singapore, Showa Denko also has facilities in Japan, Taiwan, Malaysia and the US.
Mr Wee, who is single, said: "My colleagues are very supportive and there is good teamwork here. The company also provides transportation and allowances.
Work in Showa Denko is also complemented by numerous welfare, social activities like sports competitions, training classes and festive celebrations.
"We have several major activities in-house annually, such as Mooncake festival celebrations and mobile roadshows."
He also appreciates the opportunities given to him to upgrade himself.
He was selected by the company to attend a two-day workplace facilitation course at Kaplan Singapore last month, and looks forward to being selected for training in Japan in future.
"Anyone who wants to work in a job like mine must be prepared for a fast-moving environment. They should also be prepared to work hard and show good teamwork," he added.