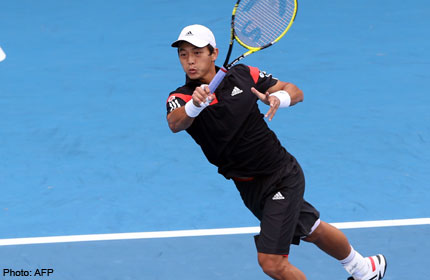 Taiwanese tennis star Lu Yen-hsun yesterday lost the Heineken Open to America's John Isner in Auckland.
Having made it into the finals, Lu - this being his first appearance in an ATP final in his tennis career - was reported as saying he felt no regrets over his 6-7, 6-7 defeat to third-seeded Isner. He said was satisfied with his performance and the fact that he had smashed his way into the last warm-up game, despite losing the US$455,000 (S$575,000) prize money by a single point.
Isner, 7-9 in previous ATP title match appearances, had dropped three games in his previous (and only) match with Lu. The 28-year-old American had nabbed his eighth win in his career in two tight-spaced sets, his famous rocket serve scoring him 23 aces. Isner failed to convert any of his three break-points in the first set, but later managed to override Lu in the final tie-break.
The second set found Lu facing 0-40 twice with Isner on serve, but the Taiwanese player drove the scores to another tie-break after battling back.
The Heineken Open New Zealand finals paved the way for the upcoming Australian Open Grand Slam, which will be held next week. Lu had ousted the Heineken Open's three-time defending champion David Ferrer in the semifinals on Friday, having forced Ferrer into a total of 11 break-point scenarios, one of which in the second set eventually resulted in the tie-breaker that secured Lu his victory.
Yesterday's game was the first Tour final for Lu, who is ranked 62nd in the world.
Lu stated that he had performed pretty well in the finals, but he did not manage to return Isner's serves with enough power. "I did my best until the end, so I feel glad even if I've lost. I did good this week," said Lu, unperturbed by his loss.
Lu battled beautifully yesterday, but the 23 aces Isner served were incredible; meaning that Lu had only one or two shots to win the game, said the 30-year-old's coach. "He did well. But it is nonetheless regrettable that he was not able to take advantage of the rare chances that came his way and thus lost the match," the coach added.
Lu will be flying to Melbourne after the warm-up finals, in order to prepare for the looming Australian Open.