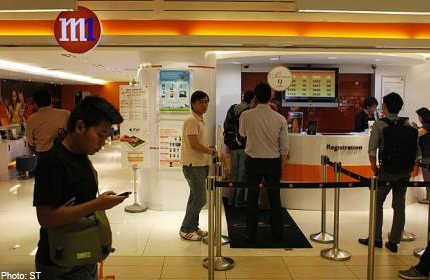 SINGAPORE - I am an investor in banking products and was adversely affected by the M1 service disruption last Tuesday morning, as I was unable to contact my banking officer ("Software blamed for six-hour M1 outage"; last Wednesday).
I am not comforted by the possible imposition of a penalty on M1.
Consumers are the ones who suffered, and it would only be fair for M1 to distribute any penalty it has to pay to them. This can be in the form of a waiver of their monthly fees.
Also, M1's decision to offer free local mobile calls as well as text and multimedia messaging on a Sunday is questionable.
What is the use of free calls when many users hardly use their phones on Sunday? For instance, I switch off my phone for most of the day as I do not want to be disturbed.
John Tan Chor-Yong

Get a copy of The Straits Times or go to straitstimes.com for more stories.