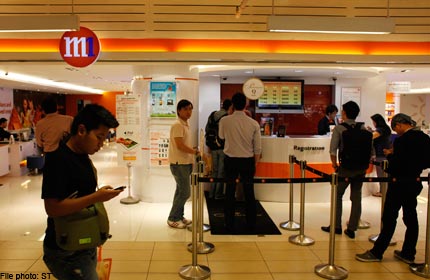 SINGAPORE - M1 rang in its first quarter numbers which were helped along by lower operating expenses, on Tuesday.
Net profit for the period ended March 31, 2013 was 1.8 per cent higher at $41 million.
Operating revenue for the same period, however, was 7.4 per cent lower, falling from $262.5 million to $243 million. Operating expenses dropped 9.5 per cent to $191.4 million.
While handset sales fell 38.7 per cent to $43.4 million, mobile service revenue held up, growing 4.9 per cent to $156.3 million.
The bottom line was helped along by a 12 per cent fall in average postpaid customer acquisition cost, from $363 to $319.
The firm's Ebitda (earnings before interest, taxes, depreciation and amortisation) margin for the quarter stood at 39.5 per cent of service revenue compared to 40.1 per cent a year ago. This is likely to be maintained for the rest of the year, given that smartphones account for 90 per cent of handsets sold.
"As customers sign up for higher(-end) plans on smartphones, it follows that we have to subsidise more," said M1 CEO Karen Kooi on Tuesday.
The telco's post-paid customer base grew 5.1 per cent to 1.107 million year-on-year, while the pre-paid end shrank 2.4 per cent to 938,000.
As at end-March, 20 per cent of M1's post-paid customers were on the tiered data plan. 9 per cent of this group exceeded their data limits which were now lower under the tiered system. The boost to average revenue per user (ARPU) from tiered data plan subscription and additional charges incurred by users exceeding their data limits stood about 8-10 per cent for this group of customers.
Now, the average data usage on smartphones exceed 2 gigabytes (GBs) per month compared to 1.6 GBs a year ago. Even so, the data plan ARPU was down 6.8 per cent in Q1, at $22 per month. On the post-paid front, ARPU was down 3.5 per cent year-on-year to $61.10.
Conceding that the number of people currently exceeding their data limit was small, Ms Kooi said: "We do have some of the most cost-conscious ones refusing to give up their old, unlimited (data) bundle plans. We think over time, that will change."
Revenue from international call services fell 6.1 per cent to $29 million, but that of fixed services grew a robust 21.6 per cent to $14.3 million.
"With increased awareness and fibre coverage, we will see more customers switching to fibre broadband services. The current low fibre penetration rate will provide opportunities for us to continue to grow this segment," said Ms Kooi.
On Monday, M1 said that it would spend up to $85 million on a 3G network upgrade. On Tuesday, M1 said that this project will bring in "fairly material" savings over the next three years.
For the quarter, earnings per share for the group stood at 4.5 Singapore cents, inching up from 4.4 Singapore cents from the year before.
The stock's counter closed five cents higher at $3, before the release of its earnings on Tuesday.

Get The Business Times for more stories.