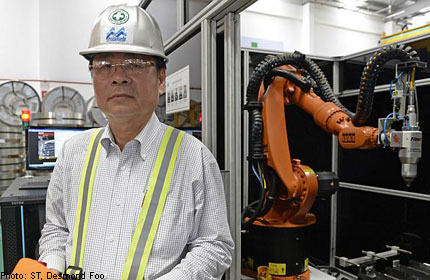 SINGAPORE - As far back as the Industrial Revolution, workers have feared the rise of machines. But in a tight labour market, machines are more friend than foe: saving firms' bottom lines and sparing workers from unsavoury jobs.
Imagine, for instance, perching on a girder several storeys up to cut steel sheets with an abrasive saw or oxy-acetylene torch. That is how metalworking firm M Metal used to provide floor decking for construction sites. As the tough work continued, workers would tire and slow down.
But the firm's new laser-equipped robotic arm can slice away all day. Instead of three workers taking 10 minutes a sheet, only two are needed to man the machine, which cuts a sheet in under a minute.
With manpower scarce, firms are looking to machines - not just for assembly-line work, but for specific tasks too. M Metal's $300,000 robotic arm also frees up workers to work on other machines.
"We exhausted our quota, so we needed to look at automation," said managing director John Kong.
In manufacturing firms like his, foreigners can form no more than 60 per cent of the headcount.
And even as it reduces the need for workers, the robotic arm improves their jobs by eliminating the risk of cutting steel at heights.
In other cases, brute force may be all that is needed, such as in the removal of painted markings from roads and runways. Construction firm Samwoh Corporation's workers used to do this with a grinder, scraping off just 7 sq m a day.
Their new "ultra-high waterblasting equipment", which shoots a powerful water jet, literally blew away the old method.
A worker can now blast off 100 sq m of paint a day - 14 times as much as before.
At almost a million dollars, it was no small investment. But chief operating officer Ho Nyok Yong said the firm needed to ramp up productivity to cope with the tighter foreign worker policy.
Levies have been rising, while man-year entitlements (MYE) - the quota of foreign workers for each project - have been cut by 45 per cent since 2010.
Civil engineering firm Sunteq Construction, for one, is within the industry limit of seven foreign workers for every local one. But it has been hit by MYE cuts, and has just 65 foreign workers now, down from 150 last year.
So machines are helping the firm to cope. Concrete screed levellers and power trowels mean that smoothening concrete floors is quick and easy.
Preparing walls and ceiling for painting is now done with sanding machines rather than sandpaper, reducing the number of workers needed from eight to five, and raising productivity by 60 per cent.
All this cost about $30,000, half of that paid for by the Building and Construction Authority's Mechanisation Credit scheme. Said managing director Khoo Boo Sun: "It's investing for a better future. You can have fewer foreign workers, and better quality."
Machines are not just found in manufacturing and construction. Even plant nursery Far East Flora has a use for them.
Before, unsold Christmas trees were chopped up with chainsaws for disposal. Two workers, spending their entire day sawing, would take about a week to get through 300 or so trees. But in late 2011, when there were 1,000 trees, the workers complained.
"They told me it was not possible to chop all of it," recalled director Alex Cheok.
The firm then bought a $70,000 woodchipper, which can shred 1,000 trees in two days. "For long-term use, it's worth it for sure," said Mr Cheok.
janiceh@sph.com.sg

Get a copy of The Straits Times or go to straitstimes.com for more stories.