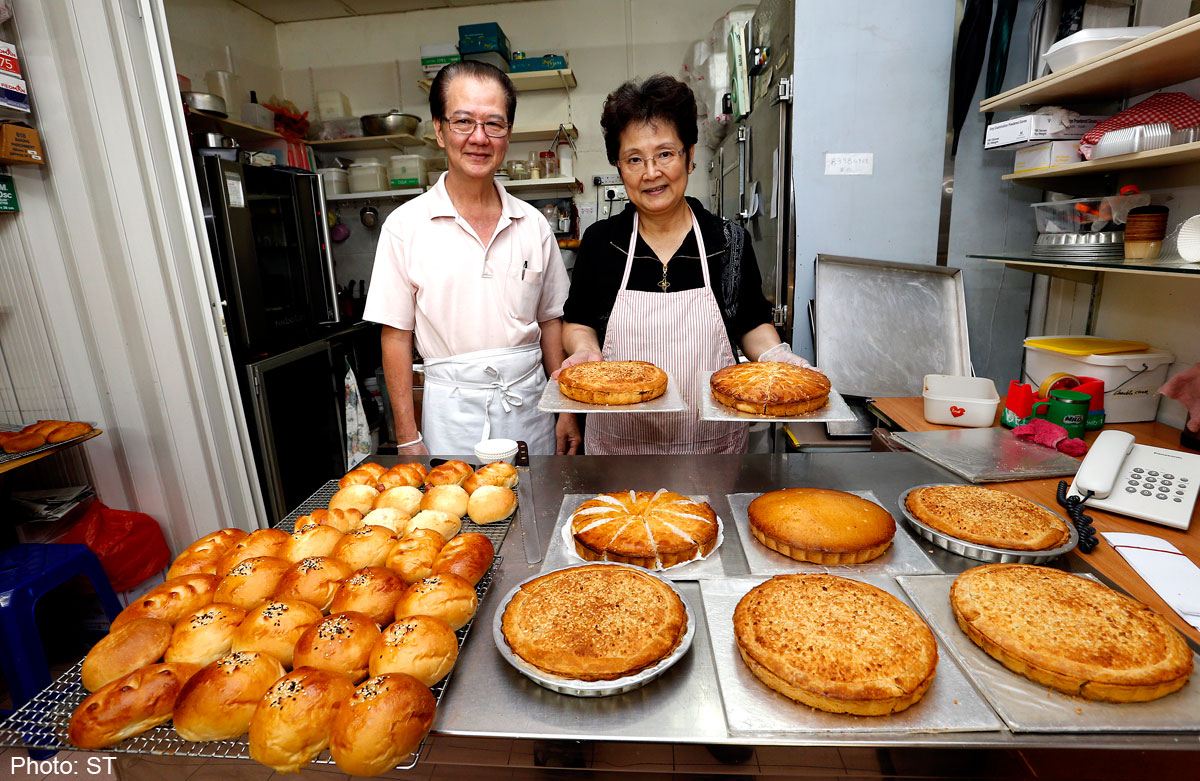 SINGAPORE - Move over mass-produced fast food, it is time to go slow and celebrate hand-crafted heritage treats.
Slow Food (Singapore), the local branch of the Slow Food International Association in Italy, is rolling out its inaugural Heritage Heroes programme to showcase traditional food culture here.
This is in line with the global organisation's mission to preserve heritage dishes and promote traditional gastronomic culture and responsible food consumption.
The Heritage Heroes initiative highlights 34 shops in Singapore which are devoted to producing traditional food products.
They are split into four categories: Traditional Breads and Buns, Cakes and Pastries, Traditional Piah and Kueh Kueh.
Some of the old-school bakeries that have been identified include Love Confectionery at Bukit Merah, Balmoral Bakery at Sunset Way, Loong Fatt Tau Sar Piah at Balestier Road and Tan's Tu Tu Coconut Cake at Havelock Road Cooked Food Centre and Clementi Avenue 3.
One of the chosen Heritage Heroes is Dona Manis Cake Shop at Katong Shopping Centre. Its owner, Madam Soh Tho Lang, 64, says: "We are doing our best to preserve our heritage recipes. A programme such as this is good to help shops such as ours get recognised and to remind people that we are still making traditional food."
With her husband, Mr Tan Keng Eng, 65, they start baking their signature items such as banana pie and curry buns at 6am.
The Heritage Heroes programme's chairman, food writer Christopher Tan, 41, says: "We decided to focus on bakeries and confectioneries for a few reasons - some of the oldest have been around for generations; some of the baked goods they produce are getting rarer; and some of them are facing challenges finding successors to hand their torches to.
"With so many Western-style bakeries opening these days, our traditional Asian ones are facing increasing competition for mental space in the public's awareness. We hope to cover more kinds of food businesses in future editions."
Opportunities for activities related to the programme will depend on the availability of the Heritage Heroes, says Mr Tan, as many of the shop owners work tirelessly for long hours.
Future editions of the Heritage Heroes programme will include other types of food businesses such as restaurants and food producers.
More plans are in store for Slow Food (Singapore), which was set up as a non-profit community organisation in October last year. With 18 members so far, the society is led by Mr Daniel Chia, 45, a culinary and catering management lecturer at Temasek Polytechnic.
Annual membership fees start at 5 euro (S$8.30), and members will receive invitations to various activities such as talks, food trails and meals.
One upcoming project, the Singapore Food Memories Program, will involve secondary school and higher education students submitting essays detailing food memories of festivals and feasts celebrated by their pioneer generation relatives.
Selected essays will be published to celebrate Singapore's 50th National Day next year.
Slow Food (Singapore) is also looking to work with schools on educating students about how food is grown, among other programmes.
The society's website has an online shop which will soon carry Slow Food (Singapore) branded accessories such as aprons, T-shirts, wine-openers and mugs.
Initially, Mr Alan Tan, 41, of HarriAnn's Delights, one of the Heritage Heroes in the Kueh Kueh category, was not familiar with the Slow Food movement when his shop was approached.
But the third-generation owner of the shop is open to working with the organisation to promote food heritage to both Singaporeans and tourists.
The brand - which specialises in Nonya kueh - has outlets in Tiong Bahru Market and Jalan Bukit Merah, as well as a five-week-old cafe, HarriAnn's Nonya Table, at Bugis Junction.
Says Mr Tan: "I like the idea of working with schools and the public to preserve our food culture. I would love to organise a Kueh Appreciation Day where we can teach people how to make kueh. Kueh can be glamorous too, it doesn't have to hide behind cupcakes."
euniceq@sph.com.sg
For more information and the full list of Heritage Heroes, go to www.slowfood.sg. To nominate a heritage business, e-mail heritage@slowfood.sg.
DONA MANIS CAKE SHOP
What: This 20-year-old confectionery, run by husband-and-wife team Tan Keng Eng and Soh Tho Lang, bakes its own signature banana pie, a perfect combination of crisp, crumbly crust filled with sliced banana, and coconut and almond crunch. Other tasty treats include rum balls, scones, apple pies and buns.
Where: Katong Shopping Centre, 865 Mountbatten Road, B1-93
Info: Call 6440-7688
SZE THYE CAKE SHOP
What: Founded in 1950, this Teochew bakery owned by Mr Koh Sun Liang still painstakingly handcrafts its traditional pastries, biscuits and peanut candy, and also makes sugar sculptures for festive occasions.
Where: 2 Beach Road, 01-4795
Info: Call 6337-7010
CHIN MEE CHIN
What: For more than 70 years, Chin Mee Chin has been an institution for the local breakfast trinity of kaya toast, soft-boiled eggs and kopi.
Other nostalgic delights include fluffy raisin buns, custard puffs, cream horns, sugar Swiss rolls and sugee cake.
Where: 204E East Coast Road
Info: Call 6345-0419
JI XIANG CONFECTIONERY
What: Few make ang ku kueh like those at Ji Xiang, run by Ms Toh Bong Yeo, which have been hand-made since 1988.
The red kueh, which is shaped like a tortoise shell to symbolise longevity, has a thin glutinous rice skin encasing traditional fillings such as peanut, sweet bean paste, and salty bean paste.
More modern flavours include durian and yam.
Where: 1 Everton Park, 01-33
Info: Call 6223-1631 or go to www.facebook.com/JiXiangConfectionery.AngKuKueh
TRADITIONAL HAIG ROAD PUTU PIRING
What: Madam Noor Zela Zain and her husband Mohamad Hashim Jumaat make their putu piring using a family recipe that has stood the test of time since the 1950s.
Double-steamed rice flour encases a molten centre of gula melaka and is served with salted grated coconut.
Where: Haig Road Hawker Centre, 14 Haig Road, 01-08; and Tristar Complex, 970 Geylang Road, 01-02
Info: Call 9456-7573
SING HON LOONG (GHEE LEONG)
What: With more than 50 years of history, Sing Hon Loong, run by Mr Lai Chee Peng, is one of the oldest bread-makers in Singapore. More than 1,000 loaves of traditional white and brown loaves are produced daily and distributed to local coffee shops.
Where: 4 Whampoa Drive
Info: Call 6256-0878
JIE BAKERY & CONFECTIONERY
What: One of the few remaining traditional bakeries that turn out freshly baked loaves with charred crusts. They are nothing fancy, just plain good bread, with creamy kaya and butter. Run by Mr Mah Hock Hiong.
Where: 123 Upper Paya Lebar Road
Info: Call 6281-1377
TONG HENG
What: Originally a dim sum shop in the 1930s, Tong Heng is now run by the third generation of the Fong family.
Its signature diamond-shaped egg tart, with a thin and flaky crust filled with smooth custard filling, is still made by hand.
The shop also sells mooncakes, Chinese pastries, biscuits and kaya.
Where: 285 South Bridge Road, and 1 Jurong West Central 2, Jurong Point Mall B1-10
Info: Call 6223-3649

This article was first published on Aug 31, 2014.
Get a copy of The Straits Times or go to straitstimes.com for more stories.