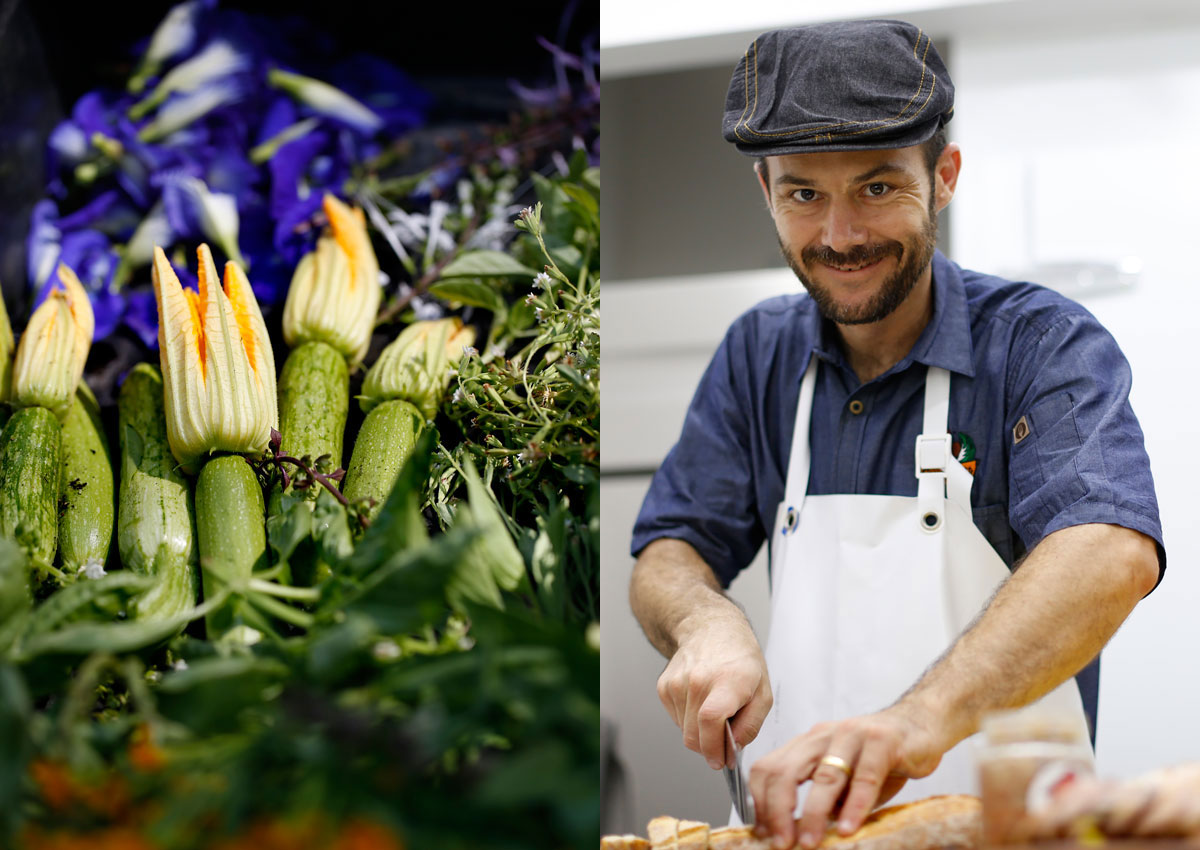 Three new enterprises are hoping to spark an interest in a low-tech but high-quality way of making things - by growing their own produce, making their own drinks or curing their own meat.
Giving local produce a boost
Open Farm Community
130E Minden Road
Operating hours: Mon to Fri, noon - 3pm, 6pm - 10pm Sat, Sun and public holidays: 10am - 10pm
6471 0306
www.openfarmcommunity.com
It wasn't by chance that celebrity chef Ryan Clift's new restaurant - Open Farm Community (OFC) - is set in a 35,000 square foot garden in Dempsey, nor was it for the sake of a natural ambience. As its name suggests, the space is really a microcosm of entrepreneur Cynthia Chua's grand plan to make urban farming a reality in Singapore.
As a reformed naysayer herself, she is now out to prove by example that commercial and responsible farming is possible in a land-scarce city like ours.
Not only does she believe that enough can be grown to reduce our existing carbon footprint and dependence on imports, it can also be a viable career option for young millennials looking to make a difference.
"For an urbanite, when you see something first you have a lot of obstacles in your head. You ask: 'Are you sure you can grow eggplants in this weather?' So it was an interesting subject for me because I was just like everybody else, but I've embraced the vision, and now we're executing it," says Ms Chua, who is the CEO of the Spa Esprit Group (SEG) which runs Common Man Coffee Roasters and Tiong Bahru Bakery.
Their latest collaboration with Chef Clift consists of a 120-seater restaurant, plus a large outdoor space where they are working with social enterprise Edible Garden City (EGC) to start a farm growing herbs and vegetables like chilli padi, radishes, eggplants, sweet potatoes, and Mexican tarragon.
OFC is the result of a journey that began three years ago, when SEG wanted to do a rooftop farm along with a restaurant, but found it impossible at the time.
It was only after they came across the farmers at EGC two years ago, and met chefs who were keen on having produce grown for them, that the dots finally started to connect.
Right now, they aren't just stopping at food either. On top of growing vegetables for the restaurant, Ms Chua also intends to start what she calls a "farm-to-beauty" movement.
In other words, she has plans to launch a line of beauty products using locally-grown plants and herbs such as aloe vera, mint, basil and lemon balm.
"I'm not just doing kitchen cosmetics, I'm working with chemists, with nanotechnology and things like that," explains Mr Chua. "My dream is to put my handwash, with local herbs that we discover, onto Singapore Airlines. Everything starts with a dream, right?"
There are also plans for OFC to be used as an event space for farmers' markets and community gardening sessions, to draw more people and hopefully inspire them to get involved in farming as well, reveals Ms Chua.
"We want to demonstrate to people that growing is possible ... When you show, then a movement starts. More farmers will come, the brains will come, more restaurants will pop up. I think someone just needs to execute (urban farming) and show people it's commercially viable so others will jump on board."
It seems like the right time for this movement too, as Ms Chua points out that there are many young people these days who are willing to give up stable high-paying jobs for the satisfaction that comes from the social aspect of jobs like farming.
To illustrate this, EGC's co-founder Rob Pearce adds that their team is currently 12-strong, and they have more applicants than they can take in and pay a decent salary to at the moment.
That's where SEG comes in as well - to help the farmers sell their produce in retail shops and restaurants.
Says Ms Chua: "Then it becomes their income because they're farming and selling ... and it becomes meaningful because you encourage growing. The farmers can survive, and it's an ecosystem that works."
Ultimately, the aim is to encourage people to appreciate locally-grown produce, instead of looking down on them in favour of anything imported from halfway across the world.
After all, their freshness often means they can taste superior to what's been grown overseas.
"I believe the next generation of chefs will use local produce, and nobody is going to think 'local' means 'lousy'. Previously, people think anything from Australia is better, but we want to challenge that. I'm sure we can find something of the same taste profile that's grown here," adds Ms Chua.
While it might still sound like an ambitious project for now, perhaps what it needs is exactly someone like Ms Chua - who pioneered the gourmet coffee movement with Common Man Coffee Roasters and 40 Hands, and bakeries with Tiong Bahru Bakery - to push the agenda, and who knows?
Urban farming just might end up being the next big hipster movement to take over Singapore.
Master of a demanding trade
Casse-croute
Park West Condo, The Club House Block 8, #02-02, Jalan Lempeng
Opening hours: Tue to Fri, 5pm - 9.30pm Sat & Sun, 8.30am - 9.30pm
9630 4526
www.cassecroute.com.sg
Do you know what goes into those sausages you get from the supermarket? Because Patrick Heuberger knows exactly what goes into his. "Lamb shoulder, herbs, eggs, and milk infused with vegetables and spices like chilli, cumin, and paprika," he says, as he deftly snips a chain of freshly-cased links into individual sausages of various shapes and sizes.
"Today's charcuterie that you can find on supermarket shelves is all industrialised, mass-produced, and it's all about cost," says Mr Heuberger, who not too long ago gave up running his successful restaurant Le Bistrot du Sommelier to start his own charcuterie business.
At his little eatery Casse-croute, which is located in the clubhouse of the Park West Condo, he has a production kitchen where he turns whole animals like ducks and rabbits into all sorts of sausages, pates, and terrines. By the end of this month, he will also start bringing in whole free-range pigs (chopped up, of course) from Australia to use as well.
Emphasising the importance of using whole carcasses, Mr Heuberger explains that each part of the animal is needed in order to achieve a good balance of fat, meat, and gelatin. "Like with a duck rilette, I will never make it with just the legs. All the parts play a role to make up the textures and flavours."
It's a demanding trade for sure, since each item requires deboning, cleaning, curing, cooking, and packing - a process that can take a few days to complete. However, it's a "beautiful trade" too, he adds. One of his favourite parts about doing everything from scratch is that it puts him in full control of whatever he produces, plus there's the challenge of being able to experiment with his ingredients.
This will probably keep him occupied for a long time to come, Mr Heuberger says. "This is the future. The industry-made charcuterie that has been made over the last 10 years, I think, will die off at some point. Because people can't eat that anymore, so they will go back to eating proper charcuterie. So I think there will be a job for me for the next 20 years, no problem."
Bringing back the spirit of craft
Little Island Brewing Company
Blk 6 Changi Village
Opening hours: Tue to Fri, 11am - 11pm Sat and Sun, 9am - 12am
6543 9100
www.littleislandbrewing.com
Feel like a cold can of Coke after your morning jog along Changi Beach? Well, you won't find that at Francis Khoo's week-old 250-seater restaurant in Changi Village, but what you will find is definitely going to be healthier.
They serve a range of unusual sodas like a spiced vanilla cola, ginger beer, and apple spritzer - all made from scratch. For instance, the apple spritzer is made using fresh Granny Smith apples.
These house sodas are the proud handiwork of the Little Island Brewing Company's operations manager Darren Hilditch, who comes up with all the recipes himself to make unique and "healthier" soft drinks.
Once the brewery is fully up and running in two months, they will also be selling their own beers with the help of brewmaster Steve Spinney who used to run his own brewery in Bali.
"We really want to be a craft place," says Mr Khoo, who is one out of four co-owners and used to run his own financial service company. "I think a lot of places carry big brands like Coca-Cola, Tiger Beer, and after a while I got tired of it. So we put a lot of effort and energy into creating good craft food, beer, and soda. I think that's what's missing in Singapore."
He proudly points to four posters hanging next to the beer taps - beer labels by a local designer - for their upcoming offerings such as an ale called The Whiter Shade of Pale, a golden ale named Sister Golden Ale, and a dry Irish stout called That Old Black Magic.
Elements of their food will also be made in-house too, says Mr Khoo. For example, sauces will be made from scratch whenever possible, and instead of using frozen french fries, theirs will be cut from fresh potatoes.
"It's a bit foolhardy because trying to do everything ourselves is a lot of work, but I think it's worth it," he adds.
Customers can expect most of the menu to be dishes cooked over their charcoal grill or smoked in the oven. These include beer belly porchetta with crispy skin and salsa verde (S$12 for 100g), a roast chili pumpkin with cacciatori sausage (S$13), or 15-hour smoked Cape Grim brisket with truffle balsamic sauce (S$13 for 100g). "(My restaurant) is like a playground or a new toy. A place I can experiment and create exciting stuff," says Mr Khoo excitedly.
Already, he has plans to start a herb garden in the backyard of his 10,000 square feet space, and hopes to brew cider in addition to beer within the next year or so - it's all just a matter of time.
Mr Khoo notes: "A lot of the time, when you set up a business in Singapore it's always about trying to turn over as fast as possible and get your investment back. And because of that, the spirit of being a craftsman has been eroded. But I want to be different, I want to bring that (spirit) back."
rachloi@sph.com.sg

This article was first published on July 11, 2015.
Get The Business Times for more stories.