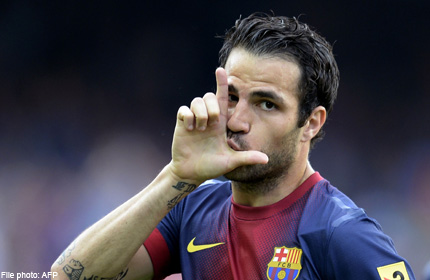 There are three weeks left to the start of the Premier League season and Manchester United are yet to make a significant signing.
Around the world, nervous supporters could be forgiven for wondering what's going on.
Have the club lost their lustre since the retirement of Sir Alex Ferguson?
Does David Moyes have the ability to attract superstars?
They shouldn't be concerned.
In the background, the wheels are turning. Soon, someone will sign.
It is inconceivable that United will start the season without at least one major signing.
Not only are the squad in need of improvement, not only is there a pile of new TV money to spend, but the two new appointments at senior level need to make a statement.
Moyes needs a big-name player in the dressing room and new chief executive Ed Woodward needs to make his mark on the European transfer market.
Woodward left the club tour early to focus on these signings and the work is ongoing.
While Man United would obviously have preferred to make their signings early, that's not always possible.
The transfer market is like the housing market, interconnected and complicated.
Teams like to have replacements in before they sell, which can often mean that one critical transfer sets off a chain reaction of deals down the line.
There is also the added complication that other clubs know Man United are prepared to spend money and they're happy to wait and see if they can drive the price up.
Why accept £30 million (S$58m) when you can tease out another £5m by just holding on for a few weeks?
The primary target is Cesc Fabregas, but Barcelona are still insistent that he is not for sale.
Reports in the British press on Friday claimed that the former Arsenal midfielder had told his friends he wanted to move to England, but publicly the player has said nothing.
Next on the list is Marouane Fellaini from Everton.
Moyes knows that the Belgian has a £22m release clause in his contract, but according to reports, is reluctant to go that high.
He is likely to wait until the clause expires next week before returning with an offer that he deems to be more realistic.
Perhaps, as his former manager, he knows something about that contract that we do not.
Leighton Baines is still a target, but again Moyes is unwilling to go much further than the £12m already rejected by his old club.
Baines, 29 this year, has no resale value, so it would be a surprise if United were to sanction a considerably larger offer.
United have also been linked with big-money moves for Cristiano Ronaldo and Gareth Bale, but are currently telling reporters that neither move looks likely.
Ploy
This may be a ploy to prevent Tottenham and Real Madrid from driving the price up.
Certainly, the benefits of a signing of this stature are worth a record-breaking bid.
So far, Man United have only failed to land one player, Thiago Alcantara, who moved to Bayern Munich.
But the theory that this reflects Moyes' lack of profile is, to be frank, absolute bobbins.
Thiago is represented by Pere Guardiola and Bayern are managed by his brother Pep Guardiola.
As soon as the Bavarians made their interest public, there was only going to be one outcome.
Man United will make a major signing before the transfer window closes.
This season is too important to waste.
This new regime needs to be strengthened with new blood.
United, even without Ferguson, are still one of the world's biggest clubs.
United fans should be patient.
It will happen.
Get The New Paper for more stories.