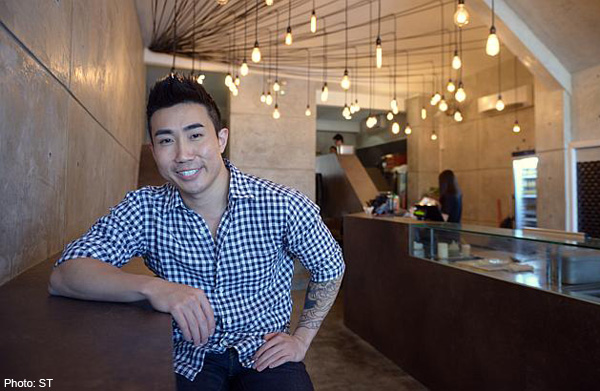 JONATHAN YANG, 29, OWNER OF BURRITO BAR MUCHACHOS AND SALAD BAR THE DAILY CUT
When it comes to making big life decisions, Mr Jonathan Yang is a strong believer in trusting his instinct.
Case in point? When the global financial crisis hit in 2010, the same year he graduated from The State University of New York at Buffalo, it derailed his lifelong dream to go to law school.
Given the hiring uncertainties in the legal sector at the time, he packed his bags and headed home - no matter that he had already received acceptance offers from Ivy-league law schools.
That same instinct kicked in in 2013, when after 31/2 years as a public relations consultant, the bachelor decided to plunge into the food and beverage business.
The 180-degree career change stemmed primarily from the lack of good burritos in Singapore at the time, something he desperately missed after having spent his childhood shuttling between Singapore and California. His parents run a costume business in Singapore and he has a younger brother, 19.
Convinced that he could shake up the Mexican food scene, he pooled together $120,000 from savings and loans from banks and his parents to start a restaurant.
Within three months, he had roped in an old childhood friend and trained chef, Mr Elson Lee, 29, to help with the menu and operations, signed a lease for a 1,400 sq ft shophouse in Keong Saik Road and, faster than you can say "quesadilla", opened the doors to Muchachos.
It was not an instant hit.
"I remember on our first day, our total takings were a pathetic $129," he says with a laugh. "There's nothing as humbling as the feeling that you are skirting dangerously close to bankruptcy."
But news about the cheap and cheerful burrito joint spread and, within a week, Muchachos had lines out the door.
The business started turning a profit in eight months and hit $1 million in annual revenue seven months later.
Not one to rest on his laurels, he started his second venture, The Daily Cut - a protein-focused salad bar for gym buffs such as himself, which he saw as filling a gap in the market.
There was another reason.
"Truth be told, I wanted to open a new concept just to convince myself that I wasn't just a one-hit-wonder," he says with a grin.
He looked long and hard for the perfect location in the Central Business District before investing a much heftier $300,000 into The Daily Cut, which opened its doors in the basement of One Raffles Place last July.
The menu, which includes complex carbs and options such as sirloin steak and sous vide eggs at an under $15 price point, has received rave reviews.
It also helps that there are 13 gyms in the vicinity of his 624 sq ft, 42-seater restaurant.
The eatery has done so well that he recouped his initial costs in four months and generated more than $1 million in revenue just two months later.
He is currently working on a second outlet, set to open at Buona Vista business park One-North next month.
Asked about his success, Mr Yang seems genuinely surprised himself, sheepishly letting on that he had only imagined lasting in the competitive F&B industry for a year, tops.
"I think it's helped that I've pursued my businesses like a passion. Sure, making money is great, but I've tried to focus on the bigger picture," he says.
This includes paying his staff above market rate and grooming them for bigger roles in the company.
"There were tough months where we had to roll up our sleeves and pull 20-hour days to make things work," he adds.
"But looking back now, I can confidently say I love my job. At the end of the day, that's all I can ask for."

This article was first published on April 19, 2015.
Get a copy of The Straits Times or go to straitstimes.com for more stories.