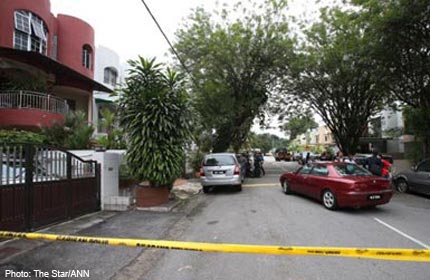 KUALA LUMPUR - A housebreaking and robbery attempt in Kuala Lumpur early yesterday morning resulted in the police fatally shooting one robber and injuring another, while a third one escaped.
The incident took place 4.30am. The three men broke into a house at Persiaran Syed Putra and tied up three victims - the owner, his wife and their daughter, reported Malaysia's The Star.
Assistant Commissioner Khairi Ahrasa said the three suspects did not realise the owner's son, who is his 20s, was also in the house.
"The son called us to inform us that they were being robbed and the suspects were still in the house," he said.
AC Khairi said a police team nearby responded.
GUNPOINT
"At about 4.50am, our team arrived at the scene and one of them managed to sneak inside the house to observe what was going," he said, adding that the officer saw a suspect bringing out a victim at gunpoint and forcing the victim to open the house gate.
"After the gate was opened, the officer who managed to sneak in saw the suspects running out of the house," AC Khairi added.
The officers identified themselves to the suspects, but instead of surrendering, one of the suspects fired at them and police returned fire.
The four officers who shot at the suspects hit two of them. Both collapsed on each side of a black BMW driven by the suspects that was parked near the house, AC Khairi said.
Both suspects who were shot were taken to hospital, while the third suspect managed to escape on foot.