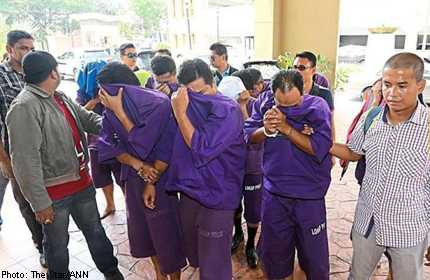 KUALA LUMPUR - The Customs Department is reviewing its operating procedures following the arrest of 22 individuals, including a state Customs director and 10 other personnel, for corruption.
"A review will come with changes, and I am discussing what needs to be done with my directors in Selangor and at our headquarters," said Customs director-general Datuk Seri Khazali Ahmad.
Speaking to the media after attending the launch of a GST roadshow for small and medium enterprises here yesterday, he reiterated that his department would carry out its duties in a professional manner.
"We will continue to work with integrity and responsibility, and the public can be assured of good service from the department," he said.
Khazali also gave assurance that the department would cooperate fully with all agencies involved in the corruption investigations.
The suspects were arrested in simultaneous raids across Klang Valley in a joint operation involving the Malaysian Anti-Corruption Commission, the police, Bank Negara and CyberSecurity Malaysia, an agency under the Science, Technology and Innovation Ministry.
Authorities believe those picked-up are members of a massive cigarette and alcohol smuggling syndicate. Khazali also encouraged his officers to remain calm and dedicated in the face of the latest arrests.
"I have told my staff not to take things personally, they must continue to work and produce good results," he added.