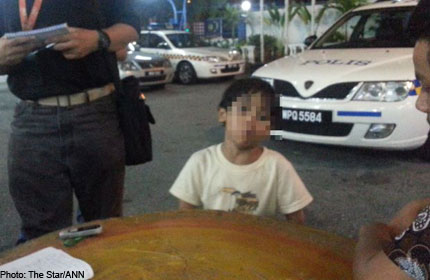 KUALA LUMPUR - A six-year-old boy broke free from his abductor onboard an LRT train, hours after he was grabbed outside his flat in Bangsar.
The man "gripped" the boy by his shoulders in full view of other commuters soon after they had boarded at the Bangsar LRT station.
When the train reached Taman Melati about 14 stations away at about 6pm, the boy made a dash for the open door.
An auxiliary police officer was standing outside and the boy ran straight to him.
Narrating his ordeal to reporters later, the boy said he was playing with friends outside his Seri Pahang Flat at 4pm yesterday when a man, wearing a white face mask, grabbed his arm.
"He said 'come with me' and pulled me very roughly. I wanted to scream but I was scared," he said at the Wangsa Maju police station.
He said the man then took him to an LRT station, believed to the Bangsar station, where they boarded a train.
The boy said they travelled for sometime, with the man firmly gripping his shoulders the whole time. He said there were many commuters around but he didn't dare say anything.
"But when I saw the door open and he was looking elsewhere, I jumped out," he said.
The boy was then brought to the Wangsa Maju police station.
His father, an auxiliary police officer, lodged a report at the Jalan Travers station.
The father said he received a call from his wife at around 7pm saying that their son did not return home.
"I am relieved that we have found him," he said.
Brickfields OCPD ACP Muhammad Azlee Abdullah confirmed the report.