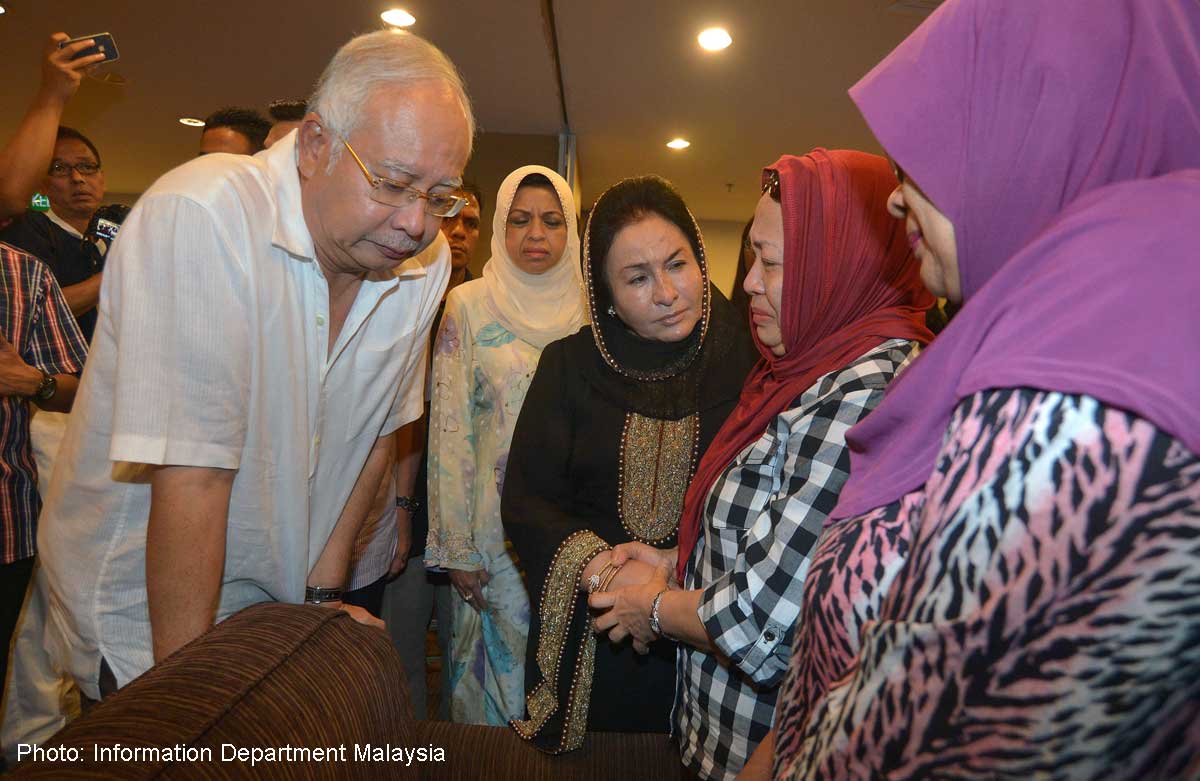 MALAYSIAN Prime Minister Najib Razak had just managed to bite into a couple of dates to break his day-long fast last Friday evening when he received a call from United Nations Secretary-General Ban Ki Moon to discuss the crash of Malaysia Airlines Flight MH17.
About half an hour later as he finished his dinner, he walked into a private room to take a call from Russian President Vladimir Putin as the hall where the dinner was being held had music blaring.
This was followed by a call to British Prime Minister David Cameron.
All of this played out in front of the media and bloggers whom he addressed later, and before he appeared on national television at 11pm to speak to the nation about the second tragedy to hit MAS and Malaysia in 4½ months.
In sharp contrast to the government's handling of the MH370 tragedy in March, which drew a lot of flak, the Prime Minister and his officials have been more sure-footed and speedy in handling the latest crisis, say analysts and observers.
"Much better. Miles apart. More organised. More streamlined," said Datuk Abdul Jalil Hamid, group managing editor at New Straits Times Press, when asked about the government's response this time round.
He was seated beside Datuk Seri Najib at the buka puasa (breaking of fast) event held at the headquarters of Radio Television Malaysia.
The swiftness of the response is also evident in how MAS communicated with the media and the public on the matter.
Malaysia's national airline issued a statement just after midnight last Friday as soon as it confirmed that contact had been lost with MH17, which was flying from Amsterdam to Kuala Lumpur.
MAS had been severely criticised for taking four hours after MH370, flying from Kuala Lumpur to Beijing, went missing before telling the world.
This time round, Mr Najib has been seen at the forefront taking charge of the crisis, a contrast to his lack of visibility during the drawn-out confusion over what happened to MH370.
"I want to tell you as a leader, it is very difficult to have this heartbreaking event," Mr Najib said yesterday at a breaking of fast event at a Kuala Lumpur mosque attended by several thousand people.
"For two nights in a row, I almost didn't sleep because I was calling world leaders."
Transport Minister Liow Tiong Lai left last Saturday for Kiev, the Ukrainian capital.
"What has been done this time around has been excellent - the fast statements, our minister headed to Ukraine with the relevant agency chiefs," said Associate Professor Samsul Adabi Mamat, a political science lecturer at the National University of Malaysia.
But he also noted how different the two tragedies are.
In the MH370 incident, Malaysian officials did not - and still do not - know what exactly happened to the MAS jet that mysteriously disappeared after losing contact with air traffic controllers in March.
In the case of MH17, at least the crash site is known.
The government and MAS were flayed on social media in the first two days after MH17 was brought down, apparently by a missile, as questions were raised over why the airline would fly over a conflict zone.
The criticisms have since subsided after it became known that 15 other airlines, including Singapore Airlines, had been using the same Ukraine corridor.

This article was first published on July 21, 2014.
Get a copy of The Straits Times or go to straitstimes.com for more stories.