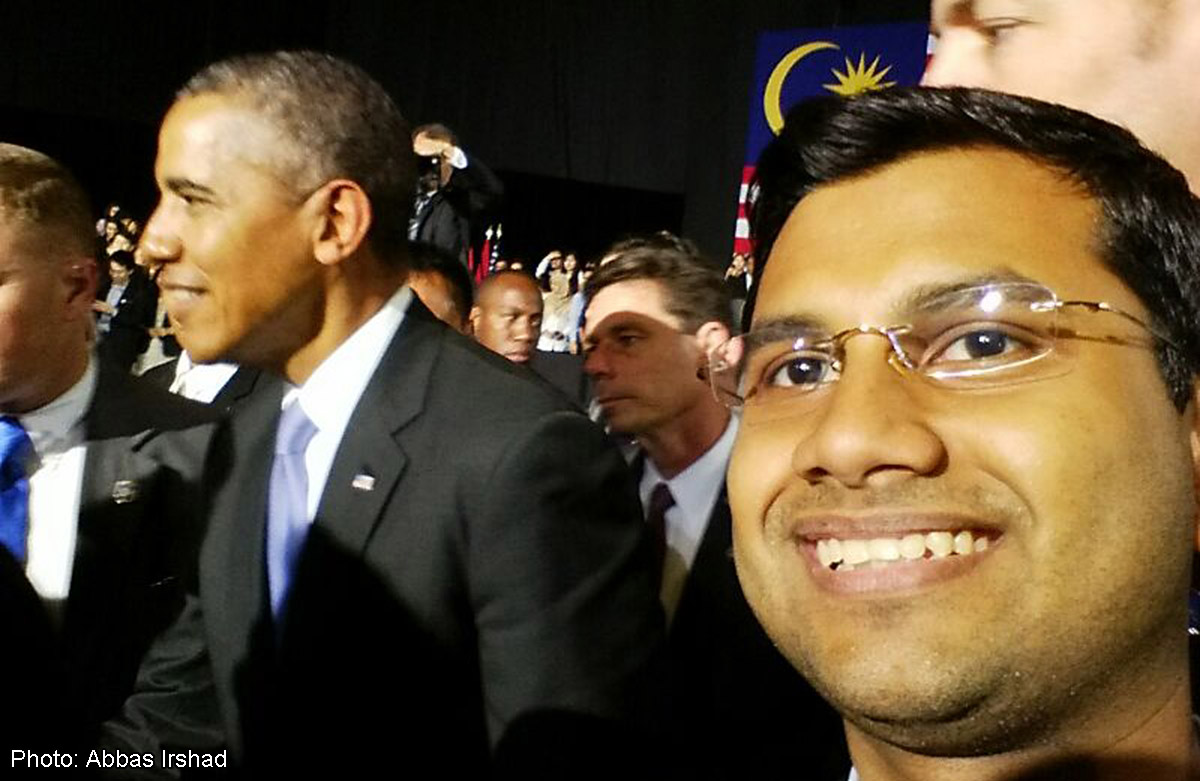 MALAYSIA - There was talk of foreign policy, of legacy and of geo-political reality.
But sorry, US President Barack Obama told some Singaporeans attending the Young South-east Asian Leaders Initiative (YSEALI) Generation Workshops in Kuala Lumpur on Sunday, no selfies with me.
While it seemed selfies were uppermost on their minds, the US President politely declined.
One participant, Abbas Ali Mohamed Irshad, 24, shook Mr Obama's hand and asked if he could take a selfie.
"(Mr Obama) said with a smile: 'It was great to be here and was my pleasure, but no selfies, otherwise I'd have to be here all day'," Mr Irshad said.
Undeterred, he and a few others did the next best thing: They made the most of Mr Obama's descent into the audience after his speech at Universiti Malaya by taking strategically-posed selfies with him in the background.
YOUNG LEADERS
Mr Irshad and the other Singaporeans were among participants at the town hall meeting at the University, which was organised by the YSEALI.
The initiative is a programme by the White House to boost ties between the US and South-east Asian countries through leadership mentoring workshops.
Participants took part in project management workshops and met with peers and experts from South-east Asia and the US.
"It's been interesting, they wanted participants to craft some projects to solve problems faced by ASEAN (member nations)," said Dr Mohamed Nawab Mohamed Osman, 34, assistant professor at the S. Rajaratnam School of International Studies.
Ms Delphia Lim of non-profit Accountability Counsel, which provides legal advice to vulnerable communities worldwide, described the expertise of the mentors and facilitators as "incredible".
"(They) were very willing to share with me advice on how to create a sustainable social impact, be it in economic development or civic engagement," she said.
But the most glamorous event on the agenda was the town hall meeting with the President.
Mr Obama spoke about his personal relationship with South-east Asia and US foreign policy aims in the region.
Ms Lim said: "I think many in the audience were very curious about him as a person, perhaps more so than about what his government is doing or will do.
"I think the experience was a fantastic opportunity to get a sense of what makes a man of his stature and ambition tick."
Mr Irshad, an undergraduate at the Singapore Management University, said sitting just a few steps away from Mr Obama while he spoke was "absolutely mind-blowing".
A few lucky ones had the chance to ask Mr Obama questions after his address. He also accepted questions sent through social media.
The only question from Singapore which was answered was from private tutor Stanley Ong, 39, who asked: "What is the legacy you wish to leave behind?"
He posed his question in a post on the US Embassy Singapore Facebook page.
And what did Mr Ong think of Mr Obama's answer, where the President said his most important legacy are (daughters) Malia and Sasha, before going to talk about his presidency?
"To me, with the time constraints he had, it was a really good answer. He answered on different levels: Personal, domestic policy, foreign policy.
"One reason I was very touched was because he mentioned his family," said Mr Ong, who has a four-year-old daughter.
sgascon@sph.com.sg
This article was published on May 1 in The New Paper.


Get The New Paper for more stories.