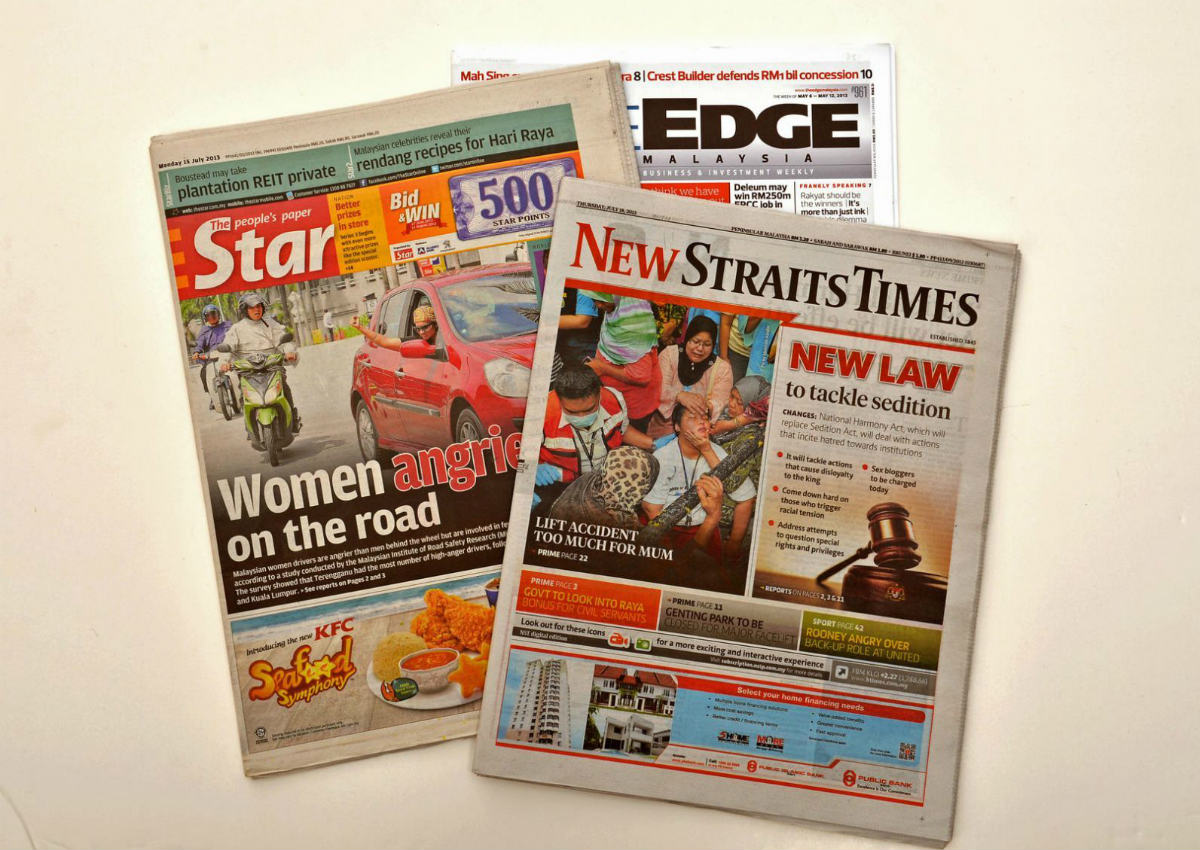 A significant decline in readers and viewers of government-controlled newspapers and television and radio stations is worrying Putrajaya.
Notwithstanding the slump in ratings and hence, earnings, the government's concern is whether its messages are getting out to the target audience - especially since snap polls are anticipated this year.
For example, Media Prima Bhd, the media stable controlled by Umno (the United Malays National Organisation, Malaysia's biggest political party), has four TV and three radio stations and three dailies, with the dailies parked under its subsidiary, New Straits Times Press Bhd (NSTP).
In the third quarter to end September, Media Prima slipped into the red with a loss of RM109 million, mainly from the restructuring exercise under which NSTP closed two of its four printing plants.
Analysts have identified challenges ahead for the company: Advertising expenditure is weak because of poor consumer sentiment and the uncertain economic outlook.
The shift to digital media has also hit the print segment; higher newsprint prices have made matters worse.
To be sure, very few media businesses have immunity from the digital trend; media outlets globally are also struggling to stay relevant.
The English daily in the Media Prima stable, New Straits Times (NST), has been struggling to contain the freefall. Its daily circulation, at 100,000 in the first half of 2012, was down to 44,000 in the first half of last year, said the Audit Bureau of Circulation. (Data for the second half will be available only in May.)
But the biggest surprise has been the marked fall in circulation for Media Prima's Malay daily, Harian Metro; once at 394,000, its circulation is now about 149,000 - a 62 per cent drop.
Utusan Malaysia, another newspaper controlled by Umno through Bursa-listed Utusan Melayu (Malaysia) Bhd, has had its circulation trimmed by a fifth, from 181,000 to 144,000. Media executives say the company has been bleeding for a number of quarters.
A media executive who did not want to be named said English newspapers play less of a role in garnering support for Umno and the members of its coalition Barisan Nasional (BN), as the party gets most of its support from rural and semi-rural Malays.
"What is more worrying for them is the decline in Malay papers," he commented, noting readers now have more channels of information and are no longer dependent on the mainstream media.
"Readers want more balanced reporting, he said, noting that print and broadcast platforms that adopt an overtly pro-Malay or pro-establishment stance appear to have alienated not only their readers/viewers, but their advertisers as well.
While the digital segment of most of these media outlets are pulling in the eyeballs, they have yet to prove as lucrative as print.
But even so, political analysts say the decline in Media Prima and Utusan readers and viewers may not translate to fewer votes for BN.
The Star illustrates the point.
It comes under the Star Media Group controlled by the Malaysian Chinese Association (MCA), a component party in BN.
The country's widest-read English daily has managed to stem the circulation decline better than its rivals, registering a 14 per cent dip to 241,000 copies from 291,000 previously.
But, as the last two general elections have shown, the paper's readers - mostly urban Chinese - remain more opposition-inclined.
MCA itself has suffered significant erosion of voter support over the years, and political analysts expect the next general election, which has to be held by around August 2018, to bring trying for Umno's non-Malay coalition partners.
AffinHwang Capital expects a further decline in NST's circulation.
It is down to using just two printing plants, but these machines are running at 60-80 per cent capacity and still underutilised.
Noting a parallel fall in Media Prima's TV viewership (a plunge of 35 per cent for the nine months to end September from 38 per cent a year ago), AffinHwang, put this down mainly to rising competition from Pay-TV channels as well as other broadcasters gearing up for digital terrestrial TV (DTTV).
Declining eyeballs could well force bigger advertising discounts.
In a client note, Alliance Research observed that, excluding the one-off expenses, Media Prima posted a core net loss of RM5 million (S$1.59 million) for Q3; its free-to-air TV and newspaper segments were loss-making.
Its nine months earnings represented only 37 per cent of consensus full-year forecast.
Amid the circulation slide and pressure to improve, media executives say NSTP chief executive Azlan Abdullah will soon step down.

This article was first published on January 18, 2017.
Get The Business Times for more stories.