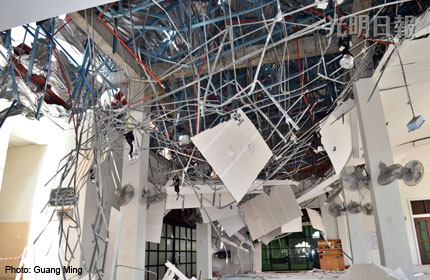 The roof of a mosque in Bukit Tunggal, Hulu Terengganu, collapsed on Sunday, just five months after a similar incident in the same state.
The collapse of the roof, which happened around 4am, affected about 20 per cent of the of Kampung Tebauk Mosque. No one was injured.
The two-year-old mosque was built at a cost of almost RM6 million (S$2.3 million), reported Malaysia's The Star.
Terengganu Mentri Besar Ahmad Said has asked the Malaysian Anti-Corruption Commis sion to find out whether there were elements of corruption in the construction of the mosque.
The mosque was built in 2010 and was opened to the public on Oct 24 the following year. It could accommodate about 1,000 people.
Mr Mat Man, the bilal (the man who makes the call for prayers), said he arrived at the mosque around 5am on Sunday to prepare for dawn prayers and found that the foyer's ceiling had collapsed.
"I had arrived at the mosque, opened the gates and switched on the lights, as people would come soon for the subuh (dawn) prayers.
"When I entered the foyer, I saw there was rubble. I looked up and realised the ceiling had collapsed," said Mr Mat, 61, who lives nearby.
Mr Mat said the ceiling had been intact the night before.
"I asked some of the villagers who live next to the mosque and they told me they heard a crash around 4am," he said.
He said the foyer section where the roof collapsed was not used for prayers although some people would pray there when the mosque was full.
Earlier incident
The collapse was similar to what happened at the Kampung Binjai Kertas mosque in May. The falling ceiling of the entrance narrowly missed several villagers who were at prayers there.
Malaysian Public Works Department (JKR) director Shafii Mohamad, said both roofs had used a similar design and materials.
"We have informed our headquarters in Kuala Lumpur of the incident. They will send a forensics team over so we can investigate the cause of the collapse," he said at a press conference. He said the contractor and the design of the mosque were approved by a government body.
"There is a 10-year warranty period for the roof. Since it is now damaged before the period is over, the supplier will be held responsible and the contractor will be asked to rebuild the roof," he said.

Get The New Paper for more stories.