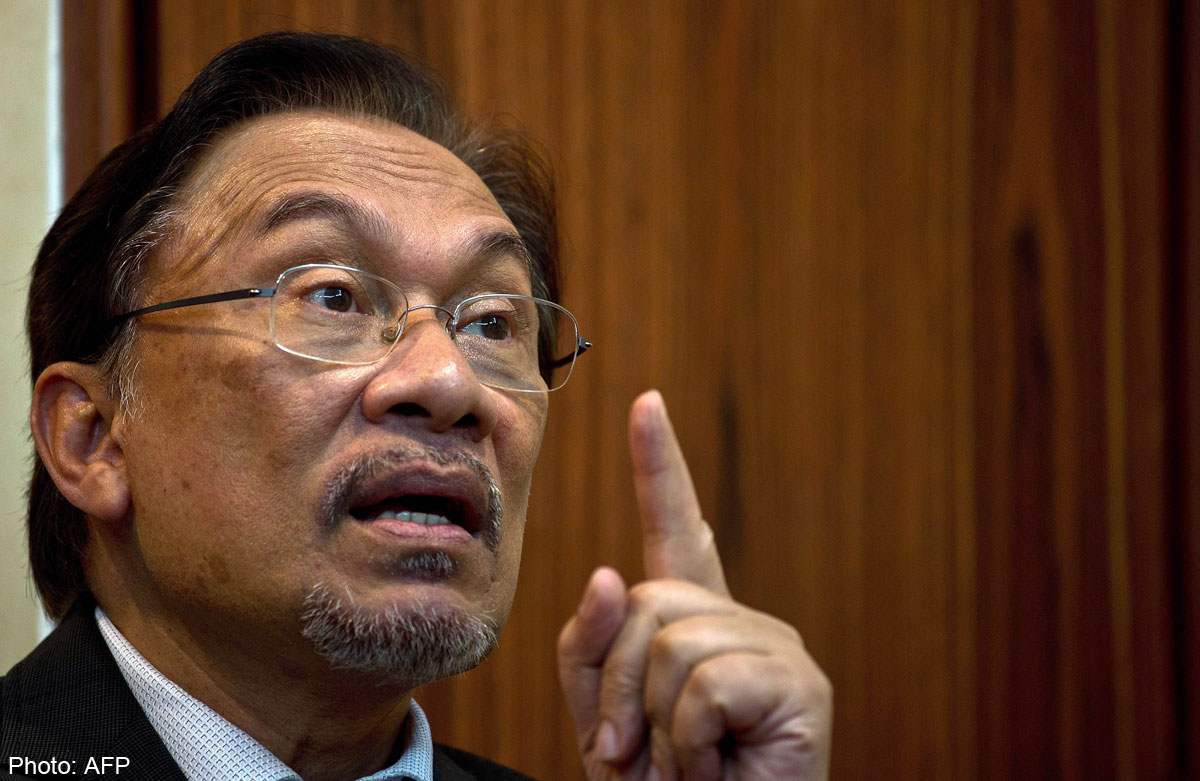 PETALING JAYA- Datuk Seri Anwar Ibrahim has warned that action may be taken against the three PKR deputy president candidates for allegedly putting the party in jeopardy.
He claimed that Umno and TV3 were capitalising on the intense rivalry between top guns Azmin Ali, Tan Sri Khalid Ibrahim and Datuk Saifuddin Nasution who were vying for PKR's No. 2 post.
"I am warning the three deputy president candidates. If not, this happens. They ruin the party. And for what? For unfulfilled lust (for power)," he said, before persuading a protesting crowd outside the PKR headquarters in Merchant Square here to disperse on Tuesday night.
Up to that time, the deputy president contest showed incumbent Azmin striding ahead of Khalid and Saifuddin.
Anwar, the PKR adviser, insinuated that he would not defend any of them if they were to face disciplinary action, including sacking.
He also warned that action could be taken against the protesters.
The protesters, numbering more than 60 people, had expressed dissatisfaction over alleged loopholes in the party's electoral system, polls irregularities and selective persecution.
They demanded to know why there was no action taken against PKR activist Bad- rul Hisham Shaharin (popularly known as Che­gubard) for openly complaining of election irregularities.
"Chegubard has his own excuses. We investigate first. If we sack or suspend him, there won't be any investigation," said Anwar.
Earlier in the day, the disciplinary committee announced the sacking of four members and suspension of 11 others.
The party sacked division members Radin Sharifuddin Mohamad Yasin (Selayang), R. Kumara Guru (Alor Setar), Zulkafli Abdullah (Hulu Selangor) and Ahmad Jufliz Faiza (Setiawangsa).
The suspension imposed on the 11 members were over various charges, including gatecrashing polling centres, openly criticising candidates and disrupting the electoral process.
Objection panel chief Abdul Malek Hassan said Inanam assemblyman Dr Roland Chia would also be hauled up for questioning following complaints lodged against him.
Media reports had earlier suggested that if its members lodged reports with the Registrar of Societies (RoS) over their dissatisfaction with the party's elections, the PKR could face de-registration or be forced to hold re-elections.
Election committee chairman Datuk Johari Abdul said divisions that failed to provide security could be suspended.
"And we will also take action against those who engage hooligans to create a ruckus during election process," he said.
He also announced that 35 divisions and wings would hold re-election in stages during the weekends from May 31 to June 22.