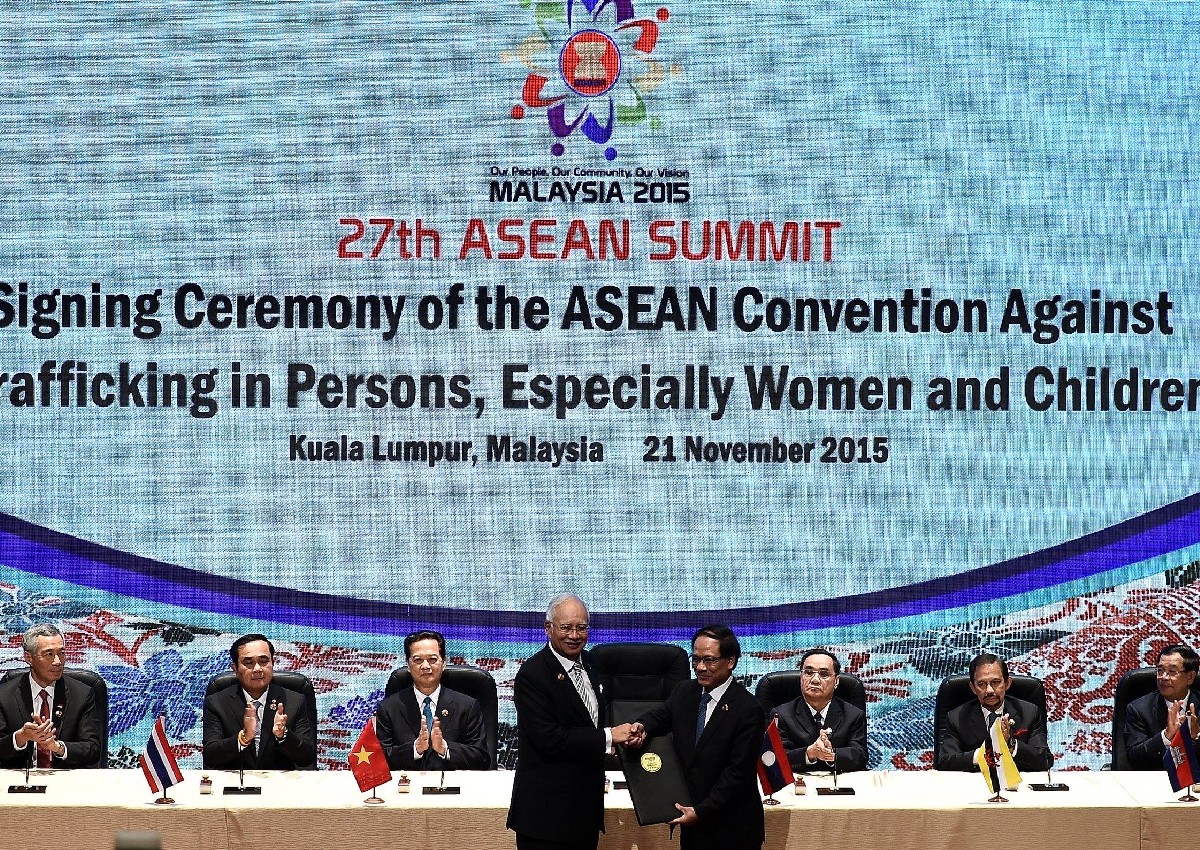 KUALA LUMPUR - The 10 ASEAN leaders signed a key convention to provide greater protection to victims of human trafficking and to impose the harshest punishment on perpetrators.
The ASEAN Convention against Trafficking in Persons, especially women and children (Actip), is only the second convention for ASEAN in its 48-year history, following the ASEAN Convention on Counter Terrorism signed in 2007.
The convention, jointly signed by the heads of state and government at the 27th ASEAN Summit, listed three key objectives that member nations will commit to in eliminating the human trafficking scourge.
Actip's objectives, among others, are to effectively prevent and combat trafficking in persons, especially women and children; protect and assist human trafficking victims with full respect for their human rights; and promote co-operation among relevant parties.
A convention on human trafficking was first mooted at the 18th ASEAN Summit in Jakarta in 2011, with leaders at the time recognising the urgent need to address human trafficking in the region.
The member countries' respective ministers in charge of transnational crime were then asked to consider a regional convention that would ensure protection for trafficking victims in accordance with international laws.
Human trafficking has been a long-standing concern for the region, with the Malaysia-Thai border being a primary transit point for traffickers due to the dense jungle and mountainous conditions in the area.
In May this year, authorities discovered mass graves in the Malaysia-Thai border town of Padang Besar, containing the remains of more than 100 Rohingya and Bangladeshi migrants.
The graves were found near several human trafficking detention camps, which had been freshly abandoned.
In August, police dug up 24 more bodies of suspected human trafficking victims in the same area.
The Rohingya, an ethnic Muslim minority from Myanmar, have been fleeing to Malaysia, Thailand, and Indonesia to escape persecution in their home country, often with the help of smugglers.
Prior to the discovery of the mass graves, thousands of Bangladeshi and Myanmar migrants were abandoned on overcrowded boats in the South-East Asian waters, as their traffickers fled Thai authorities.
This caused a large-scale humanitarian crisis which only abated when the migrants, dying from starvation after weeks in the open sea, were rescued and taken in by Malaysia and Indonesia.