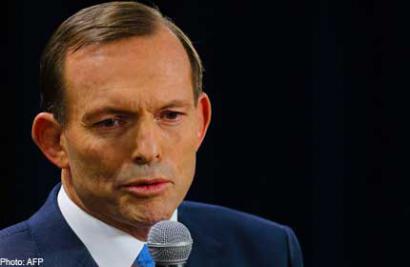 PETALING JAYA, Malaysia - Australian Prime Minister Tony Abbott has apologised to Datuk Seri Najib Tun Razak for putting Malaysia in a difficult situation regarding the failed refugee swap deal struck with Australia in May 2011.
Meeting for the first time at the Asia-Pacific Economic Cooperation (Apec) Summit, Abbott told Najib that it was unfortunate that Malaysia was caught up in a "rather intense party political discussion in Australia".
"I guess you might say that in my own way I offered an apology because I appreciate this was a difficult situation for Malaysia and because in its own way it had tried to help out a friend," said Abbott in reports by Australian media.
The July 2011 bilateral agreement signed between Malaysia and then Australian Prime Minister Julia Gillard would have seen some 4,000 refugees and asylum seekers in Malaysia sent to Australia, while 800 residing in Australia would be repatriated back.
Gillard had been forced to dump the plan a few months later because she did not have the numbers to amend the migration laws to allow the refugee swap.
The proposal was then rejected by Australia's High Court, which ruled it as invalid.
Abbott, who was then Opposition leader, had staunchly resisted the Labor party's attempts to revive the deal, with the Coalition arguing that Malaysia was a non-signatory to UN refugee conventions and questioning its human rights record.
However, he told Najib at the Apec Summit that his party's problem had never been with Malaysia but with Gillard's Labor government.
"I offered an act of contrition, if you like, to Prime Minister Najib for the way Malaysia got caught up in what was a very intense and at times rancorous debate in Australia.
"He knows that we play our politics very hard in our country. And I think he understood," he said.