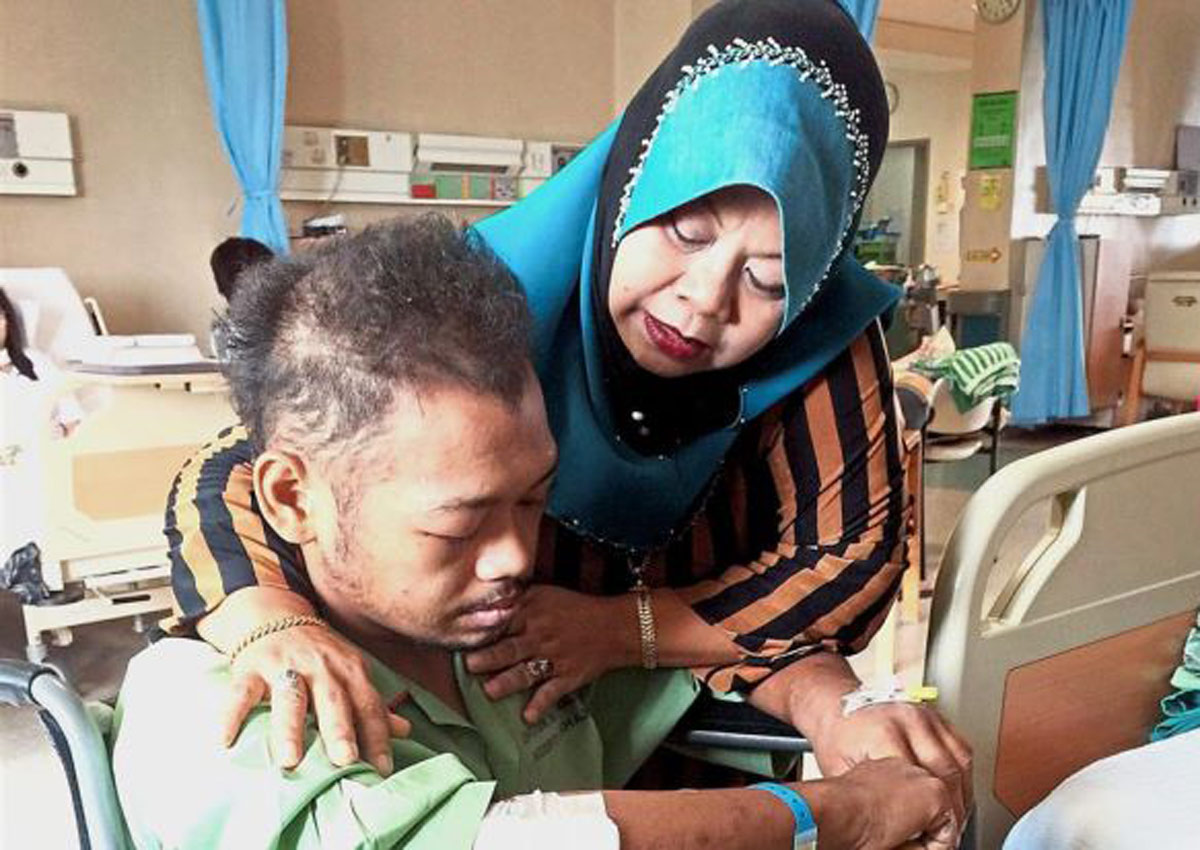 JOHOR BARU - A car accessories salesman-cum-workshop assistant endured months of physical abuse and torture for not meeting his sales target.
His boss used a water hose and a cane on him.
And if that were not cruel enough, parts of his body were burnt with a hot exhaust pipe.
Nur Firdaus Ibrahim, 21, took up the job last year at the workshop in Taman Johor Jaya, not knowing what was in store for him.
In the evenings, he would sell accessories for his boss under a makeshift tent in Taman Perling.
Jumiah Otto, 56, said her son's boss would punch him if he failed to achieve the daily sales target of between RM150 and RM200.
He also warned Nur Firdaus not to use money from any accessory sale to buy food for himself.
"I don't think he got any salary at all. That is why he had no choice but to use the sales money to feed himself," Jumiah added.
She said people had seen Nur Firdaus begging and crying for help.
On Jan 7, his step-sister Norazlin Yusof, 35, stumbled upon him in front of a bank where he sold accessories under a makeshift tent.
She was shocked to see him frail and sickly, but he refused to follow her home.
She said two police reports were lodged and his workshop address was discovered.
"We then went over to bring him back. Since then, he has hardly talked about what he has gone through," she said when met yesterday at Hospital Sultan Ismail where Nur Firdaus is being warded.
According to Norazlin, the boss of the accessory shop is known to the family.
Another sister, Siti Nur Aisyah, 24, said it broke her heart when she found out her brother, the second youngest of nine siblings, had been sleeping on a cardboard box in a store room at the workshop.
She said after being repeatedly questioned by his siblings, Nur Firdaus confessed to being burnt on the soles of his feet with an exhaust pipe.
"Besides sales, my brother was also asked to do some repair and paint work on vehicles in the workshop," she said, adding that Nur Firdaus' weight had dropped from 90kg to 70kg in three months.
The plight of Nur Firdaus went viral when some of his siblings posted photos of him on Facebook.
Seri Alam OCPD Supt Jokhiri Abdul Aziz said police were still looking for the boss and his wife.
He said the case was being investigated under Section 324 of the Penal Code for cau­sing hurt with a dangerous weapon.
Supt Jokhiri urged anyone with information to call the Johor police contingent hotline at 07-221 2999 or the Seri Alam district police headquarters at 07-386 4222.