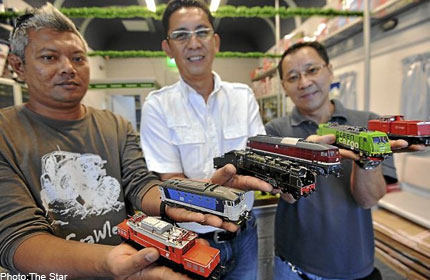 It is past bedtime for most. The neighbourhood is quiet, but for the steady chug-chugging of a locomotive having its last run on the tracks. A resonating horn pierces the sky like a forlorn call in the night. With a wheeze, the train grinds to a halt.
A large pair of hands picks up the sculpted model, parking it alongside two others of a similar built - detailed replicas scaled to measure 1:160, the size of real-life locomotives.
Sunny Ng pushes his railway set to a neat pile at the corner of his living room, clearing the entrance to the dining area to ensure a safe passing-through for his family in the morning.
"I do this about four times a week," says the father of two, gesturing to his prized collection. "When everyone in the house is asleep, I'll turn off all the lights, settle down on my couch, and let the trains run - not fast, just on average speed. Watching the trains in motion; listening to their sound effects; it's one of the most peaceful experiences I've ever had."
The 54-year-old car salesman is a model train hobbyist who has spent the last year rediscovering his childhood dream of owning a miniature railway set of his own.
"I was an Ipoh boy in love with trains - I used to chase after them just to get a good look. I would go home and play with my toy trains, but they were the simple inexpensive ones. I was always yearning for the more detailed models, which I saw in a particular shop, the only one in town, that sold them for between RM8,000 (S$3,184) and RM9,000."
Now that the times have changed, one only has to pay about RM500 to grab hold of a starter analogue set, a fact that Ng is greatly thankful for. His first purchase, a green-tinted locomotive that runs on customisable tracks, was from Funderland, a model train specialist shop in Paradigm Mall, Kelana Jaya, Selangor. 
Previously based in Tropicana Selatan, Funderland sports an elaborate railway diorama in the centre of its glass-fronted set-up. A miniature countryside view dominates the landscape, with lush pine trees and tranquil lakeside sceneries flanking the surroundings as a vintage steam engine makes its scheduled run throughout the day.
Products from the shop are from Roco and Fleischmann, two of the most popular German brand names in model trains. Hobbyists can choose from intricate steam-emitting locomotives, mini tanks and vehicles to buildings, figurines and roads - essential accessories that allow for customisable model train layouts.
Life in miniature
According to Funderland's product consultant, David Lim, more and more Malaysians are catching up on the hobby, which appeals to young and old alike due to its ingenuity of mixing tradition with technology.
"These days, a lot of people are looking for ways to create something that they can call their own. With model train sets, you can basically become the architect and engineer of your own railroad system," says Lim, 62.
Complicated though the mechanisms may seem, most model train sets today have a plug-and-play concept that appeals to even newbies, Lim adds.
"Even if you're new at this, you can always start with a small set; it only takes 10 minutes to have everything set up and ready to go. Later, you can buy extension packs to change the design of your tracks. The possibilities are endless. This is what you would call a lifetime hobby."
Nevertheless, the leisurely pursuit may seem like a waste of time and money to most - a perception that Ng has had to fend off ever since he started indulging his passion.
"Initially, my friends laughed at me. They kept saying I was too old to be playing with toys and that I was wasting money," Ng recalls.
"The grandness of it all is something you have to see to believe. I knew my friends needed some convincing so one day, I invited them over to have a look at my collection. And of the six friends who came, three of them have since bought their own railway sets."
His family has been supportive so far, especially Ng's 82-year-old father, Ng Boon Hoe, who seems to have taken a keen interest in the clockwork-like movements of the model trains.
Aside from investing in a digital control system known as the Z21, which allows for one to operate their trains directly from smartphones or tablets, Ng has plans to architect his own railway blueprint soon, and is currently gathering the final pieces to make up a full-fledged collection that he is saving space for in a newly furbished corner of his living room.
He will be doing so with the help of freelance contractor Abdul Rahim Abdul Hamid, whom he met through Funderland.
A big fan of scale model kits and remote control gadgets, Abdul Hamid has in his own house a full room dedicated to his model train collection of five years.
"Model trains are often misconstrued as merely toys. In actual fact, they have so much more to offer. For years, engineers have been using scale models for research before they apply a new technology on the actual machines," he shares.
The 37-year-old estimates that he has spent over RM50,000 on his collection - an amount that he finds worthy in return for the gains in knowledge.
To top it off, he has since influenced his wife, futures broker representative Jahzalina Md Joned, 38, into collecting her own model train set. Jahzalina's, however, are on a smaller Z scale, built to a ratio of 1:220.
"The whole process of 'playing' with the trains is a learning experience in itself. It deals with large-scale information in a small package - that's the most interesting thing about it," Abdul Rahim opines.