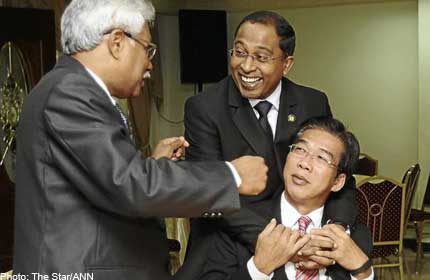 IPOH - Representatives from the Barisan Nasional and the Opposition traded barbs during the Perak state assembly sitting over which party had won the popular vote in the 13th general election.
Datuk Mohd Khusairi Abdul Talib (BN-Slim) said that Barisan had won 31 seats in the state, which was accepted in the Westminster parliamentary tradition or the "First Past The Post" system.
Therefore, they were the right coalition party to form the Government.
Chang Lih Kang (PKR-Teja) stood up and asked him whether he accepted the view that Barisan had only gained 40 per cent of the popular vote, and thus showed that the voters had rejected the coalition.
Mohd Khusairi replied that Barisan had won the majority of seats and therefore, deserved to form the Government.
Mohd Khusairi also said DAP itself was not transparent in its party elections, citing the party's recent controversial Central Working Committee (CWC) elections.
"Imagine what would have happened if they were the ones given the responsibility to run the general election.
"With just 2,576 delegates, DAP was not transparent, and they accuse the EC of not being transparent of its handling of 13.3 million voters."
Meanwhile, Speaker Datuk S.K. Devamany urged assemblymen not to bring up in the House issues which were still pending in court.
Raising them would be deemed sub judice, adding that such issues should be left to the courts to decide.
He said that the democracy system was divided into the judiciary, the legislative and the executive sections.
"The state assembly is for the assemblymen to raise issues concerning the people, to enact laws and to debate on Bills.
"It is not a place to question and challenge the judicial system," he said yesterday.