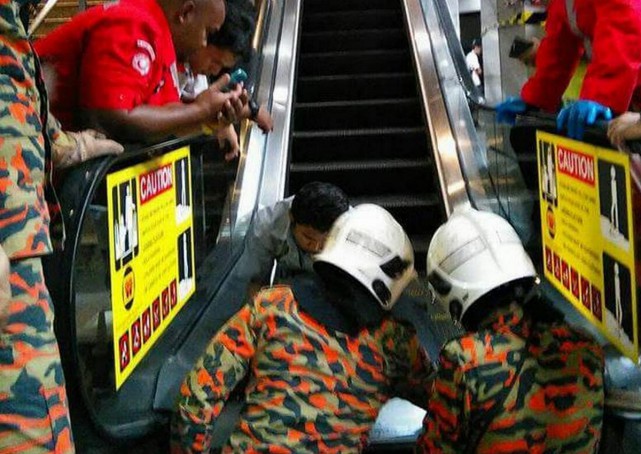 KUALA LUMPUR - The KL Sentral escalator that had chewed up a four-year-old boy's leg was regularly maintained and had all the safety features.
An investigation into the accident, which caused Dzil Mikhail Nasaruddin's lower left foot to be severed, found that the incident was likely caused by human error, said the Department of Occupational Safety and Health (DOSH).
Despite this, the agency said it would launch a nationwide operation to carry out random safety checks on mall escalators, starting next week.
DOSH director-general Datuk Mohtar Musri said the KL Sentral shopping mall escalator was found to have been properly maintained by the complex and had all the safety features as stipulated by the EN 115-1 escalator design.
"It had the emergency stop buttons, the yellow demarcation lines on steps and skirt brushes, and had gone through maintenance.
"Perhaps we have to be more vigilant and careful when we use escalators. It's the same like driving a car, if we are not vigilant we can get into accidents," he said in a statement Sunday.
He advised escalator users, especially parents with young children, to be more cautious when using the people mover.
"Make sure their feet are within the yellow demarcation line and children wearing sandals or rubber shoes should be given more attention, as they can be pulled or get stuck in the moving escalator," said Mohtar, who conveyed his sympathy to Dzil Mikhail and his family.
DOSH's operation would see officers looking at the safety equipment, design and maintenance history of escalators, particularly in the Klang Valley.
"If they don't have these, we can stop the usage of the escalators or take action against the owners. They can be fined up to RM150,000 (S$50,520) or jailed for two years," Mohtar said.